It's a little chilly out there (for the West Coast), but that doesn't mean that it's time for hibernation! There are plenty of things to do in White Rock when the temperatures dip!
1) Get outside! 
Sure it's a little cold out there, but the sun is shining and the beach is calling! Bundle up and head to the waterfront for a brisk walk on the beach. Sunset is around 4:15 these days, and the White Rock Pier is a perfect spot to watch the sun dip down behind the horizon.
2) Head to a restaurant and play some board games! 
What's better than a cup of hot cocoa and the company of a good friend when the weather is a little harsh? Some of White Rock's coffee shops and restaurants provide board games to their customers so you can stay out of the cold, and never get bored. Our favourite places to stop for a snack and a game are the Wafflers, 3 Dogs Brewing, and Tabletop Crêpes and Games.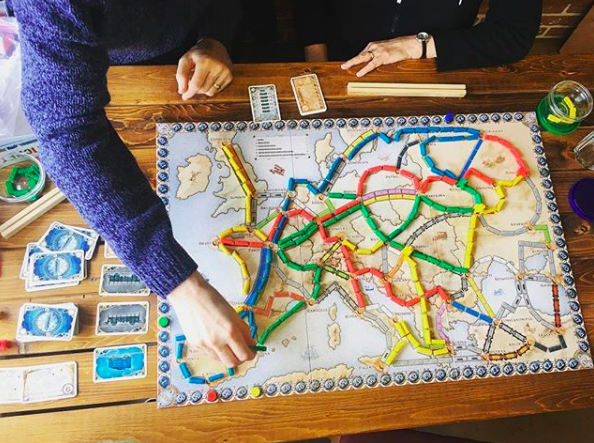 Board games at Tabletop! Photo credit @katy.eliason via Instagram.
3) Go to a paint night! 
Looking to do something creative? Grab some friends and go to a paint night! Several local businesses periodically host evenings where customers come in to eat, drink and paint! The class is guided by an artist and always promises to be fun. Don't worry, you don't need prior experience to participate! Keep an eye out on Tabletop Crepes and Games, 3 Dogs Brewing, and Clancy's Tea Cosy for your next opportunity to get creative!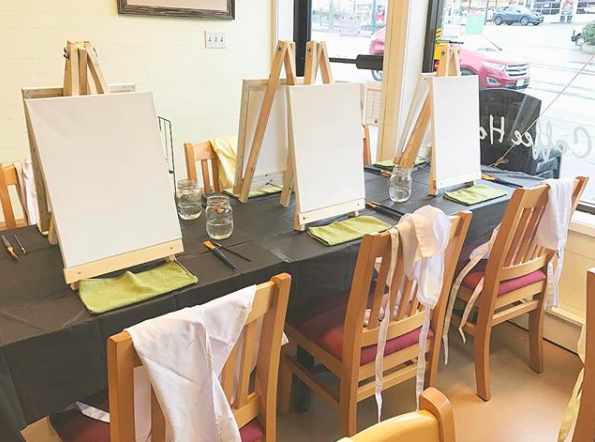 Paint night at Tabletop, all set up! Photo credit: @tabletopcrepesandgames via Instagram.
4) Go to the museum! 
Spend a little time learning about White Rock's rich history at the White Rock Museum and Archives. Don't forget to visit the kids' area! The little ones can learn about White Rock's marine life and play in a miniature train, a tribute to the building's history as a train station. And, for the month of December, the museum puts on a Craft Christmas Fair, that you won't want to miss!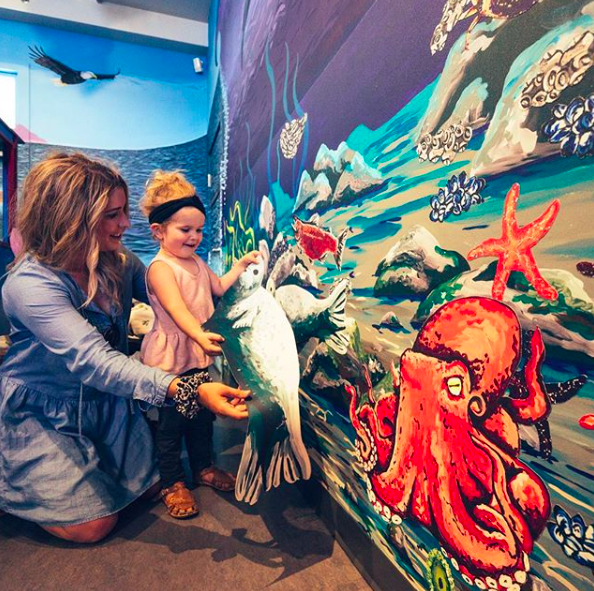 Museum fun!
5) Go see a play
White Rock is home to a rich arts scene, hosting two top-of-the-line theatre companies. Peninsula Productions and the White Rock Players' Club regularly put on excellent full productions and staged readings. And starting December 5, be sure to catch White Rock's annual Pantomime! This year the Panto is "Robin Hood & the Skytrain of Doom" and it promises to be an evening of holiday shenanigans and laughter.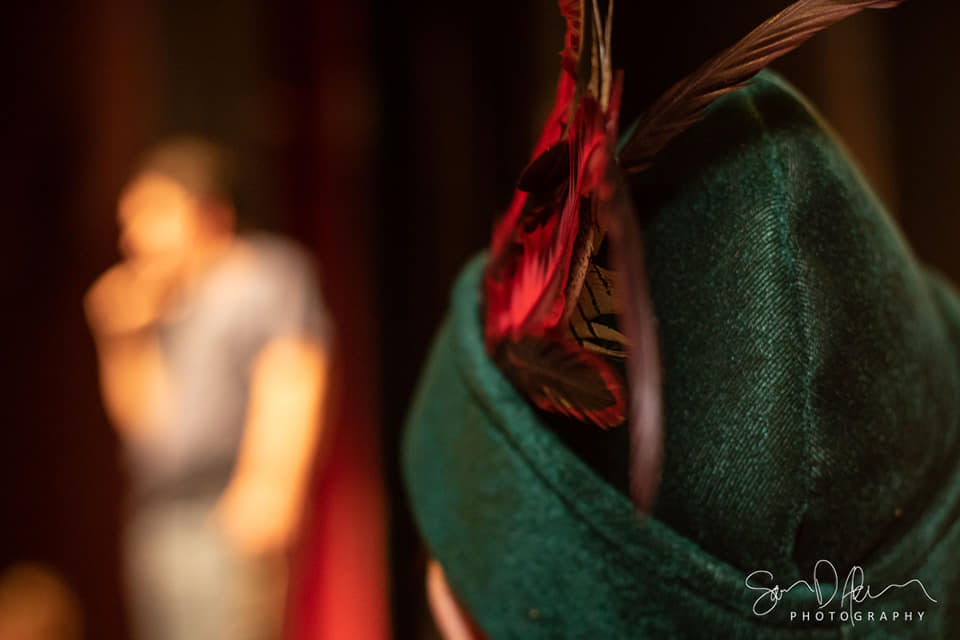 Robin Hood & the Skytrain of Doom. Photo credit: Sandra Dee Adamack via White Rock Players Club
6) Go for brunch and a hot drink.
Get some warmth back in to your bones and sip on a cup of hot cocoa, tea or coffee around a table with friends! White Rock's restaurants offer unbeatable brunch, making this the perfect destination for your next gathering! Some of our favourite places for drinks and brunch are Laura's Coffee Corner, The Wooden Spoon, and the Wafflers.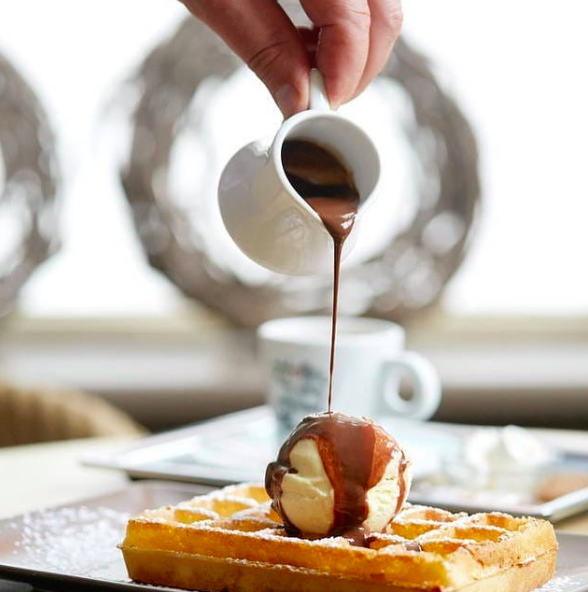 Waffles, ice-cream AND chocolate sauce, yes please! Photo credit: @thewafflers_ via Instagram.
7) Go for high tea.
Feeling fancy? Craving a cup of tea of the highest quality? Head down to Clancy's Tea Cosy for a spectacular High Tea! Nothing brightens up a cold day like good food (specifically baked goods). Clancy's promises food of only the best, British quality. Our favourite snack is the scone with jam and clotted cream!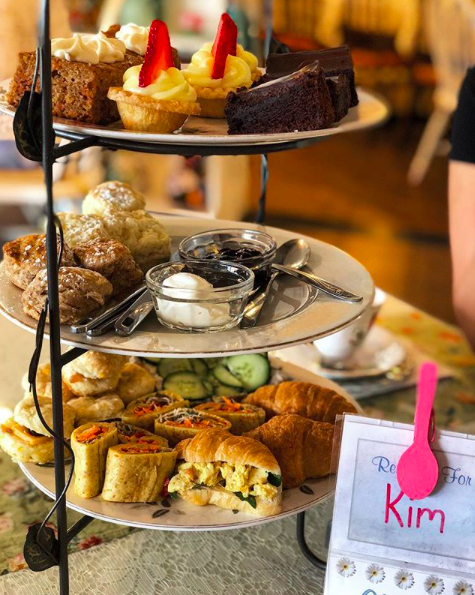 High tea at Clancy's. Photo credit: @kimsandher via Instagram.
8) Take a yoga class
White Rock offers lots of ways to relax, yoga being one of them! With three top rated yoga studios in town, you'll never be lost for where to go. Choose between Nourish Hot Yoga (perfect for those interested in the Bikram and Yin yoga methods), West Coast Hot Yoga (perfect for those of all skill levels), and Live Yoga, voted the number 1 yoga studio in 2017. Each of these excellent studios is welcoming to beginners of all ages!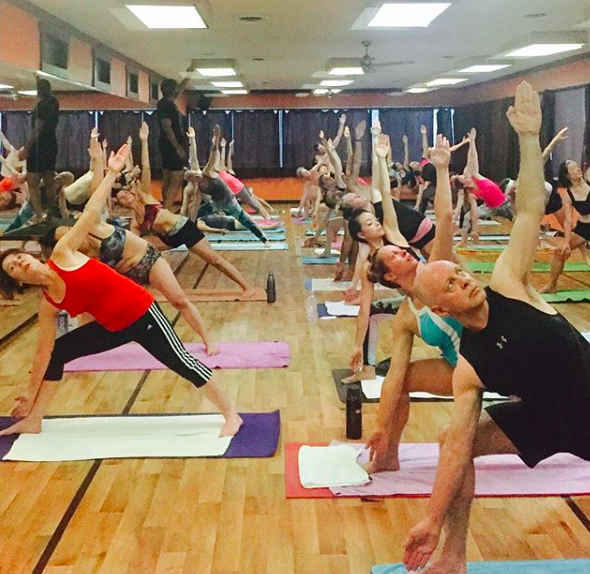 9) Go on a treasure hunt at our local thrift stores
Shopping can cure everything… Even the winter-time blues! White Rock boasts a wide array of thrift stores, making it the perfect destination for hunting down hidden designer treasures. Our favourites are the Peace Arch Hospital Superfluity and the Salvation Army Thrift Store.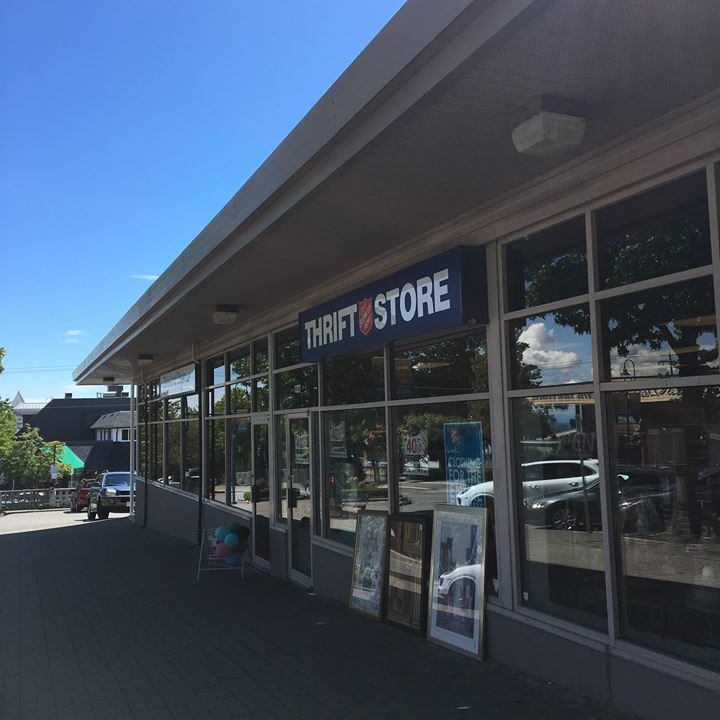 10) Get a little culture
Head over to the White Rock Art Gallery and step in out of the cold for a little art appreciation. The gallery proudly displays primarily Canadian artworks, and you can easily enjoy an hour taking in their comprehensive collection. You are sure to find a piece that speaks to you.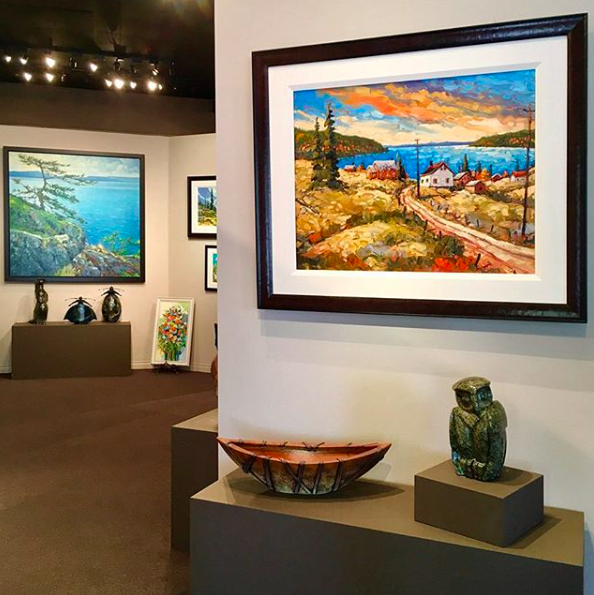 Beautiful pieces of art! Photo credit: @whiterockgallery via Instagram.
11) Catch a concert at Blue Frog Studios.
Blue Frog Studios is White Rock's number one place to go in search of live music! Almost nightly they bring in acts from all around North America to dazzle audiences. Settle in and enjoy a night of top-notch entertainment.