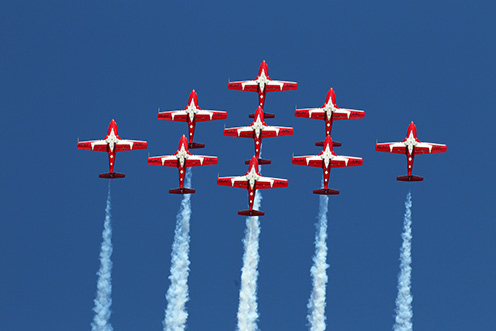 The Canadian Forces Snowbirds will grace the skies over Semiahmoo Bay with an amazing 45 minute aerial demonstration k on Wednesday, August 16 as part of the community's Canada 150 celebrations. The show will begin at 5:45pm and Snowbirds T-shirts, hats & raffle tickets will be sold all day long with proceeds benefiting the CH.I.L.D Foundation. It's going to be a lot of fun and probably a little crazy in the 'hood that day, with all of the Canada 150 events taking place, so here are a few tips to help you plan the optimum viewing experience!
Read up on the Snowbirds and learn more about them and how they are helping out the CH.I.L.D foundation and how you can help out as well!
Plan your trip to White Rock, keep in mind there will be lots of traffic and limited parking so come down early and join in on all events.
Make sure you are dressed right for the weather on that day, so sunscreen, hats and sunglasses for a sunny day!
Unsure you can get a seat? Bring your own chair or picnic blanket to have comfortable seating and be in a great spot for watching!
Make sure your phones, camera's or video cameras are all charged up for the day to capture the day.
There are more events happening the same day so be ready for a concert, fireworks, food trucks, raffle tickets, t-shirts and hats!
The Snowbirds do get loud so be prepared to protect your own and your families ears with ear plugs or earmuffs.
White Rock will be extremely busy with huge crowds of people and lots of traffic, so be prepared for difficulty arriving/leaving that day!
Visit the City of White Rock website for more information.