Who doesn't love to support local farmers and makers? And taking a stroll through the White Rock Farmer's Market is a fabulous way to spend an afternoon with friends or family.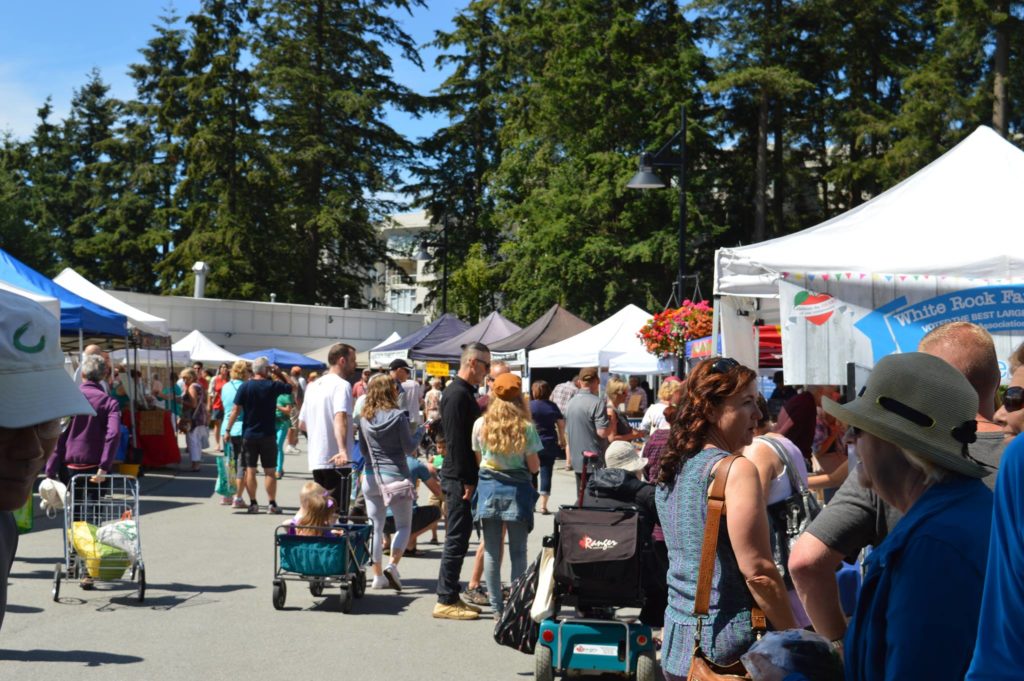 Here are our suggestions for a day of shopping (and eating) your way around one of BC's best farmer's markets! Locals tip – go early for the best selection, or try going late for a bargain!
The market opens at 10:00 am. Be sure to fuel up

 for the day with a cup of coffee at the Everbean Cafe or Potter & Crow Craft Coffee Roasters stalls.

Coffee in hand, stroll through the 70+ vendors. Fill your bags with seasonal produce, delicious baked goods, unique specialty foods and be sure to save room for a refreshing bottle of kombucha or a locally brewed cider.  Summer is the time to load up on local berries and fruit from the Okanagan.
View this post on Instagram
Market shopping is hungry business and fortunately, you're in the right place! 

Visit Ça Croustille for flaky, melt-in-your-mouth croissants, or pick up a savory samosa from Hinda's Finest Foods to satisfy your hunger cravings.

While you're eating, take a seat on one of the benches and enjoy some of White Rocks' finest live performers. 

Now that you've visited all of the food vendors, it's time to check out the artisan stalls. Shop for wearable art, exquisite jewelry, and unique home decor and art. And be sure to pick up fresh flowers!
View this post on Instagram
And let's not forget that in order to shop we need sustenance. We love a quick visit to the O'Canadawg food truck for locally made bratwurst, or a stop at Stapleton Sausage to pick up something new to try at home like their South African Boerewors sausage.

But before you head home, satisfy that sweet tooth with a stop at the Twisted Creamery truck for the ultimate instagrammable rolled ice cream, or savour a gourmet chocolate bonbon in an exotic flavour like matcha raspberry or sesame crunch from Solasta Chocolate. 

End your day with a stroll down to the beach and have a picnic with your Farmer's market finds!
More tips:
Don't forget to bring your own bags.
Know your seasons. If you know what's in season in advance, it makes shopping for particular meals easier.
Bring change. Lots of vendors use card technology, but everyone takes cash.
Be spontaneous. Try that weird vegetable you've never heard of. You never know, you might discover your new favourite food.
The White Rock Farmer's Market is open every Sunday in Miramar Plaza (15154 Russell Avenue) from 10:00 am to 2:00 pm until October 27.