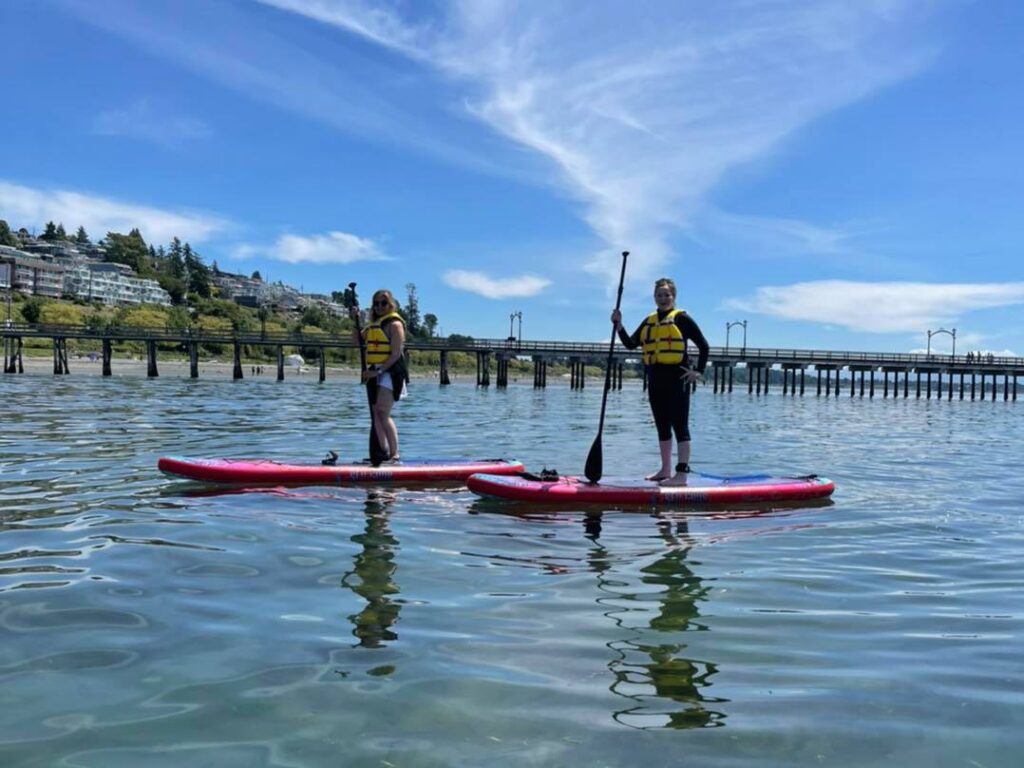 White Rock is the ultimate summer crowd-pleaser. Sandy beaches to build a sandcastle or catch a few rays. Shallow warm water for a dip or some skimboarding. Awesome restaurants with epic streetside patios. And let's not forget about the ice cream … so many great ice cream shops!  But if you really want to get a feel for White Rock, you need to get out on the water, and our favourite way to do that is on a stand up paddleboard. There's something very peaceful about gliding through the water and looking back at the shoreline from atop a paddleboard.
This summer local SUP designers, Sea Gods Paddleboards, will be at the beach renting their beautiful boards, teaching lessons and giving tours to locals and visitors.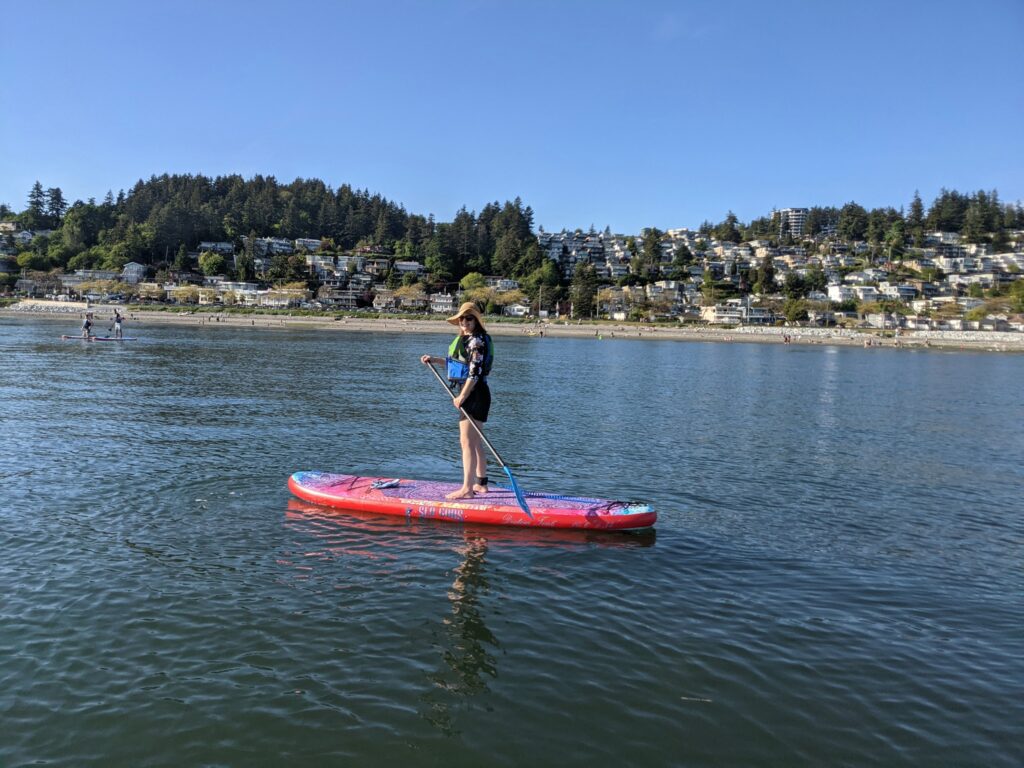 Sea Gods have a full staff of certified Advanced Flatwater SUP instructors who can't wait to take folks out for an Introduction to SUP lesson and help you get up on your feet and gliding around Semiahmoo Bay with confidence in no time! And when you're ready for the next level, they also have an Advanced Paddle Strokes lesson to teach new skills and help make the most of your time on the water.
If you're already a SUP superstar, but don't have your own board, Sea Gods can help with that as well! 90-minute board rentals (including a leash and life jacket) are available with the option to add time. Walk-ups are welcome or you can reserve your board in advance online. And if after a few times out you find that you love it so much that you just have to have your own SUP, brand new boards are available for purchase at the Sea Gods kiosk. And these aren't your basic, boring, SUP boards. A Sea Gods paddleboard is a work of art, decorated with beautiful unique artwork by independent artists.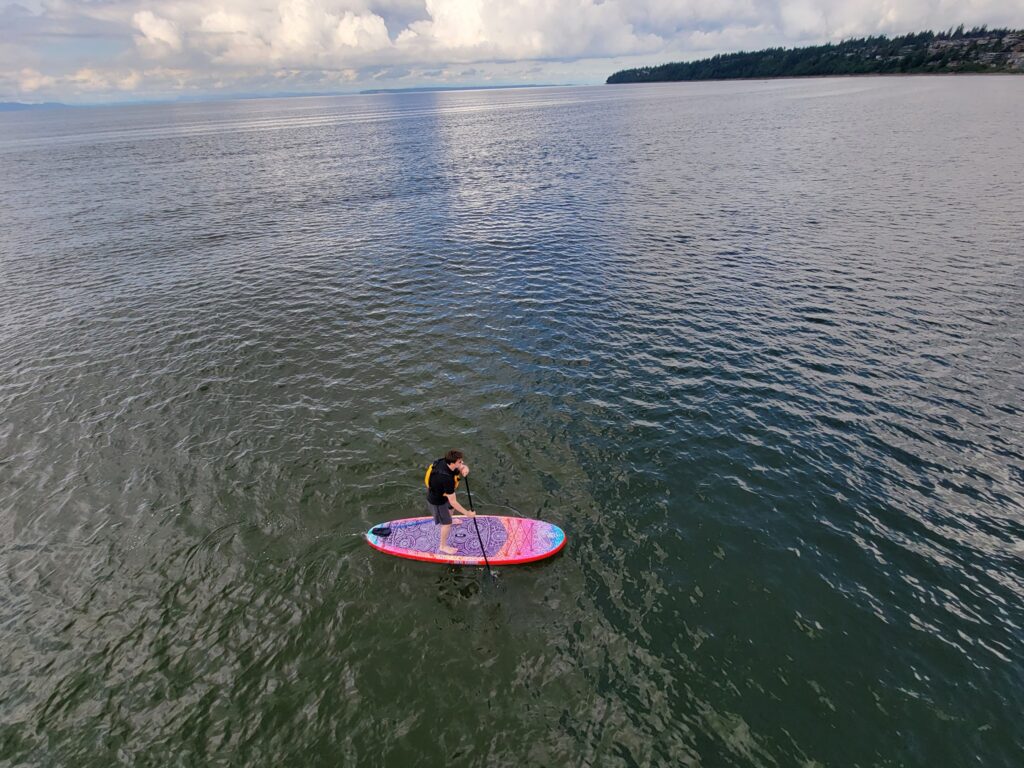 And if you want to add a little adventure to your paddleboarding experience, consider booking a Wildlife Tour or a Charcuterie at Sea experience. (Note: seasonal availability only – please connect with Sea Gods directly for more information and availability)
Charcuterie at Sea is an unforgettable experience where you paddle out, with a guide, into Semiahmoo Bay to a sport where bay porpoises are often spotted. Drop anchor and relax while you are served a stemmed glass of bubbly (non-alcoholic) and an individual yummy charcuterie platter so you can sip and enjoy an unmatched exquisite dining experience. Please, don't share with the friendly seals that are sure to pop up!
The Wildlife Tour is a close-up view of local marine wildlife like nothing you can get from land or boat. When you stand up on a SUP you can see clearly into the water to the crabs and flounder scuttling below, the geoduck snorkles, the starfish and anemones. Friendly seals love to pop up for a visit and be sure to say hello to the Stellar Sea Lion if he is lounging on the rocks. Sea Gods tour guides are a wealth of trivia and knowledge and everyone gets a chance to listen to the sounds of the ocean with the Dolphin Ear Hydrophone. If you're lucky you'll hear the songs of nearby whales. (Tours can be booked in advance online)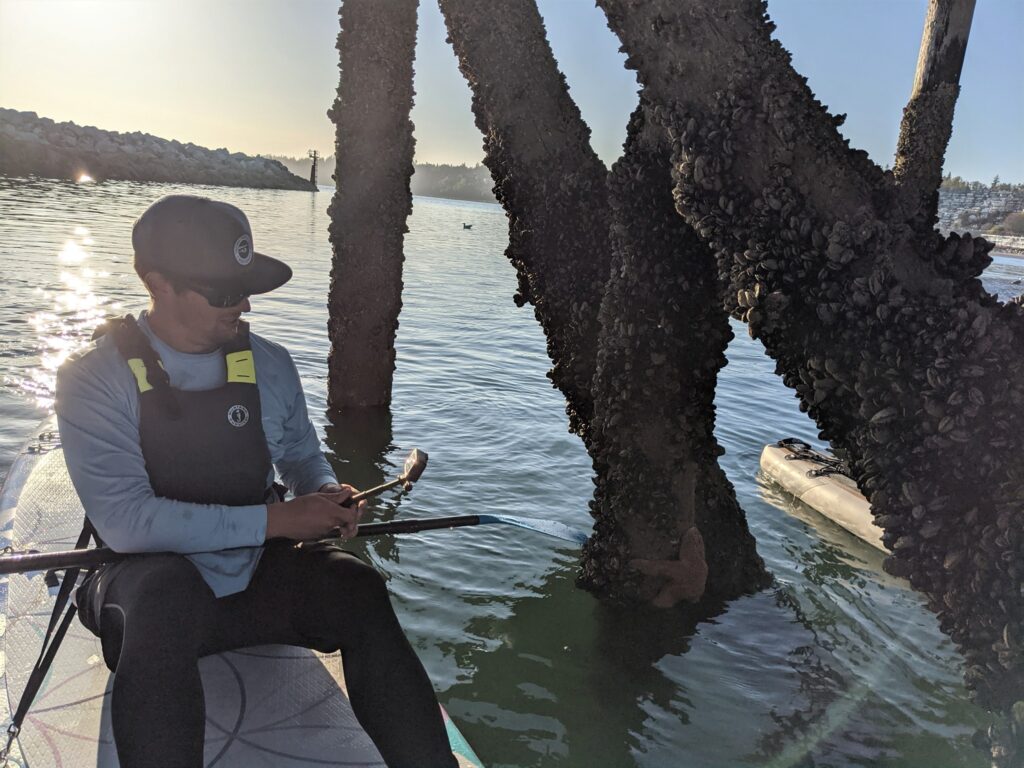 Look for the Sea Gods kiosk set up all summer, Wednesdays to Sundays from 11am – 7pm on White Rock's West Beach (at the foot of Anderson Street), and happy paddling!
Sea Gods are collaborating with Sea Smart Charity, a Vancouver-based charity that educates and empowers youth to become ocean stewards. They'll be selling beautiful Amazonite/cedarwood and Howlite/sandalwood bracelets made by Nanaimo artist Orkagems, with 100% of the process donated to Sea Smart.
(all images courtesy of Sea Gods Paddleboards)