No trip to the beach is complete without an icy cold treat! Many gelato and ice cream shops dot the White Rock strip, and who knows them better than those who've been coming here for years. Pretend you're a local for the day and indulge in something delicious, you deserve it.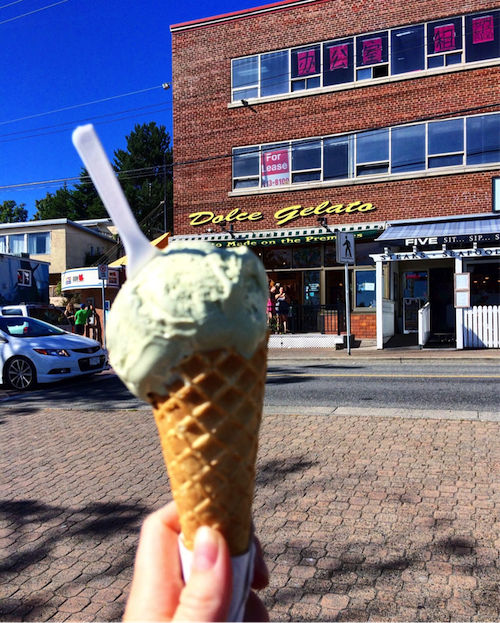 Dolce Gelato
Pegged as serving the creamiest, most consistently flavoured gelato this side of Milan, Dolce Gelato is worth raving about. The Italian owners, who learned the craft in Milan before coming to Canada, pride themselves on the quality of their product, and after tasting a scoop you won't disagree. Made fresh daily with local ingredients, go for the classic Italian Stracciatella or the pistachio made with the real nut. If you're feeling fancy they also offer affogato – 2 scoops of ice cream with a shot of espresso poured over top. A heads up that they only accept cash, but don't fret – there's an ATM conveniently located next door. Find them on West Beach, directly across from the pier at 15045 Marine Drive.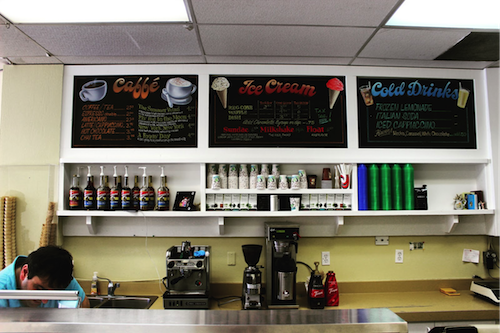 Cones Creamery
You'll know this place is open when you can hear Sinatra singing. That's the owner, who serves his generous scoops with a smile and a little melody. The waffle cones are made on the premise, along with the many succulent flavours offered. Try coconut and pair it with mango, we promise it will not disappoint! Also serves coffee beverages, cash only. Located on West Beach across the street from the White Rock Museum & Archives at 14961 Marine Drive.
Crazy Cow's
Here the ice cream is not whipped but churned, the old fashion way. Made on sight in small batches using all natural ingredients including fruit from local farms, the flavours here are as fresh tasting as you can find. New flavours pop up depending on what's in season, including Pomegranate Blueberry and Blood Orange. The Pineapple Mint comes highly recommended to refresh the palate after chowing down on some fish and chips. If you're craving an afternoon caffeine pick me up, they also serve coffee complemented nicely with pastries in the Fall/Winter season. Stroll on down to East Beach at 15547 Marine Drive, open in the Summer season Fridays and Saturdays 12pm to 9:30 pm and weekdays until 8:30 pm.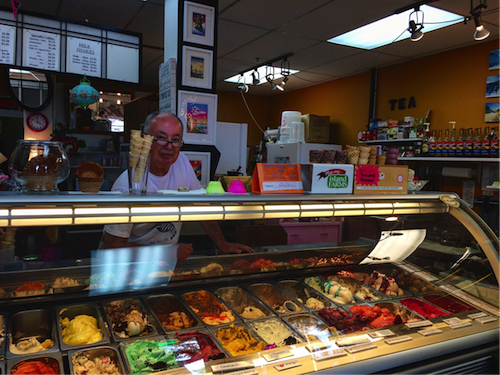 Heaven's Angels Gifts and Gelato
A staple along Marine Drive for eleven years now, their slogan claims "from the east to the west, people say we are the best!" They feature daily flavours, including Aloe Vera Guava and with many of them made on premise, your craving for something sweet (or sour, or salty) will be satisfied. They serve ice cream and gelato, along with coffee and baked goods.They also have a store attached where you can find unique gifts and souvenirs to take home including First Nations jewelry, soaps, and clothing. Located at East Beach, 15557 Marine Drive from 11am – 10pm (approximate).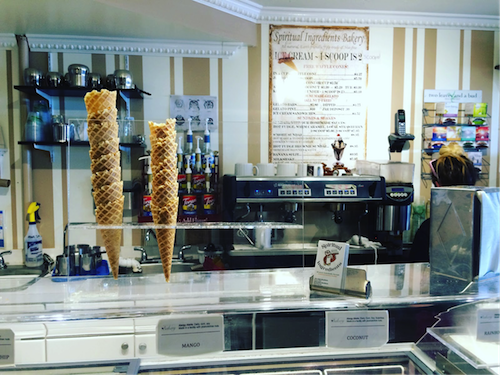 Spiritual Ingredients Bakery
Along with their amazing macarons and custom made cakes to order, this hidden gem of a bakery also serves icy cold treats. Everything served here is all natural, 100% nut free, earth friendly and fair trade. Try out the current special summer flavour, Shark Bite (their version of Raspberry) before it runs out of stock! They also have dairy free options and serve espresso beverages. The hours of this "mom-and-pop" business until Labour Day are 11am – 9pm, and you'll find them along East beach at 15505 Marine Drive.
Note: Many of these store's opening hours depend on the season and the weather, so we recommend checking online or giving them a quick call to ensure you won't be disappointed.