The White Rock Farmers' Market returns to uptown White Rock on Sunday, May 3 (10am – 2pm), but this year things are going to look a little different, and the phrase "Shop Don't Stop" says it all!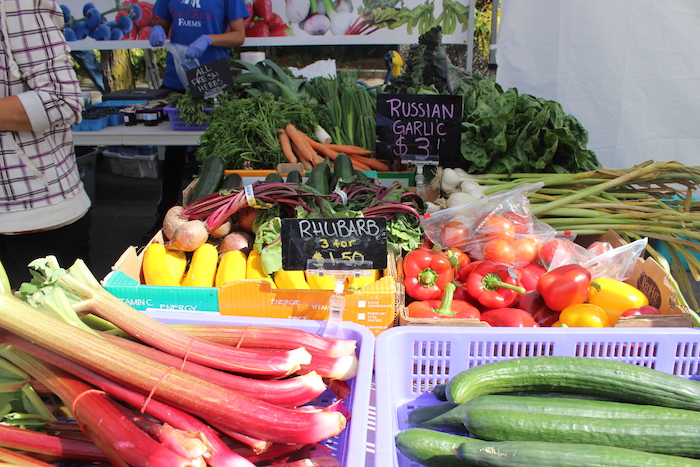 Due to COVID-19, the market has been modified to food-related vendors only with a focus on delivering an outdoor grocery experience as opposed to the entertainment and activity typically found at the beloved farmers' market. In accordance with provincial health orders, the market site will be modified with handwashing stations, and strict physical distancing guidelines for vendors, customers and staff. Vendors will be located in alternating spots, the site will be cordoned off, entry and exit points will be limited to two, correctly-distanced line-ups will be supervised by safety-masked market staff and pedestrian traffic will be one-way only. 3 Dogs Brewing will also be supplying shoppers, staff and vendors with hand sanitizer while shopping and working at the Market.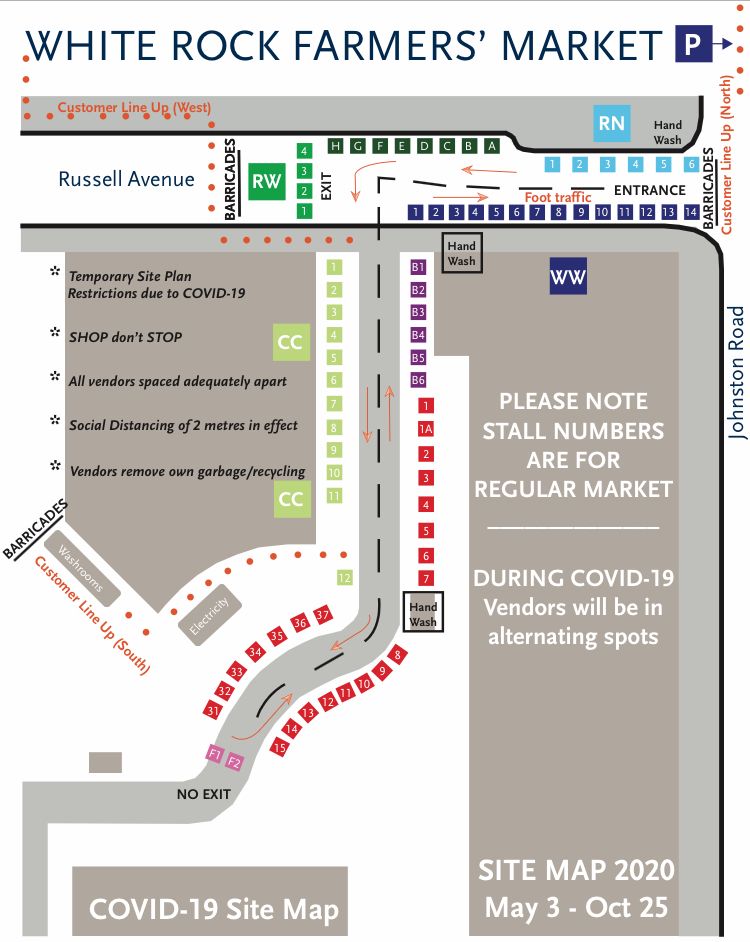 Vendor List for May 3:
(please check the White Rock Farmers' Market Facebook page for updated vendor lists each weekend)
A Bread Affair
AJ Plants
All Day Breakfast
Amazing Foods
Baker Breeze Farm
Bean There Coffee Truck
Bee Kind Honey Infusions
Blackberry Hill
Ca Croustille
Christina's Garden
Coconama Chocolate
Dolce Amore
Dragon Mist
Festina Lente Estate Winery
Gary's Kettle Corn
Golden Ears Cheese
Hello Friends Baking
Henton Farms
Hoochy Booch Kombucha
Jane's Honey Bees
Koji Fine Foods
Mainland Whisky
Marie's Guilt Free Bakery (GF)
Montakarm Estate Winery
On the Farm Veggies
Outwest Ranches
Peace Arch Farms
PR Farms
Simply Delish Soup and Salad
Solasta Chocolate
Stapleton Sausage
The Raw Guy
The Team Baskin Kitchen
The Vintage Gourmet
The Woods Spirit Company
To Your Health Microgreens
Upper Green Home & Office Garden
White Rock Beach Beer
Wild West Seafoods
Wyndson Farm
Your Wildest Foods
The 2020 White Rock Farmers' Market season begins Sunday, May 3 – Oct 25 in uptown White Rock's Miramar Plaza at 15154 Russell Avenue.
As in previous years, free parking is available underground at the White Rock Community Centre, and on-street. Free parking is also available in the City's parking lot on the corner of Russell and Johnston next to the Coast Capital Theatre.