White Rock in the summer is our idea of perfection! The weather has been great recently and it's just going to get better with temperatures forecasted to reach almost 30degrees Celsius, which means that it's time to think about cooling down. Head to beach and hit the water with these fun (and maybe not so obvious) water activities: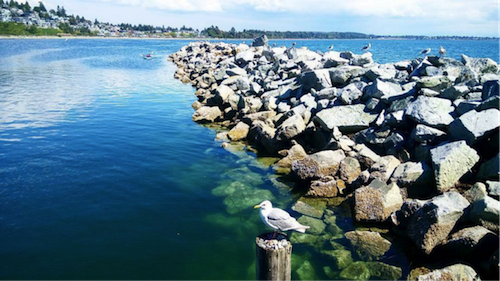 Photo Credit: @tungtung.anais via Instagram
Swimming/Splash
Let's start with the obvious. White Rock is an ideal beach to swim and splash in the ocean. Enjoy the calm, warm water and maybe even swim some laps while enjoying the beautiful views. Don't forget your shovel and bucket to build a sandcastle during low tide, and then splash through the tide pools at the beach. And be sure to bring a tube or floatie to while away the afternoon, but keep an eye on them so they don't drift away into the ocean water.
Pier Jumping
If you've ever wandered down to the end of the White Rock Pier on a hot, summer day, you'll know that pier jumping is a favourite activity of local teens. But pier jumping isn't limited to teenagers. If you're brave, give it a try at high tide. The water is clear, deep and refreshing!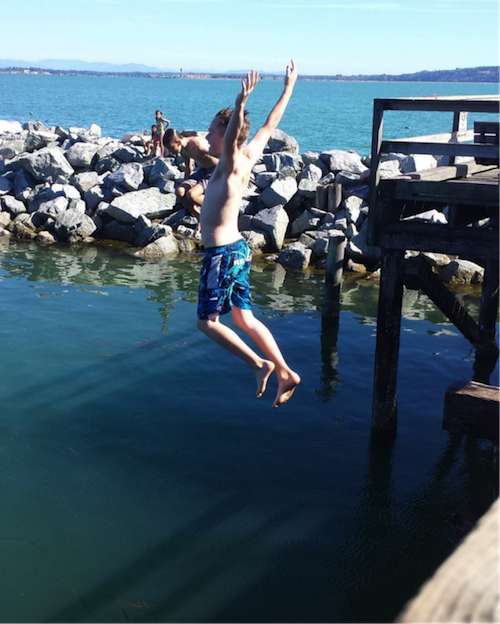 Photo Credit: @tessiehoffman via Instagram
Stand Up Paddle Boarding
Semiahmoo Bay is a perfect spot to learn to stand-up-paddle! The water is warm and calm and where else can you paddle with Mount Baker in the background? Easy to learn, it will only take a few tries before you're standing up and gliding along the surface of the water. Bring some friends and rent boards from Feral Boardsports or David Dreves Kayaking. For a magical experience, head out as the sun is setting.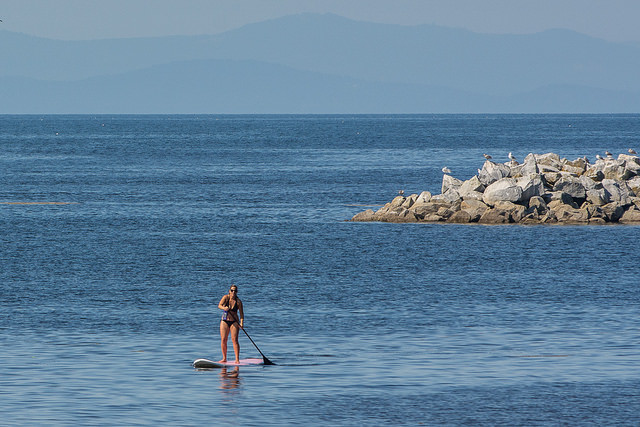 Photo Credit: Tyler Ingram via Flickr
Kayaking
Maybe you'd rather not stand while you're exploring the waters around White Rock? No problem, rent a kayak, sit down and paddle around the bay. You'll get amazing views and many photo opportunities of the city from the water. And keep an eye out for crabs, jellyfish and curious fish.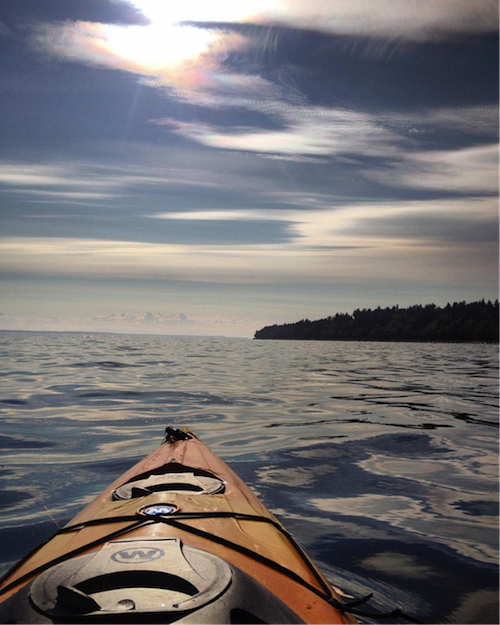 Photo Credit: @tiffcbarker via Instagram
Skim Boarding
At low tide look for a shallow pool of water and try your hand at skim boarding. Rentals, and lessons if you want them, are availableon the beach. Come with friends and turn it into a competition to see who can skim the farthest!
Boogie Boarding
Boogie Boarding, also called bodyboarding, is a fun alternative to surfing at White Rock Beach. Rent a boogie board, paddle out to the surf, lie flat on your stomach and when the waves come in, start paddling for shore. The surf will pick you up and push you towards shore for an exciting ride. Feel the waves push you through the water. Boogie boarding is adventurous and one of the exciting activities to do in White Rock.
Come down to White Rock, BC and enjoy the cool breeze of the ocean wind with a gorgeous view. You don't want to miss out on the White Rock water adventures!