For those who enjoy dramatic entertainment, White Rock's beloved Coast Capital Playhouse is certainly the place to find it this summer. The White Rock Players are kicking off the season with the classic romantic comedy Ninotchka, a cocktail of romance, laughter, and cold-war Soviet politics.
The show is a staged adaption of the 1939 film starring the iconic Greta Garbo and Melvyn Douglas. The plot follows Russian special agent Ninotchka as she attempts to reclaim stolen Romanov jewels following the Russian Revolution of 1917. Her no-nonsense attitude quickly dissolves as she encounters (and falls in love with) a charming French art dealer who is attempting to intercept the treasure's recovery. For those who enjoy a good dose of romance, comedy and drama, this show certainly ticks all the boxes!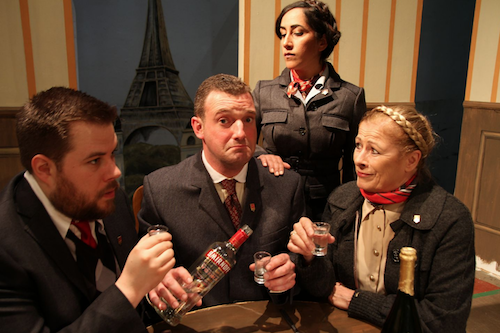 For this production the White Rock Players are excited to welcome Concordia alumni Donnub Jafarzadeh as their leading lady in the role of Ninotchka. Across from her in the role of Leon Dagoult will be Tomas Gamba, back for his third show with the Players' Club. At the helm of the production is White Rock favourite Dale Kelly; this show marks his 93rd production! Audiences can certainly expect a strong cast and a laughter provoking performance.
The show itself runs from Wednesday, June 6 – Saturday, June 23. Tickets can be purchased online through the White Rock Players' website, or at the box office.

Photo courtesy of the White Rock Players Club.