The White Rock Pier, Promenade and the beach are all OPEN!
All waterfront parking lots along West Beach and East Beach have reopened for the public and the West Beach Parkade on Vidal Street has reopened.  For more information about parking in White Rock, visit whiterockcity.ca/parking
Visitors are reminded to please stay two metres apart from others while enjoying the natural beauty of White Rock's waterfront. Signage featuring Pacific harbour seals, blue herons and sea stars (starfish) illustrating 2 metres has been installed along the waterfront.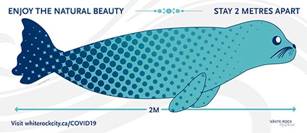 ---
COVID-19 is being effectively monitored, controlled and treated in British Columbia and Canada.  The Public Health Agency of Canada is actively monitoring the situation and working with the World Health Organization and other international partners.  We know that COVID-19 remains top of mind for many travellers.
As restrictions of travel have eased, White Rock has worked to find the balance of welcoming visitors back to the area while keeping our communities safe.
We want your visit to White Rock to be enjoyable for everyone, respecting the health guidelines by the province as well as physical distancing while using parks and trails, and in shops and restaurants
Here's what we're doing to protect you when you come to White Rock:
Restaurants, shops and accommodators have implemented provincially approved guidelines for cleaning and physical distancing to keep staff and patrons safe.
Activity providers have created additional safety measures as well as implemented provincially approved guidelines for cleaning and physical distancing to keep staff and visitors safe.
Due to limited space and modified group sizes, please call ahead to activity providers to see if there are additional items you are required to bring in advance of your trip.
Here's what we're asking you to do to help keep our locals and staff safe:
If you or anyone in your travelling group has been sick in the previous week or have flu-like symptoms, PLEASE RESCHEDULE your trip.
When stopping at gas stations, grocery stores, and liquor stores, please consider sending only one person from your group into the store at a time.
Book your activities in advance.
Bring your own personal protective equipment with you if you can (hand sanitizer and mask)
Make a reservation at our restaurants, or consider opting for takeout to eat outside. Additional picnic tables have been installed around the community and at the beach.
Please help keep our first responders safe by adhering to safety protocols while on local trails. More information can be found here.
Respect 2m physical distancing recommendations when in a public space.
Accommodations
Hotels and resorts are included in Phase 3 of BC's Restart Plan and the Ocean Promenade Hotel and local bed & breakfasts have resumed operations with guidelines in place.
Check with your accommodation provider for information on their cancellation policy.
Click here for more information on accommodation reopening guidelines from WorkSafe BC.
Restaurants, Cafés, Wineries and Breweries
Most restaurants in White Rock have reopened for dine-in service at reduced capacity, although some continue to only offer takeout or delivery options.
Please call ahead to the restaurant to find out their current operations, hours, and reservation requirements.
Please remember that groups of more than 6 people are not permitted to sit together in restaurants.
Click here for more information on restaurant reopening guidelines from WorkSafe BC.
Retail
Most White Rock retail businesses have reopened for in-store shopping with reduced capacity and new cleaning guidelines.
Many stores are still offering curbside pick-up options, please phone your favourite shop to find out more about their current operations.
Please consider wearing a mask while shopping.
Click here for more information on retail reopening guidelines from WorkSafe BC.
Arts and Cultural Facilities
Many of our museums and galleries have started to reopen.

The White Rock Museum & Archives partially reopened on September 1. The gift shop is open with new safety procedures in place and the galleries are scheduled to reopen on October 13 with the annual Remembrance Day exhibit.
The Landmark Pop-Uptown Gallery is open to the public with safety guidelines in place. Capacity in the gallery is restricted to four (4) guests and two (2) artists at any one time.

They will be operating with a limited capacity and in some cases, it is recommended to call ahead and schedule a visit.
When visiting please remember to adhere to social distancing guidelines and stay home if you are not feeling well.
Click here for more information on arts and cultural facilities reopening guidelines from WorkSafe BC.
Events
All large events in White Rock have been cancelled through the fall and winter.
However, many of event organizers have been creative in coming up with new ways to host events in a safe way.
Keep up to date on virtual and in-person events by checking out our events calendar.
Additional Resources
We encourage you to visit the Public Health Authority of Canada's (PHAC) website for the most accurate and up-to-date information on the COVID-19 situation.
Destination BC has created a one-stop-shop of information on government response plans and packages for workers and businesses, travel advisories, airport screening measures, and tips for visitors seeking medical attention: https://www.destinationbc.ca/news/coronavirus-update/
City of White Rock COVID-19 Update
Health Link BC's website
Government of Canada COVID-19 update
World Health Organization COVID-19 update