When you think of having a meal in White Rock, the first thing that comes to mind is probably fish and chips. And who wouldn't want to enjoy fresh fish, and thick cut chips on the beach? But White Rock foodies will happily tell you that we are also home to some of the best burgers in the Lower Mainland, including an award-winner?  Whether you're strolling along the beach or shopping at Five Corners and Uptown, you can count on being just steps away from a mouthwatering grilled burger!
To make things a little easier, we did a little burger reconnaissance and narrowed down our favourite burger selections from each local restaurant.
ULI'S BURGER
Potato bun, onion relish, smoked cheddar & aioli
Recently voted best burger in Metro Vancouver by readers of the Vancouver Sun, we the never get tired of burger menu at Uli's! The house-made onion relish has so much flavour and really compliments the burger. The patty is always grilled to perfection, and the potato bun is light and almost melted in my mouth. The service was friendly, the food was amazing, and the atmosphere made it worth staying to really savour the burger. You have to ask for the burger menu … there are too many options to fit on the regular menu!  We recommend starting with the class burger and then working your way through the choices.
Location: 15023 Marine Drive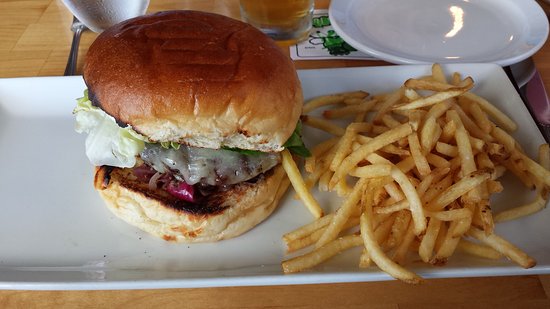 Credit: Uli's Restaurant via TripAdvisor
GRILLED WILD SOCKEYE SALMON BURGER
Fresh tomatoes, lettuce, onion, basil tartar sauce served with field greens or sea-salted fries.
The perfect compliment to happy hour! I didn't know what to expect from their burger because seafood is usually my go-to at The Boathouse. I was amazed by the amount of flavour and freshness in the salmon, and the tartar sauce was creamy perfection. Check out happy hour (3-6pm daily) and pair your burger with a Boathouse Bellini or the Killer Whale Ale from Surrey's Central City Brewing. These burgers feature perfectly toasted buns, fresh cut tomatoes, shredded lettuce, crisp onions, and are large enough to keep you satisfied for the evening!
Location: 14935 Marine Drive
WEST BEACH BURGER
Breaded chicken breast, ham, Swiss cheese, and a fried egg. Also served with lettuce, tomatoes, onions, pickles, salad or fries.
Like a perfect home-cooked meal, this burger was nothing short of my expectations. The chicken breast was perfectly grilled, and seasoned, and the fried egg added a little something special, and extra delicious, to this flavourful burger. For a quick, casual bite partnered with local craft beer, this is definitely the place to be on West Beach!
Location: 1101 Elm Street
BARRIQUE BURGER
Caramelized onion, gruyere, house-made bacon, herb aioli, fries.
Located in the heart of Five Corners, this burger is a testament to serving simple food made with the freshest and highest quality ingredients available. Oozing with flavour and just the right amount of cheese, the Barrique Burger is definitely in the running for best burger in White Rock! And the house-made bacon? So delicious!  Visit on a Tuesday and enjoy a Burger + Beer for $18.
Location: 15523 Pacific Avenue at Five Corners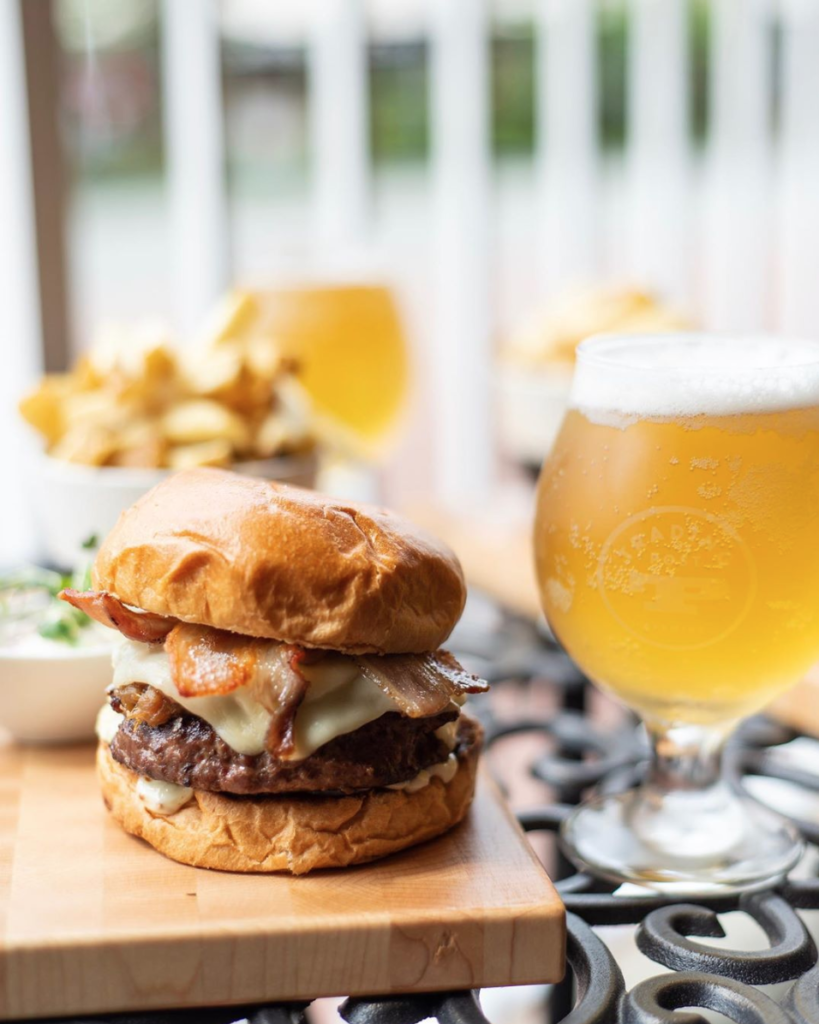 Photo Credit: Barrique Kitchen & Wine Bar via Instagram
ROGER BURGER
Bacon, mushrooms, jalapenos & cheese, topped with a fried egg.
A White Rock classic! Step back in time and indulge in these fresh, massive burgers made just like they were in the 1950s! The burger itself was huge, and honestly, a little overwhelming at first, but after the first bite it was game over … this burger was going to be finished!  The patty was well cooked, tender, juicy, and had loads of flavour. And for someone who likes a little kick to their burger, the jalapeno and cheese were the perfect touch.
Location: 1173 Johnston Road
THE CHARLIE BURGER
7oz butcher's cut beef burger served with lettuce, tomatoes, onions, and honey mustard.
Charlie's claim that the Charlie Burger is White Rock's favourite burger, and they may be on to something. The rich honey mustard sauce is the game changer and takes what is otherwise a perfectly simple burger over the top! Our server told us it was a popular lunch choice when we tried it out for the first time, we can definitely see why people are coming back for this burger.
Location: 15011 Marine Drive at White Rock Beach
JRG LOADED BURGER
Hand-pressed patty, American cheese, smoked bacon, sauteed mushrooms, an over-easy egg, secret burger sauce, iceberg lettuce, tomato, red onion, and pickles on a toasted potato bun.
What's not to like about a loaded burger? The JRG is an homage to previous establishment, The Hemingway, and for those who loved the Hemingway Burger, you'll be pleased to hear that Oceanside has stayed true to the spirit of the original burger with the Loaded Burger. Loaded with bacon, mushrooms and an egg, the secret burger sauce is what makes this burger one to talk about. Pair it with an ice cold Two Pals Lager, brewed by Central City Brewers specially for the JRG Group of Restaurants.
Location: 14995 Marine Drive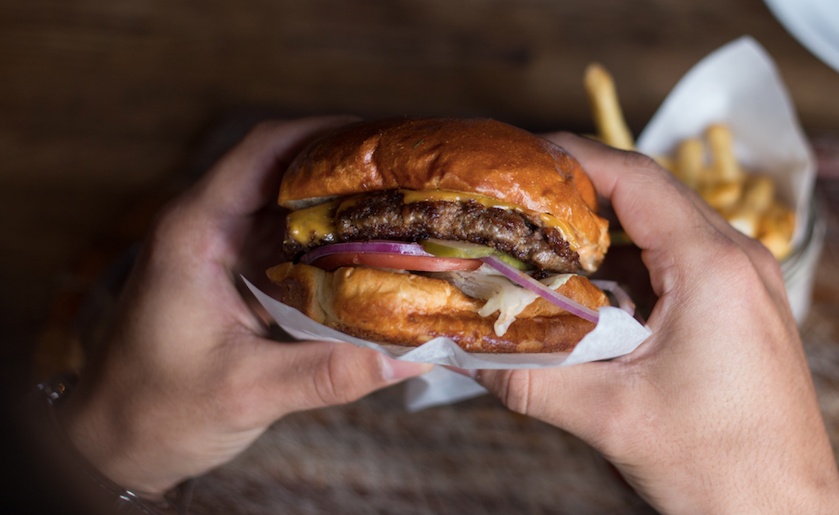 Credit: Oceanside Public House via Facebook
CAJUN CHICKEN BURGER 
Cajun pan-seared chicken breast, cheddar cheese, bacon arugula, tomato jam and smoky grill aioli, served on a brioche bun
If you're uptown and looking for a huge, fresh burger, The Wooden Spoon won't leave you disappointed! The chicken breast was perfectly seasoned with just the right amount of cajun, the tomato jam was a tasty balance of sweet and spicy, the aioli added a lot of flavour, and the bun was perfectly toasted.
No choice is a bad choice from any of these White Rock restaurants! So, bring your appetites and be sure to let us know what you think of our favourite burgers!