One of the best ways to explore White Rock and the Semiahmoo Peninsula is by bike! Believe it or not, it IS possible to go for a great bike ride in White Rock and avoid climbing any major hills! Start your ride at East Beach, ride along the shorelines of White Rock and stop for lunch in Crescent Beach, before looping back.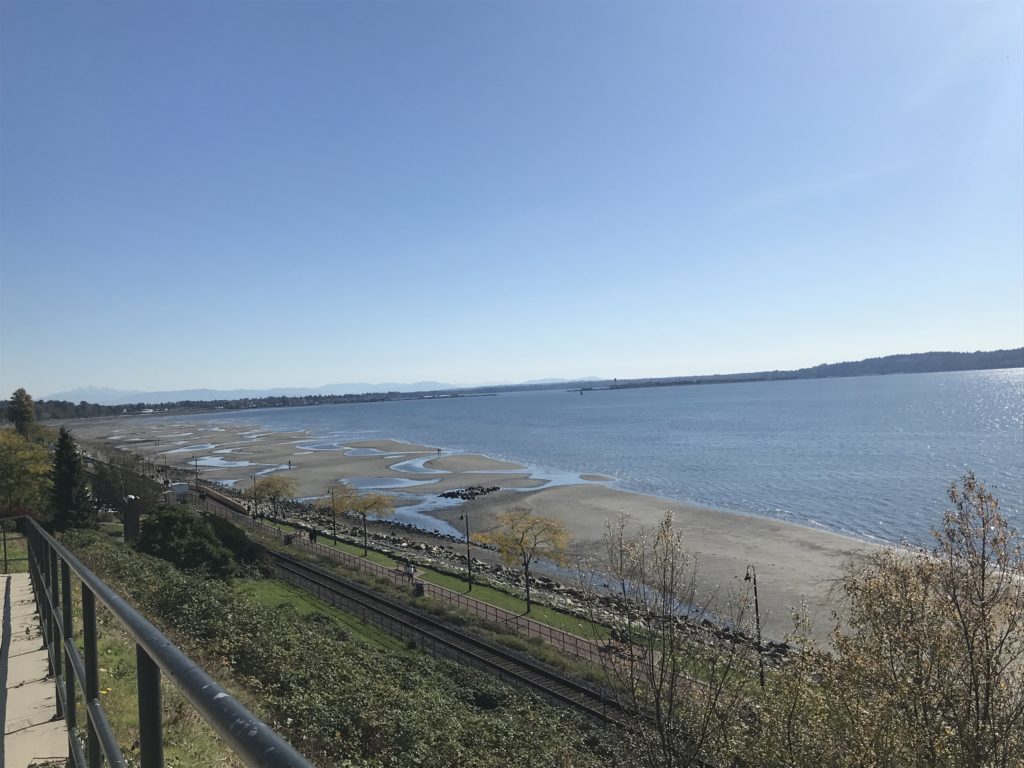 East Beach is your ultimate starting point and you're going to want to kick things off with a pre-adventure fuel up. Breakfast is the ultimate cycling fuel, and Watt's East Beach Café (15611 Marine Drive) and Poultry In Motion (15491 Marine Drive) are your go-to breakfast spots. These local favourites have light or hearty all from muffins and bagels to omelettes and French toast. Now that full, it's time to hop on that bike and put that energy to good use.
Follow Marine Drive west about 3 kilometres, past White Rock's iconic pier and expansive beaches. Bikes aren't allowed on the promenade or the pier, but it's worth the stop to take a stroll out to the end of the pier. Hang a right on Bishop Road and then turn left on Blackburn Avenue (becomes 15 Avenue) and ride through the neighbourhood, gradually dropping down to 13th Street and into the wooded trails of Kwomais Park. Be sure to stop at the viewing platform for a stunning view across Semiahmoo Bay to Tsawwassen and beyond to Vancouver Island.
Carry on to Ocean Park Road, past some of the area's most impressive homes and estates, to the charming enclave of Crescent Beach, where you'll find a great beach, scenic views and some delightful restaurants.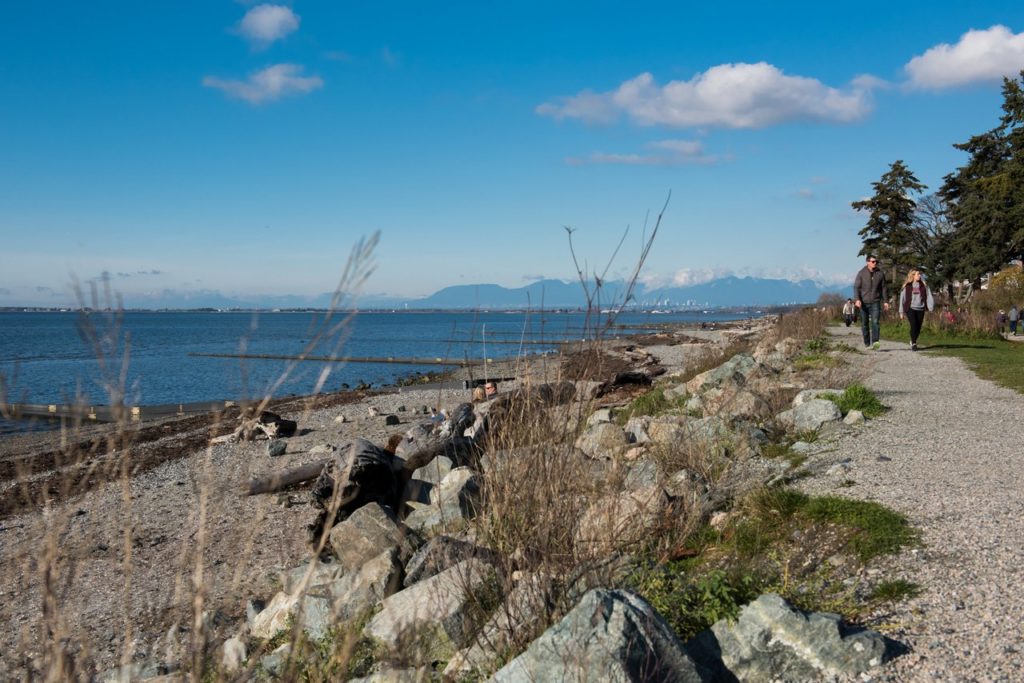 Photo Source: Discover Surrey
Not far from the main village of Crescent Beach is picturesque Blackie Spit Park. Surrounded on 3 sides by water, and home to 5 kilometres of nature trails, it's a nice detour and the perfect spot to do a little birdwatching or look for curious seals as they poke their heads above the surface.
Time for lunch? Or in need of a caffeine pick-me-up? Pop into the Sunflower Café (12310 Beecher Street) for a coffee, tasty baked goods, or something off of their mouthwatering brunch menu. Or, for a casual sit-down meal on a patio with an epic view, head to Hooked Fish Bar. You can also ride up to their take-out window and dine al fresco at the beach if you prefer.
Once you're sufficiently fueled and rested, hop back on your bike for the ride back to White Rock. You can simply reverse your path or take a more challenging route that starts with a ride along the Nicomekl River through Elgin Heritage Park. Take some time to explore the park, home to the Historic Stewart Farm, and wander the grounds to learn about the historical significance of this picturesque park. From here the trail follows the river and winds around the NicoWynd Golf Course. A quick ride through the surrounding neighbourhood connects to the Semiahmoo Heritage Trail, an easy trail through the woods and the last remnants of the historic Semiahmoo Trail, a traditional First Nations footpath. Take a quick detour in Uptown White Rock and stop for a beer flight at one of White Rock's two craft breweries – White Rock Beach Beer Company (15181 Russell Avenue) and 3 Dogs Brewing (1515 Johnston Road).
Zigzag your way back to White Rock's waterfront along neighbourhood streets and you'll avoid any long downhill stretches as you descend the 100 metres back to your starting point, and wrap up your explorations with a stroll on East Beach and a well-deserved cold treat! Choose from dozens of ice cream flavours at Sandcastle Sea Shoppe (15525 Marine Drive), Famous Rome (15543 Marine Drive) or Heaven's Angels (15555 Marine Drive). Or, for a taste of the Hawaiian islands, try shave ice from Aloha Beach Picnic (15229 Marine Drive).
Don't have your own bike, or want to ride with a bit of a boost? Rent an e-bike from White Rock's Zoom E-Bikes (15505 Marine Drive) and enjoy a little help up the hills!
(Please note that due to COVID-19 some businesses may be operating with reduced hours, and parks may have restrictions. Please visit the appropriate websites to confirm.)
Great Resources for Cycling in White Rock and South Surrey: