There are few pleasures simpler than a perfect doughnut. Yeast doughnuts, cake doughnuts, jelly-filled doughnuts, fritters (is that really a doughnut?), sprinkle doughnuts, and last, but not least, the doughnut hole.  Everyone has a favourite and some of us have been known to drive great distances to get our fix. Luckily you can find this beloved pastry right here in White Rock, and after trying some (ok all) of the doughnuts we can assure you that will never have to travel farther than White Rock for doughnuts again!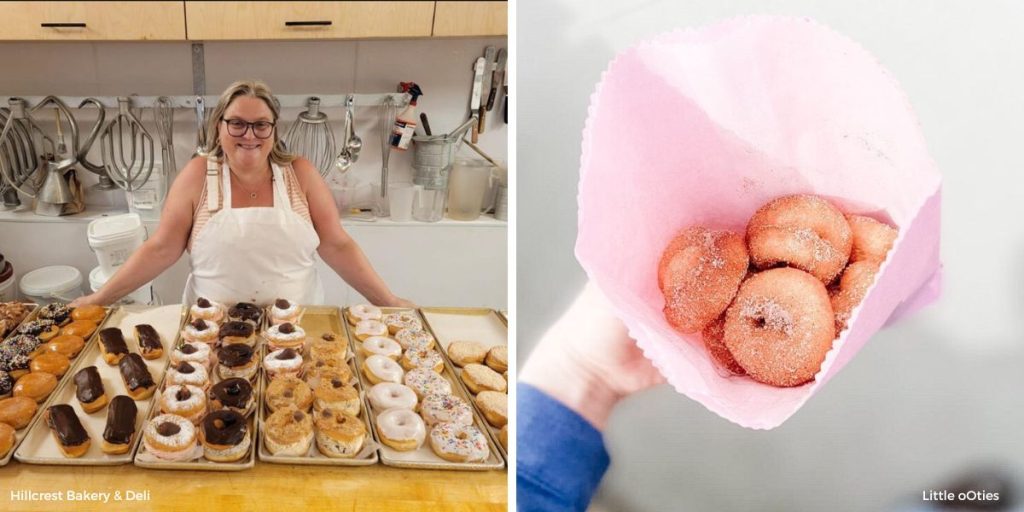 15231 Thrift Avenue
Decadent and delicious, Hillcrest offers up a range of classic doughnuts. This is where you're headed when you want a perfect, traditional doughnut.  Choose from crowd favourites like maple walnut, Boston Cream, glazed ring, raspberry jelly, chocolate or vanilla sprinkle, or go crazy and check out their gourmet doughnuts. Split like a sandwich, filled with the most deliciously flavoured cream fillings and covered in toppings, you'll never look at doughnuts the same way again! Doughnuts are available daily in-store, or by pre-order, which we recommend to be sure you don't miss out!
Memorial Park
If you've been down to the waterfront over the past couple of years you're certain to have seen the cutest (and pinkest) doughnut cart set up near the museum. Little oOtie's serves up nostalgia in the form of hot fresh mini doughnuts. Served in a pink bag, these little balls of fried dough are dusted in cinnamon sugar and are downright delicious!  Pick up a bag, or two, and head to the beach or take a stroll on the pier.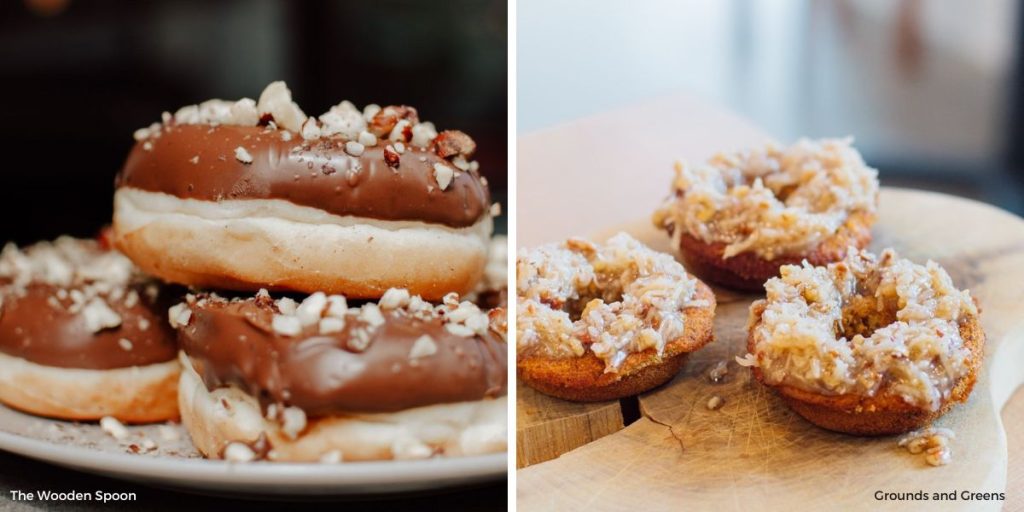 15171 Russell Avenue
Brunch by day … doughnuts by special order! During the day, The Wooden Spoon is one of White Rock's most loved brunch spots, but every Sunday they magically turn into Donut Co. and for a limited time orders are open for the most delicious doughnuts!  Flavours change weekly but past favourites have included Birthday Cake (sprinkles, anyone?), Bounty Bar (think coconut and chocolate), White Chocolate Raspberry, Maple Bacon (the ultimate combo) and Breakfast Cereal (iykyk)! Ordering goes live Sunday at 9 AM and stays open until Wednesday 9AM, every week, with pick-up on Saturday between 9AM-3PM. And watch their social media for each week's flavours.
1369 Johnston Road
A doughnut that is vegan, gluten-free and delicious? It's true and you can find it at Grounds and Greens Cafe in Uptown. Their pear glazed doughnut has a fan base all its own and for good reason. The pears are baked into the doughnut for pear-y goodness in every bite and it's topped with a delicious coconut pecan icing.  Pair it (see what we did there?) with a creamy oat mylk latte or an amazingly creamy whipped coffee and you have a match made in heaven!