August is coming in hot with amazing weather and perfect beach days. Take a break from the sand and sun and check out one of the many events taking place around the city this month. From music and dancing to live theatre and art shows, there's a little something for everyone.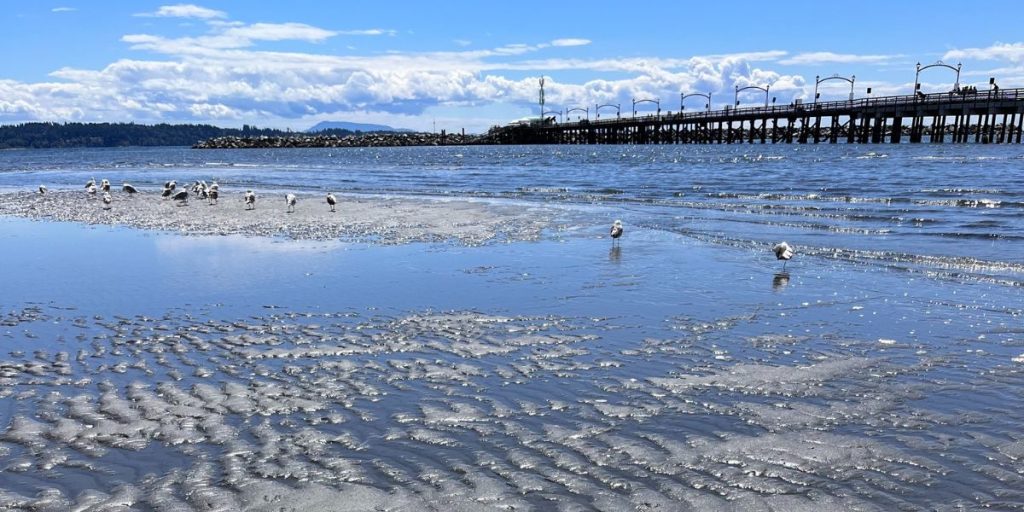 Dancing at the Pier
August 6 | Memorial Park
Head to Memorial Park Saturday night for an evening of fun, music, and Latin dancing! Spend the day at the beach, have an early dinner at one of the restaurants along Marine Drive, and then dance into the night with time for a late-night dessert before heading home.
White Rock Museum & Archives
June 14 – October 2 | 14970 Marine Drive
The White Rock Museum & Archives is proud to present Che' Semiahmah-Sen, Che' Shesh Whe Weleq-sen Si'am (I am Semiahmoo, I am Survivor of the Flood).  Curated by the Semiahmoo First Nation and originally developed by the Museum of Surrey, the exhibit explores the ways that the Nation has flourished since the Great Flood at the end of the last Ice Age. The exhibit features two large dioramas created by archaeologist Don Welsh, showing the sophisticated technology of reef net fishing and a summer fishing village. Also, on display will be several woven cedar pieces, video interviews and more.
White Rock Farmers Market
Sundays | 10am – 2pm
Johnston Road & Russell Avenue
Winner of the best large market in BC in 2015, the White Rock Farmers Market is one of the most popular markets in the province! Lively and fun, kid-friendly and dog-friendly, and with different live musical performers every week, it's a wonderful way to spend the morning in White Rock, and who doesn't love to support local farmers and makers?

Agatha Christie: The Stranger
August 18 – 28, 2022
Peninsula Studio Theatre | 14600 North Bluff Road
Get ready to meet The Stranger – as Peninsula Productions presents a 'lost' classic by Queen of Crime Agatha Christie, lovingly revived by director/production designer Alex Browne and producer Janet Ellis.
England in the early 1930s: Enid Bradshaw (Natalie Peters, Sorry Wrong Number) is a beautiful young business woman on the brink of marriage to safe, reliable Richard Lane (Luca Herring). Then, by chance, she meets and falls for a charming stranger, Gerald (Harrison MacDonald, Other Desert Cities). Jilting Richard, she sets a course for danger – and a shocking, shattering conclusion. Tickets are available online.
All Fired Up
July 29 – August 27 | 15140 North Bluff Road
Head to the Landmark Pop-Uptown Gallery for All Fired Up, a summer pottery exhibit and sale presented by the Fraser Valley Potters Guild and the Semiahmoo Potters Society. Artists will be on-site selling functional and whimsical ceramics. Tuesdays through Saturdays 10 a.m. to 5 p.m. Admission is free.

TD Concerts at the Pier
August 18 | Five Corners
August 25 | Grand Chief Bernard Robert Charles Memorial Plaza Parking Lot
Organized in partnership by the White Rock Business Improvement Association and the City of White Rock, this live music event is one of the highlights of the summer in White Rock and is one that you do not want to miss!  The concerts, as always are FREE, and this year's lineup of national touring acts, beloved local artists, and great tribute bands promises to make this White Rock's best concert series yet! Performing on August 18 at Five Corners is Barracuda (Tribute to Heart), and on August 25 at Grand Chief Bernard Robert Charles Memorial Plaza is Kadooh. Find the complete schedule here.
Blue Frog Studios
1328 Johnston Road
Blue Frog Studios, Canada's hottest live recording theatre, has an exciting lineup of live shows from some of the world's greatest entertainers hitting the stage this August. The venue features updated world-class behind-the-scenes and audio recording technology, as well as high-quality sound and lighting throughout the theatre. Upcoming concerts include:
August 11 –
Willie Nile
Band with special guest Stephen Stanley (SOLD OUT)
August 12 –
Ben Waters
& his Barnstorming Band
August 19 & 20 – The Motown Show with the Hitsville USA Band
August 26 & 27 – "King James": The Music of Carole King & James Taylor