August is coming in hot with amazing weather and perfect beach days. Take a break from the sand and sun and check out one of the many events taking place around the city this month. From music and dancing to live theatre and art shows, there's a little something for everyone.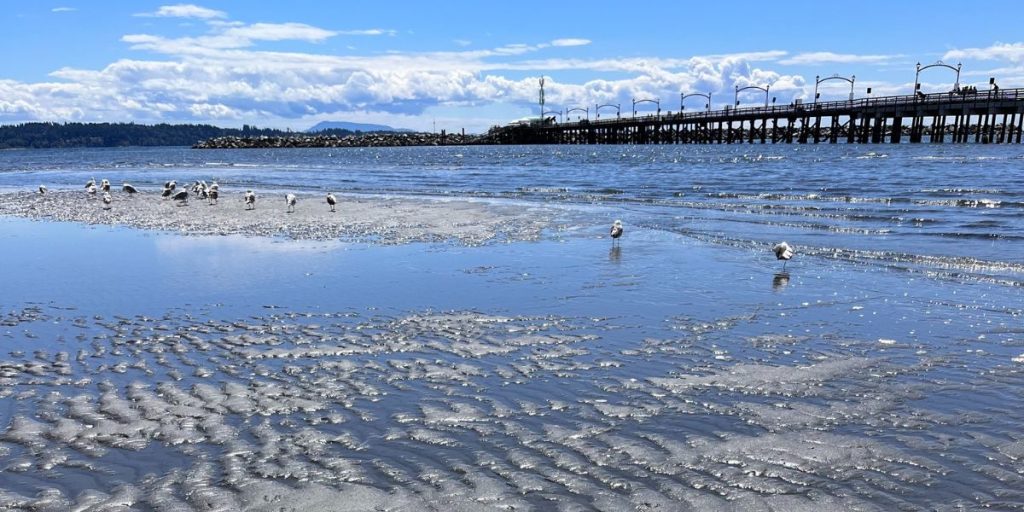 White Rock Sea Festival & Semiahmoo Days
August 4 – 6 | Semiahmoo Park to West Beach
For over 70 years, on the BC Day long weekend, Sea Fest, as it is known by locals, has drawn thousands of people to White Rock's beaches to celebrate summer in our seaside community with live music, family-friendly activities and fireworks! Activities planned include a movie night at Semiahmoo Park, the traditional, and always delicious, salmon barbecue, live local performers, artisan markets, the all-new Environmental Zone, the Westcoasters Daze Car Show and more. And an incredible fireworks show will light up the skies over Semiahmoo Bay on Saturday night.
Canadian Forces Snowbirds
August 8 | White Rock Beach
The Canadian Forces (CF) Snowbirds will pay White Rock a visit on the afternoon of Tuesday, August 8 at 2:00 p. This visit is in celebration of White Rock's longstanding relationship with the Snowbirds who have performed above the pier many times over the years. Everyone is invited to watch the Snowbirds demonstration, which is expected to last approximately 5-10 minutes. As a part of this visit, the City will be unveiling a commemorative Snowbirds sign on the White Rock Promenade in recognition of this longstanding relationship.
Yoga at the Beach
August 12 | Bayview Park
Join Live Yoga to move, connect and breathe together. Lululemon Ambassador Sean O'Leary will offer a FREE all-levels beginner-friendly yoga class to bring some good vibes to your Saturday. — Also, you could win Live Yoga class passes and other fabulous prizes from series sponsor, Lululemon!

Concerts at the Pier presented by TD
August 17 | Jack & Elwood's Blues Brothers Revue | Memorial Park
August 24 | Colin James | Grand Chief Bernard Robert Charles Memorial Plaza (East Beach)
The Concerts at the Pier is the live music event of the summer in White Rock and is one that you do not want to miss!  The concerts, as always are FREE, and this year's lineup of national touring acts, beloved local artists, and great tribute bands promises to make this White Rock's best concert series yet! Performing on August 17 at Five Corners is Jake & Elwood's Blues Brothers Revue, and the final concert of the summer takes place on  August 24 at Grand Chief Bernard Robert Charles Memorial Plaza with series headliner Colin James.  Find the complete schedule here.
Dancing at the Pier
August 19 | Memorial Park
Head to Memorial Park Saturday night for an evening of fun, music, and Latin dancing set against the backdrop of Semiahmoo Bay! Spend the day at the beach, and have an early dinner at one of the restaurants along Marine Drive. This free, all-ages, event, presented by Uniti, starts at 5:45 pm with salsa and bachata lessons by Javier Solis of Gemini Salsa from Portland, and then throughout the evening Nico Rana, a Cuban-style dance instructor will lead the crowd in suelta (group dance).
Morosan: The Man Who Painted White Rock
Until September 24 | 14970 Marine Drive
The current exhibition at the White Rock Museum & Archives, "Morosan: The Man Who Painted White Rock", is a retrospective exhibit featuring the artist's works from the 1970s until Morosan's death in 2008. A resident of White Rock since 1996, Morosan fell in love with the city and became a familiar sight around White Rock painting en plein-air wearing his straw hat, accompanied by his dog, Pebble. The White Rock Museum is open Tuesday to Sunday from 10:30 a.m. to 4:30 p.m.

White Rock Farmers Market
Sundays | 10am – 2pm
Johnston Road & Russell Avenue
Winner of the best large market in BC in 2015, the White Rock Farmers Market is one of the most popular markets in the province! Lively and fun, kid-friendly and dog-friendly, and with different live musical performers every week, it's a wonderful way to spend the morning in White Rock, and who doesn't love to support local farmers and makers?
No Exit
August 17 – 27, 2023
Peninsula Studio Theatre | 14600 North Bluff Road
'No Exit' is a 1944 existentialist play by Jean-Paul Sartre, and begins with three characters who find themselves waiting in a mysterious room. It is a depiction of the afterlife in which three deceased characters are punished by being locked into a room together for eternity. It is the source of Sartre's famous phrase "L'enfer, c'est les autres" or "Hell is other people", a reference to Sartre's ideas about the look and the perpetual ontological struggle of being caused to see oneself as an object from the view of another consciousness. Directed by Mahara Sinclaire. Tickets are available online.

The Art of Fire & Glass
August 3 – August 27 | 15140 North Bluff Road
Head to the Landmark Pop-Uptown Gallery this August and enjoy a stunning glass art gallery show featuring works by the Pacific Pyros, a group of glass beadmakers and artisans from across British Columbia.  Admission is free. Hours: Thursdays/Fridays 1-5pm, Saturdays/Sundays 10am-3pm, Monday, August 7 1pm – 5pm
Blue Frog Studios
1328 Johnston Road
Blue Frog Studios, Canada's hottest live recording theatre, has an exciting lineup of live shows from some of the world's greatest entertainers hitting the stage this August. The venue features updated world-class behind-the-scenes and audio recording technology, as well as high-quality sound and lighting throughout the theatre. Upcoming concerts include:
August 11 –
Willie Nile
Band with special guest Stephen Stanley (SOLD OUT)
August 12 – Star-Studded Concert Honouring Kal David
August 18 – Rick Estrin and the Nightcats
August 23 – Ben Waters
August 25 – Hope "Diamond" Deans Tribute to Ella, Etta & Tina