When most people think of White Rock, images of the pier and lazy days at the beach immediately spring to mind. But those that venture up the hill to Uptown White Rock are pleasantly surprised to find a thriving community of shops, restaurants, cafes and public art.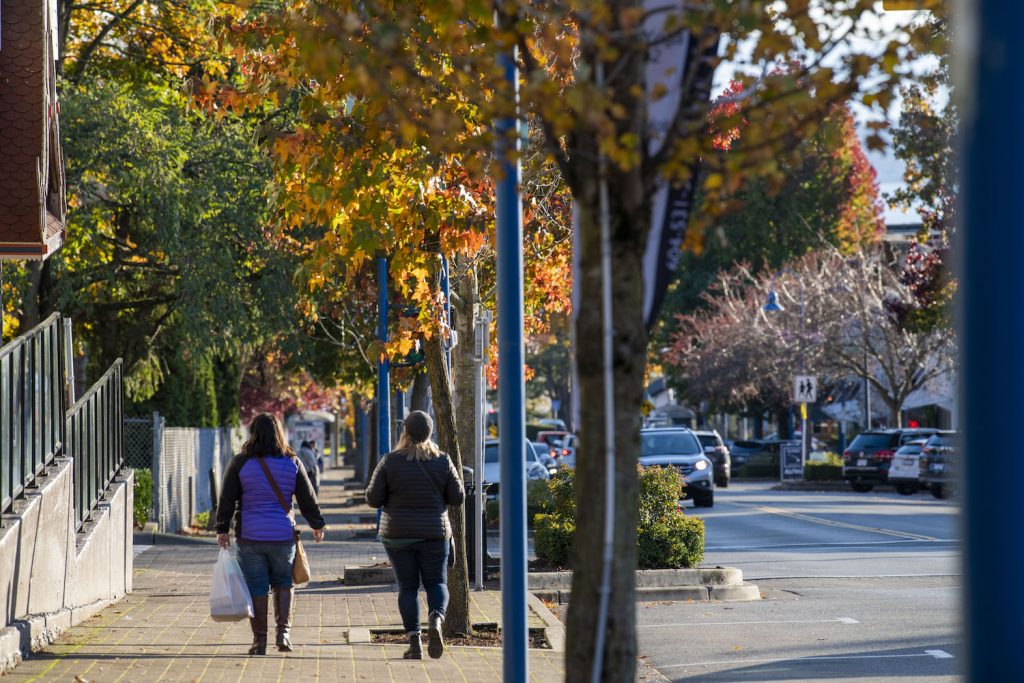 Uptown White Rock, and the Five Corners area, is very walkable, so park your vehicle and start exploring. Along the streets, you will find an eclectic mix of locally-owned shops and boutiques, filled with uniquely beautiful home décor items, clothing, jewellery and retro style White Rock souvenirs. From divine smelling candles, flower arrangements and gorgeous kids clothing to stylish masks, collectable books and the best board games, there's something for everyone, and you'll probably find a few things that you didn't even think you needed!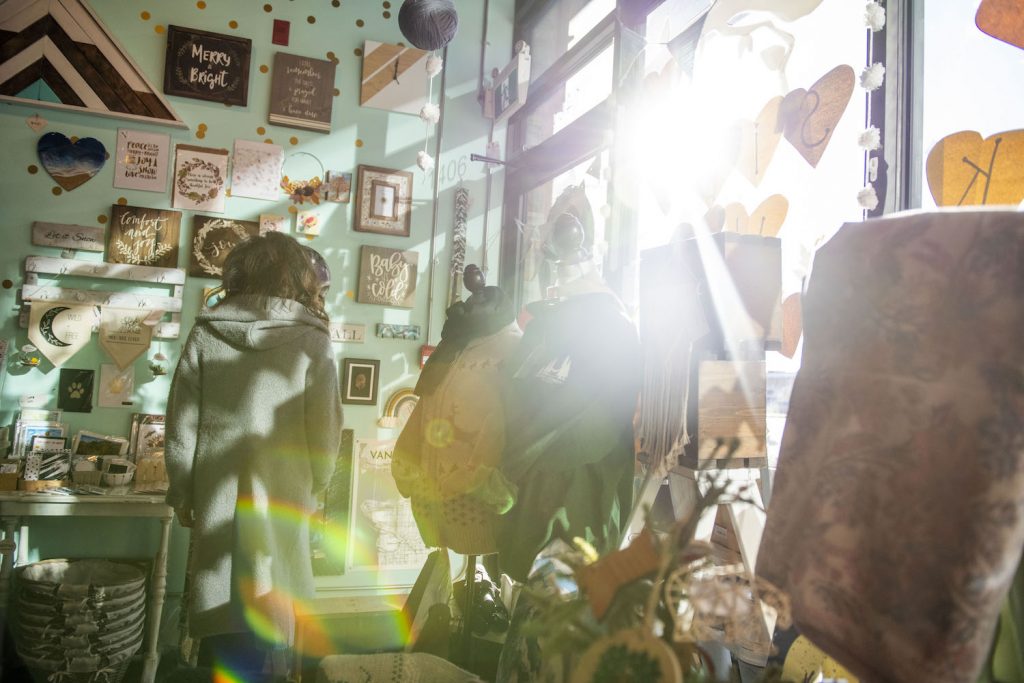 Some shops we love include The Handpicked Home, Mason Jar Home Décor, Looby Doo, Grey Haven Hobbies & Games, Stillman Books and Flowers & Company.
But before you start shopping, pop into one of White Rock's coffee shops to fuel up with a cup of coffee (or tea) and a hearty breakfast. For delicious baked goods, you can't go wrong with a muffin from Laura's Coffee Corner or a croissant cube from Chez Christophe. But if it's a full breakfast feast you're after, then you're going to want to visit the Five Corners Café, Café 8 or the Wooden Spoon. And for a healthy start, Islands Café offers delicious smoothies and acai bowls. And don't forget lunch! Hillcrest Bakery & Deli have amazing sandwiches and lunch specials daily, and Grounds and Greens Café keep it plant-based with mouthwatering bowls and toasts.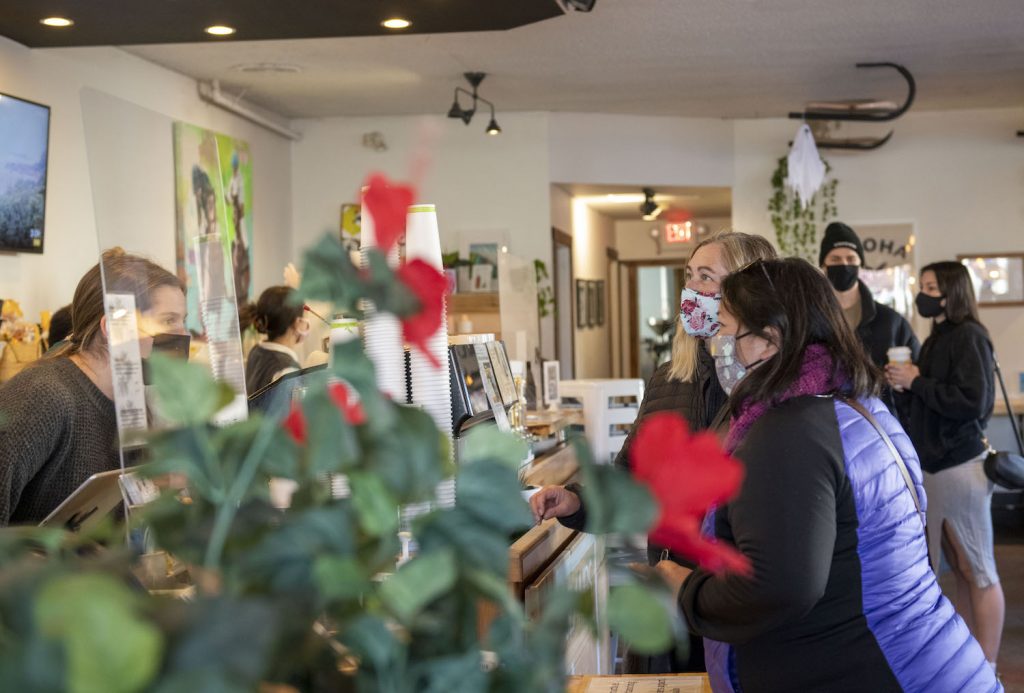 In between the shops, take a little time to explore and discover some of White Rock's public art. If murals are your thing, White Rock has plenty. Visit the Whale Wall mural at the corner of Johnston & Russell, or the Year of Living Playfully, a crazy colourful mural on the side of the coast Capital Playhouse. Also in the same area is an amphitheatre-like sculpture called Rostrum that glows in the evening. And just a few blocks away at the corner of North Bluff and Hospital Street, is the city's newest mural, Lifting Hands, a celebration of local healthcare and essential workers. One of the more unique public art installations is the "The Meeting". Located in the public plaza at Miramar Village, it's a constellation of eight crouching Buddhist monks painted a vivid red, and a perfect selfie spot!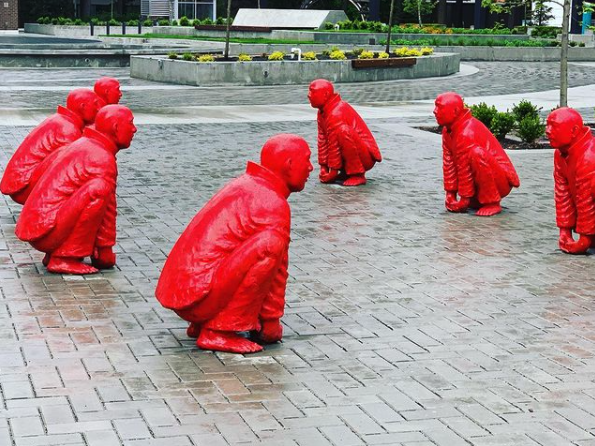 Photo Credit: @suemachenryyoga
Pre-dinner we recommend a stop at one (or both) of Uptown's craft breweries. White Rock Beach Beer Company and 3 Dogs Brewing are right around the corner from each other and both are serving up unique brews and good vibes.
For dinner, the choices are endless. Barrique Kitchen + Wine Bar offers elevated casual fare with locally sourced ingredients and a fantastic cocktail menu showcasing unique drinks like the "Queen Victoria" which uses their own house-made butterfly pea blossom gin. Onyx Steakhouse is a popular choice for date night, with a menu featuring exquisite cuts of dry-aged beef and seafood. Mashawee Lebanese Grill is all about Mediterranean flavours and fresh, healthy ingredients. And Bin 101 is perfect for a casual night out, with delicious tapas and ever-changing wine flights. And PG's Jamaican Grill has a casual island vibe, with authentic, home-cooked Jamaican cuisine and a live DJ on Friday nights.
Uptown White Rock is also home to the award-winning White Rock Farmers Market, which takes place every Sunday from early May until the end of October. Stroll through and connect with the makers, bakers and growers who bring a wide variety of locally grown produce, ready-to-eat items and art to the market each week.