One of the things we love about the arrival of fall and winter is the inevitable arrival of seasonal drinks at our favourite coffee shops. Pair a hot drink with a walk around Uptown or along the promenade and you've got the makings of a perfect autumn day. And with White Rock boasting a wide assortment of coffee shops, this seaside town is bound to impress with the best fall and winter drinks around! We've compiled a list of our favourite places to stay warm and enjoy a seasonal drink.
Laura's Coffee Corner: As one of White Rock's most famous coffee houses, you're guaranteed to get a perfect seasonal drink. Laura's offers plenty of syrup add-ons to make your drink even more festive, with flavours such as salted caramel, peppermint, pumpkin pie, and cinnamon. They also have a Caramel Apple Spice Cider that will warm you up on that chilly fall day!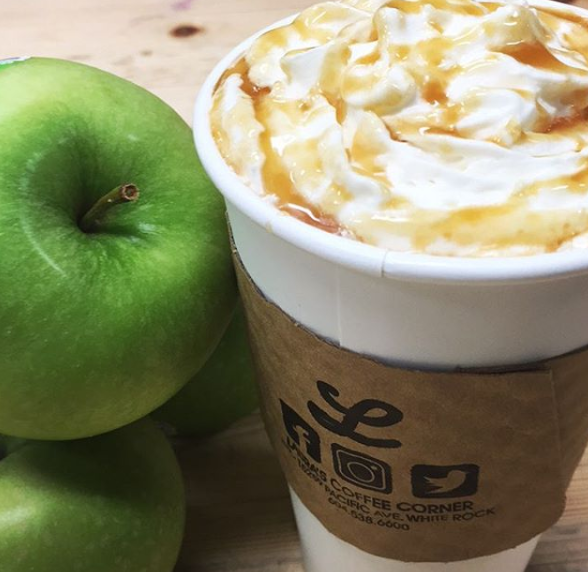 Photo credit: @lauras_coffee_corner via Instagram.
Crazy Cows: Known for amazing hand-made gelato in the summer, Crazy Cows offers up a unique variety of hot specialty drinks. Try a classic Pumpkin Spice Latte, a Nutty Caramel Hot Chocolate, or Candy Cane Hot Chocolate. Wrap your hands around one of these and you'll be sure to stay cozy during your walk along the beach, no matter how cold the weather!
Bean Around The World: Indulge in a wide selection of seasonal favourites including Eggnog Lattes, Pumpkin Spice Lattes, Peppermint Lattes, or a Peppermint Mocha. The most difficult part is deciding which one to get! (Though you can always come back and try every flavour!) Bean Around the World donates a portion of each cup of coffee to a school in Guatemala, so you can get festive while helping make social change!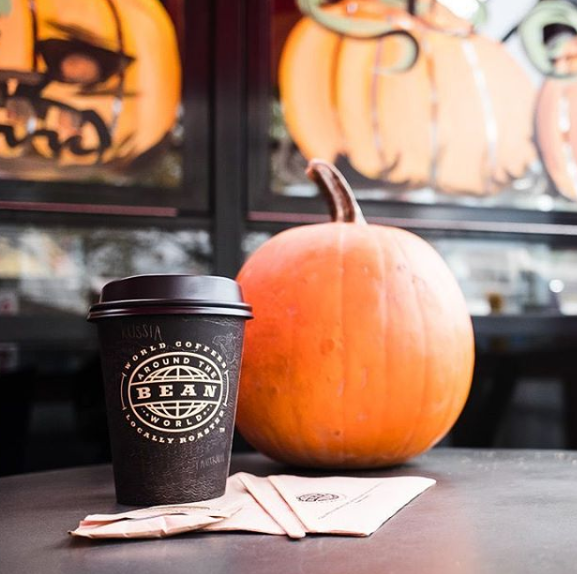 Photo credit: @batwcoffee via Instagram.
Whitby's Coffee House: If you find yourself strolling along White Rock beach and in need of a warm drink, pop into Whitby's Coffee House for a nice cup of Hot Apple Cider and head out for a brisk walk or settle in and warm up inside. They also have a variety of other drinks such as a Caramel Macchiato or a White Chocolate Mocha that will definitely get you feeling festive!
Islands Cafe: Escape chilly autumn days with a trip to the "islands" at Islands Cafe. Hawaiian espresso beans bring a taste of Maui to your fall drink. Try the Koko Pumpkin Pie Latte, the "Koko" is house-made coconut whip, or the mouth-watering Butter Pecan Macchiato and let the aloha spirit melt your worries away.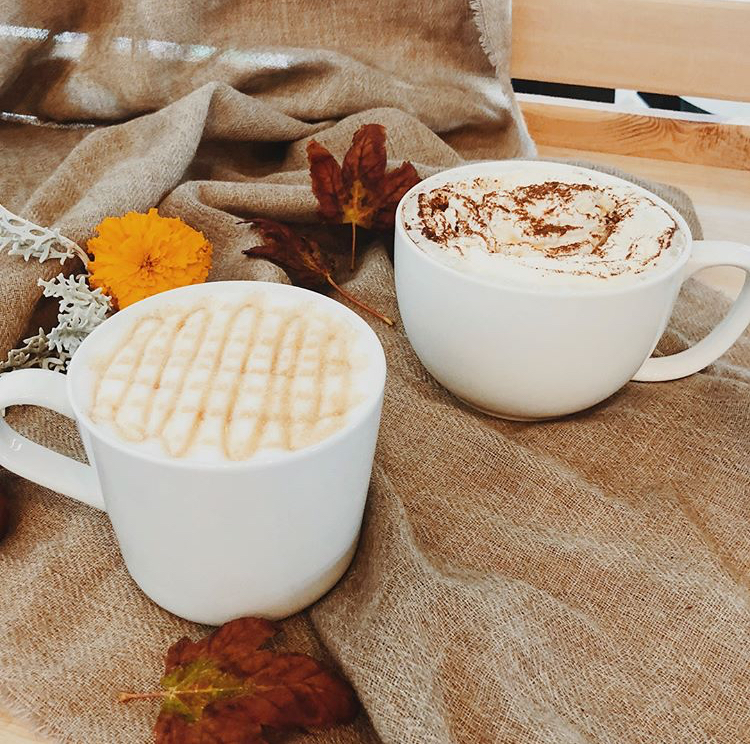 Photo credit: @islandscafe via Instagram
Clancy's Tea Cosy: Coffee not your thing? No worries! Clancy's Tea Cosy is a great place to go on a cold day to enjoy a fresh pot of freshly steeped tea. Warm up with a Vanilla Creme or Mint Chocolate Black Tea, and be sure to book in for their popular Afternoon Tea, complete with those delightful tea sandwiches and homemade scones and clotted cream.
Grounds and Greens: Fall has arrived at Grounds and Greens in the form of their Great Pumpkin Latte and the Pumpkin King. The Great Pumpkin Latte is a frothy and smooth pumpkin spice latte topped with coconut whip, caramel sauce, graham cracker crumble, and pumpkin pie meringue. Its partner in all things fall, the Pumpkin King is an autumn twist on their classic "Ice Queen", an epic whipped coffee confection.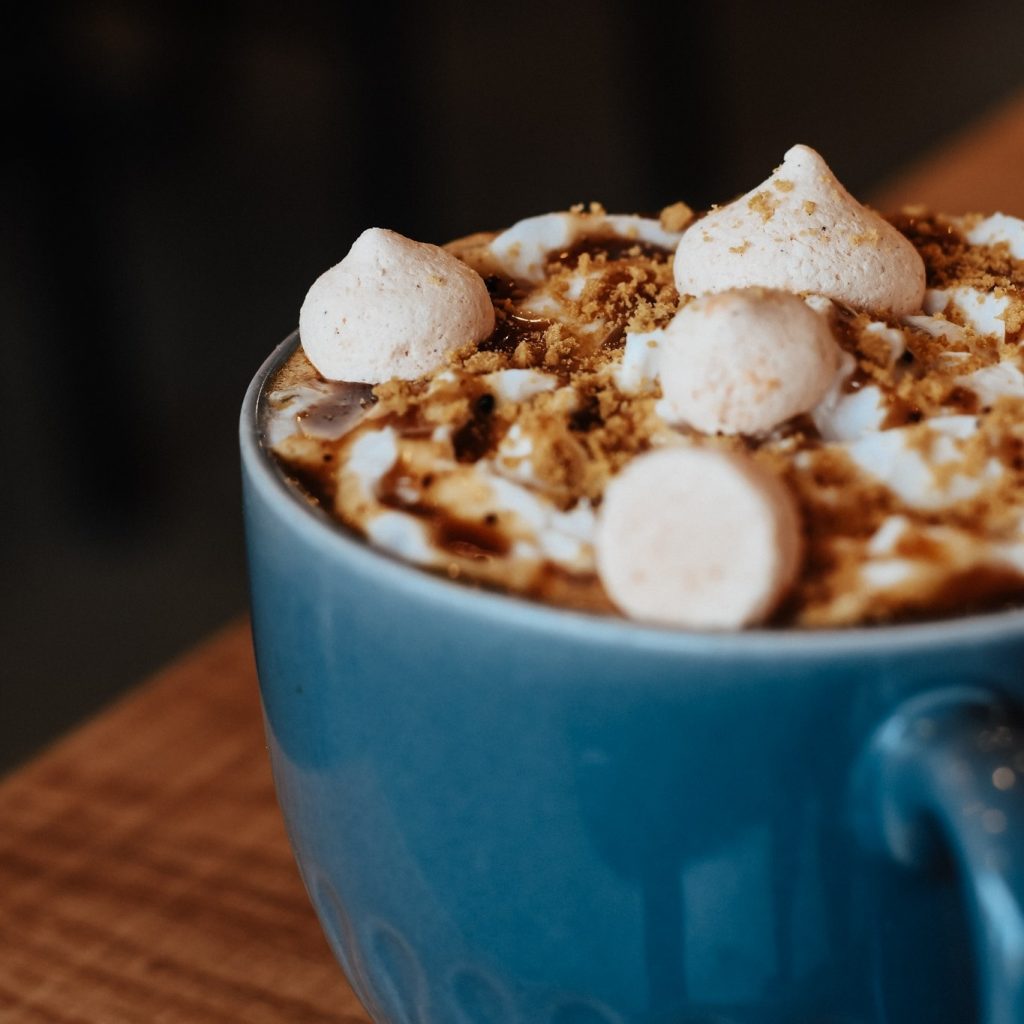 Photo credit: @groundsandgreens via Instagram
Chez Christophe: Fall drinks, and treats, have made an appearance on the menu at Chez Christophe. Stop in for a classic Pumpkin Spice Latte and pair it with your very own individual Pumpkin Tart – a roasted pumpkin mousse, served atop a madeleine sponge cake, with caramelized white chocolate cinnamon ganache and pumpkin seed crumble. Because, after all, you can never have too much pumpkin spice!
Drink up, stay cosy and get festive!