Trying new restaurants is one of the greatest joys in life, though it can put a bit of a strain on one's wallet to eat lavish food too frequently! Luckily for the budget conscious foodie, White Rock boasts a wide variety of restaurants offering one-of-a-kind dishes for a reasonable price. Here are our favourite places to try great food on a dime!
The Wafflers: Opening just recently, the Wafflers has quickly become a favourite among locals and tourists alike. This joint specializes in decadent Belgian waffles, providing unique flavours from cookies and creme to s'mores! At this delicious waffle house, customers can purchase any waffle on the menu for under $10.00, satisfying your sweet tooth without breaking the bank.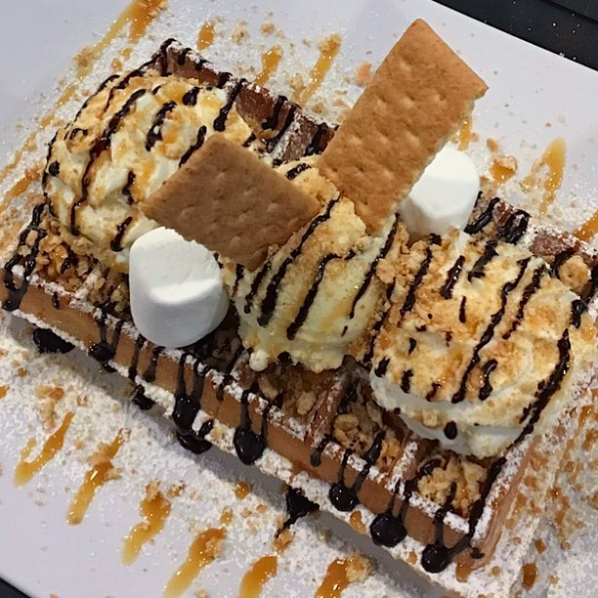 The "Bonfire" waffle! Photo credit @thewafflers_ via Instagram.
Taka's Sushi: In spite of being one of White Rock's most renowned Sushi joints, Taka's is priced quite reasonably while serving delicious food. This local gem puts unique twists on classic rolls and dishes, making it one of our favourite places to have a bite! Our favourite Taka's roll is the poached salmon roll, full of delicious salmon and herbs for only $5.50! You'll definitely leave this restaurant satisfied and guilt-free.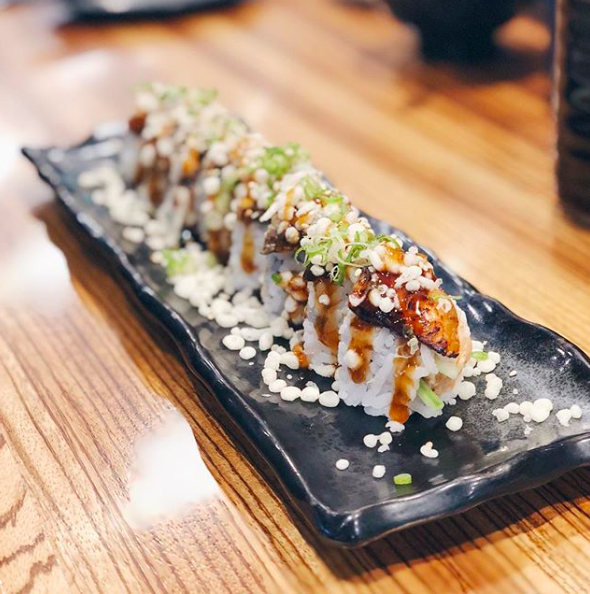 A delicious roll from Taka's! Photo credit @foodie.connie via Instagram.
Tabletop Crêpes and Games: One of the most fun places to eat in White Rock, Tabletop Crepes not only offers excellent food at a good price, but also provides board games for customers! While it may sound like its limited to coffee house snack food, customers can pick up flat breads, sandwiches and wraps as well as crêpes! Nearly all of the sweet crêpes are under $10.00, and a wide selection of savouries are as well! Our favourites are the Game of S'mores (chocolate, marshmallows and graham crackers for $6.95) and the Crêpe Gatsby Crêpe (served with chicken, feta, and mushrooms for $9.95).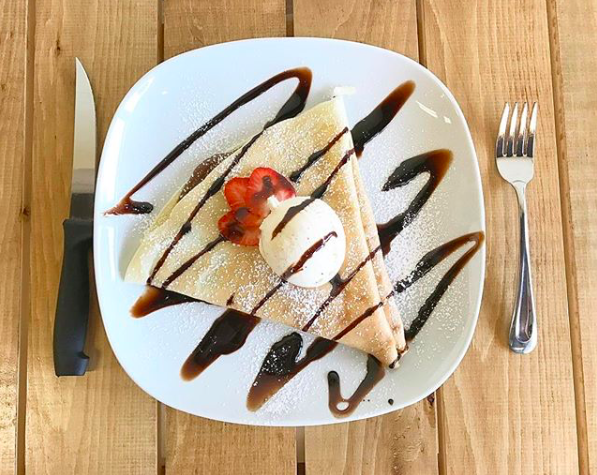 Strawberries and chocolate! Photo credit @tabletopcrepesandgames via Instagram.
Five Corners Vietnamese Restaurant: Vietnamese food is truly one of the most delicious comfort foods. Luckily, White Rock's Five Corners Vietnamese serves excellent food at a great price! (You can get four spring rolls for $7.00!) Almost all noodle soups and vermicelli bowls are under or equal to $10.00, making is affordable and satisfying! Don't forget to try their delicious Vietnamese coffee to add something sweet and refreshing to your meal.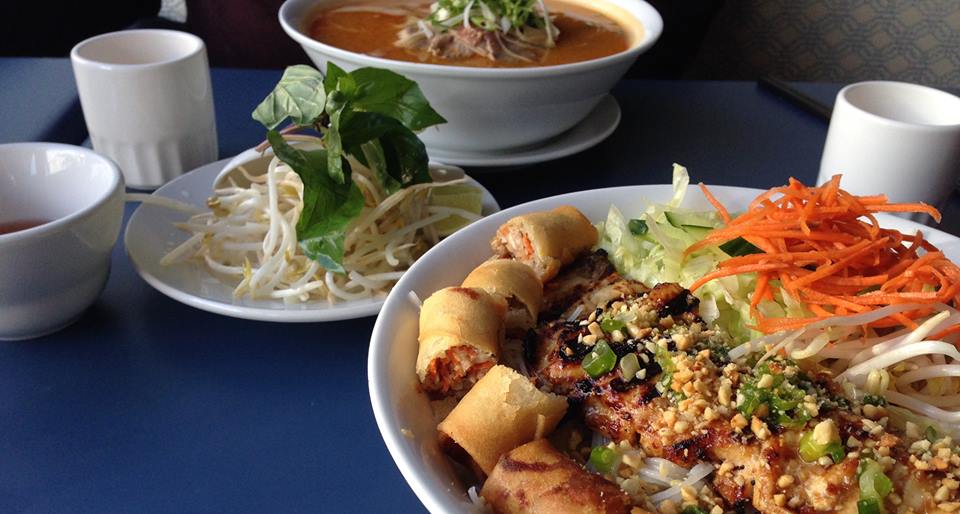 Delicious vermicelli bowl! Photo credit Five Corners Vietnamese via Facebook.
Café 8: This hidden gem is one of the best places to grab a delicious breakfast in White Rock. They've got the classics such as hashbrowns, omelettes and pancakes as well as a killer selection of burgers on their lunch menu! You'll find a wide selection of meals for under $10.00 here, insuring that you can enjoy a quality meal without worrying about overspending. Book your next brunch date here!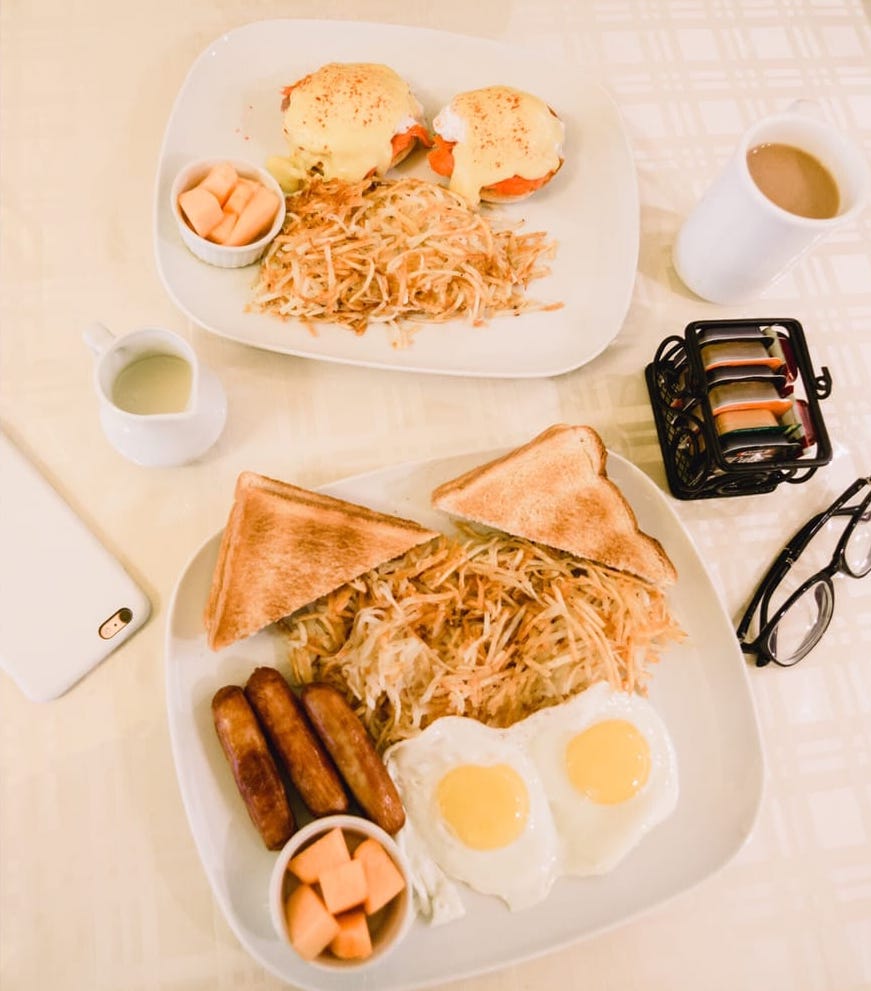 A simply delicious breakfast! Photo credit Shuwei L. via Yelp.