Happy hour can be the perfect way to get a night out on the town, with friends, while saving a little money. Of course, not all happy hours are created equal, and we're here to shed a little light on where to get White Rock's best food and beverage for the best price. White Rock's culinary scene offers some of the best happy hours in Metro Vancouver: here's our list of where to go for the ultimate happy hour treats!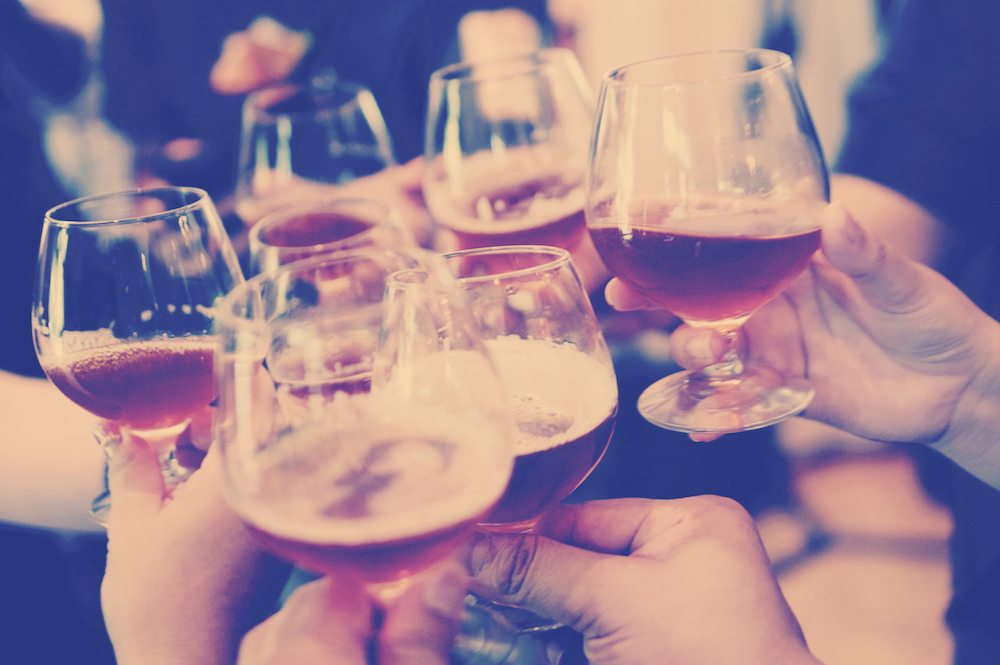 Barrique Kitchen & Wine Bar: Barrique puts a gourmet twist on happy hour, offering specialty items, such as duck poutine and olives, alongside its fabulous drink specials. For those who enjoy quenching their cravings in style, Barrique is certainly the place to go!
Barrique's Happy Hour Menu: Tuesday-Saturday 5:00-6:30 pm.
Food: Olives $4, Popcorn $2, Fries $3, Chips and Dip $7, Duck Poutine $13
Drinks: Barrique Caesar $9, Negroni $8, Red Wine $10, Aperol Spritz $8, Trading Post Beer $4, Bubbles $7, Gin & Tonic $8, White Wine $8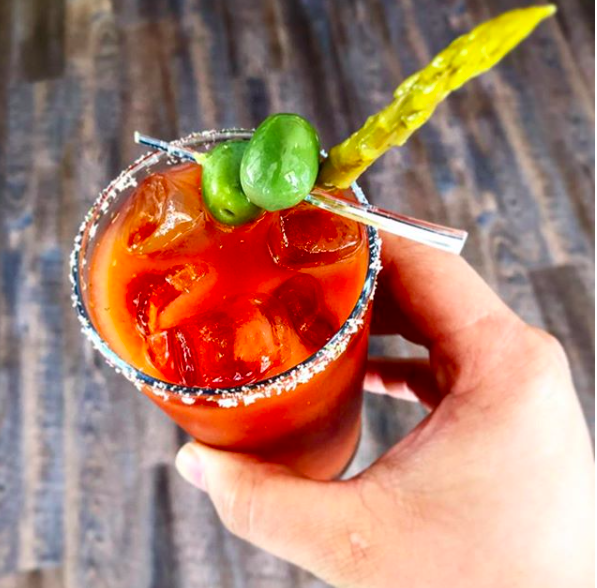 Caesars at Barrique!
The Boathouse Restaurant: With loads of discounted menu items on offer, the Boathouse is definitely a contender for White Rock's top happy hour! Guests can enjoy a cold drink and choose from a wide menu of delicious snacks, all while taking in a spectacular view of Semiahmoo Bay. It doesn't get better than that!
The Boathouse Happy Hour Menu: Monday-Friday 3-6 pm.
Drinks: Drafts $5 Sleeve (14 oz) or $7 Pint (20 oz) (Budweiser, Granville Island Cypress Honey Lager, Killer Whale Ale by Central City, Red Racer Super Solar IPA), $5 Spirits (Smirnoff Vodka, Tanqueray Gin, Captain Morgan White Rum, Crown Royal Whisky, Jose Cuervo Especial Gold Tequila, Johnnie Walker Red Scotch), $6 Glass Wines (House Select White, House Select Red), $7 Cocktails (Canadian Coastal Caesar, The Perfect Storm, Apple Blossom Cooler, Boathouse Bellini)
Food: Fresh Shucked Oysters Oyster Shucks $1.99. Premium Oyster Shucks $2.99. Edamame, Yam Fries, Caesar Salad $4.99. Coconut Shrimp, Fried Dill Pickle Spears, Buffalo Cauliflower Wings $5.99. Popcorn Shrimp, Calamari, Beef Sliders $6.99. Wings, Ahi Tuna Tacos, Korean Sticky Dry Ribs $7.99.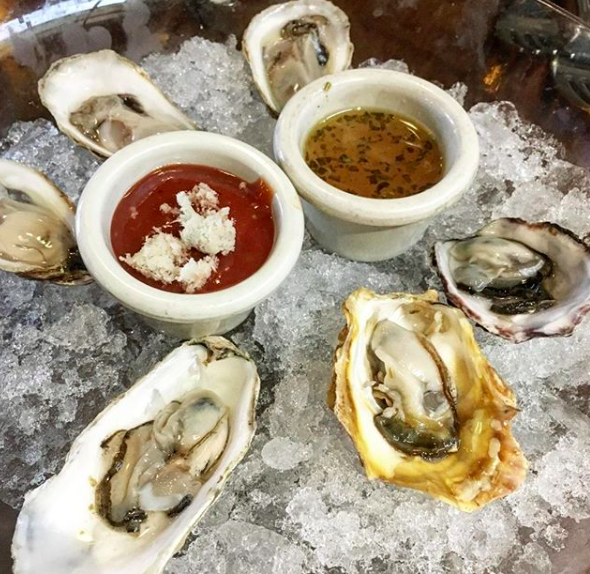 Oyster's at the Boathouse – yum! 
Charlie Don't Surf: Everyone's go to patio when down at the beach. Catch their selection of delicious snacky foods and great drinks, all at a good price. Whether it's a cold beer in the afternoon or a late night highball, you can't go wrong at Charlie's!
Charlie Don't Surf Happy Hour Menu: Monday-Thursday 3-6 pm and 9-close.
Drinks: House Lager $3.50, House Wine $5.99, Highball $3.
Food: Yam Fries, Clam Chowder, Dry Ribs, Mini Pizza's $5.95.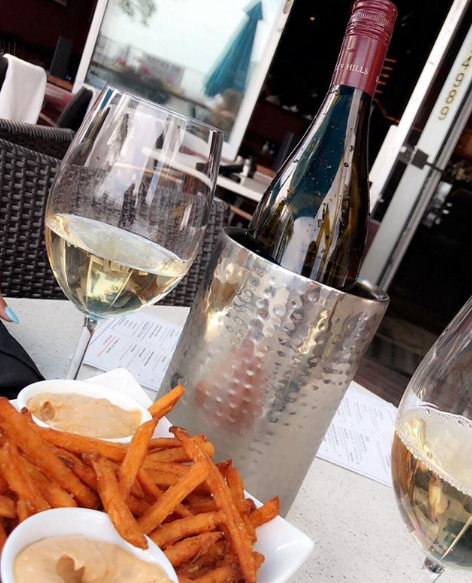 Photo credit: @tazina_chohan via Instagram.
Jan's On The Beach:  This local favourite offers a comfortable atmosphere and close proximity to the beach, making it the perfect place to kick back and relax with friends and have a pint! Treat yourself to a cold drink and then head down to the water for a peaceful stroll on the promenade.
Jan's on the Beach Happy Hour Menu: Monday-Friday 3-5 pm Pints $5, House Wine $5, Rolling Rock $4, and Parallel 49 Grapefruit Radlers $4.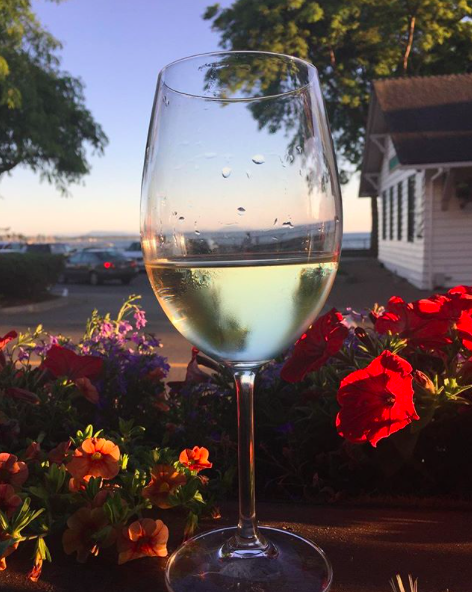 Photo credit: @sjhigueras via Instagram.
FIVE White Rock: As one of the most renowned seafood restaurants on Marine Drive, it seems only right that FIVE offers a spectacular Happy Hour as well. With great deals on both food and drink, it's the perfect place to socialize, snack and relax by the water!
FIVE Happy Hour Menu:
Drinks: Hester Creek Wine $6, Draught Beer $5, High balls $4.
Food: Calamari, Hummus, Frites and Bruschetta $8.00.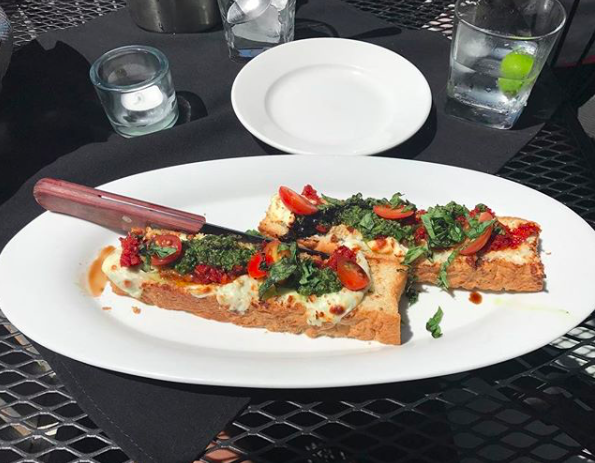 Mouthwatering bruschetta!
Oceanside Public House: Enjoy a view of the bay on Oceanside's stellar patio! Bring your friends, split some wings and enjoy a couple drinks. This local favourite offers happy hour every day of the week, so you never have to worry about missing out!
Oceanside Public House Happy Hour Menu: 7 days a week 3-6 pm.
Drinks: Pickleback Shots (1 oz) $3, Highballs (1 oz) $3, Two Pals Lager $3.25, Glasses of Wine $4 (6 oz), Cans of Beer $4.50, Carlsberg Pints $5, House Lager $3.50, House Wine $4.50 (6 oz)
Food: Pound of wings $7.50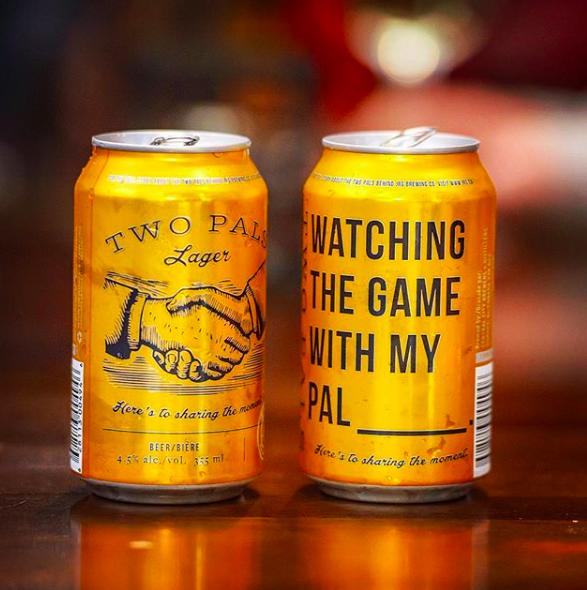 Two Pals Lager served at Oceanside Public House! 
Rock City Burgers: Known for its boisterous atmosphere, Rock City Burgers is definitely one of the more exciting places on the beach. Enjoy a drink with friends and order some of their famous nachos or burgers! You definitely won't want to miss out on this joint's excellent drinks, food and service. Stop by on a Tuesday and join in on one of their famous Karaoke nights!
Rock City Burgers Happy Hour Menu: Monday-Friday 2-6 pm Rock City Lager (20 oz) $6, Hey Y'all Hard Iced Tea $5, House Red/ House White $5 (6 oz)/ $8 (9 oz)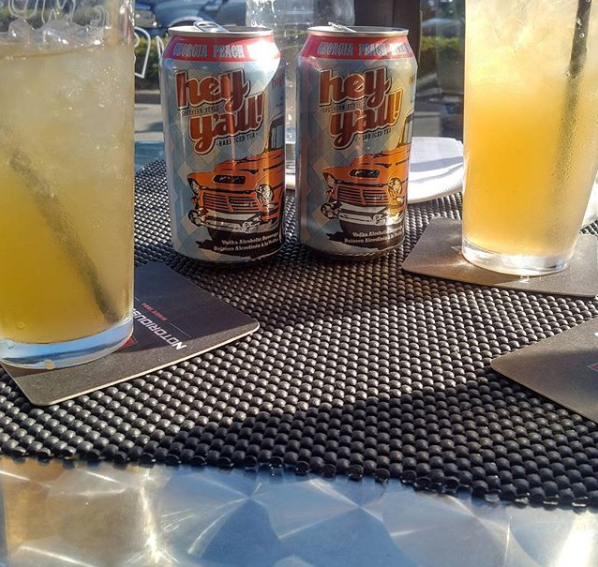 Two Hey Y'all's during Happy Hour! (Photo Credit: jodyloveshockey via Instagram)
Uli's Restaurant: Uli's is one of White Rock's most beloved locally owned restaurants – and for good reason! This family business takes good service and quality food to a whole new level. Stop in five days a week for happy hour and enjoy a discounted pint, or a glass of BC wine from their broad collection.
Uli's Happy Hour Menu: Monday to Friday 3:00-5:30 pm Hoyne Pilsner $4.50, 20% off BC Wine by Glass.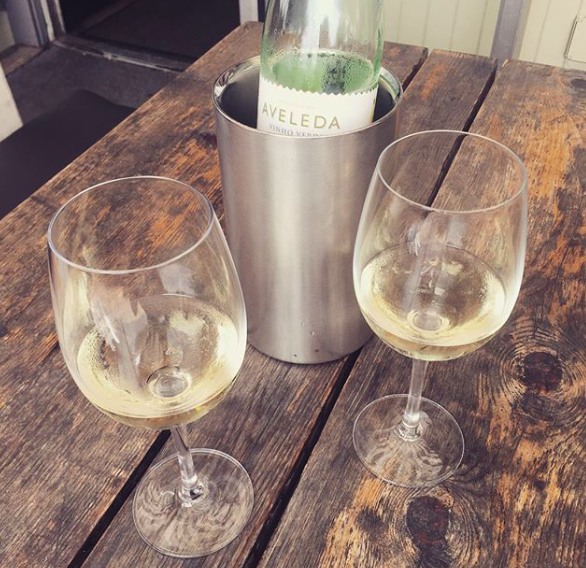 Photo credit: @foodiepics1 via Instagram.
West Beach Bar & Grill: West Beach Bar and Grill is the perfect spot to cool off and chill out in the summer. Head down with friends to enjoy a cold drink on the patio, accompanied by some yummy snacks! If you've got some spare time, stick around to catch their live music, happening 7 nights a week.
West Beach Bar and Grill Happy Hour Menu:
Drinks: Draft $3 (Sleeve of Moosehead or Pabst Blue Ribbon), High Balls $3 (Vodka, Gin, Whiskey, White Rum, or Dark Rum), Wine $4 (House Red or White).
Snacks: French Fries $3.50, Truffle Fries $5.50, Sweet Potato Fries $5.50, Zucchini Sticks $5.50, Fried Pickles $5.50, Mini Perogies $6.99, Chicken Bites $7.99, Rib Bites $7.99, Wings $7.99.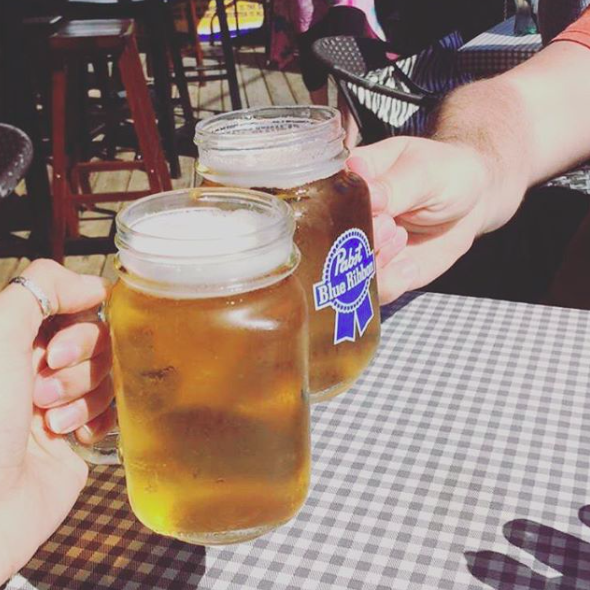 Pabst happy hour special – refreshing on a hot day! Photo credit: @mae.candace via Instagram. 
Whatever you're looking for to make it a great happy hour, somewhere in White Rock has it for you!