The Hot Chocolate Vancouver Festival is coming in hot for 2023 with 66 cafes featuring a whopping 143 flavours, including 2 flavours each from White Rock and South Surrey's Chez Christophe and Everbean Cafe. But, if sticking close to home is on your agenda for the next month or so and you don't think you're going to get to the other 42 cafes, why not do your own hot chocolate "festival" and taste test the chocolatey goodness on offer from a few of White Rock's coffee shops.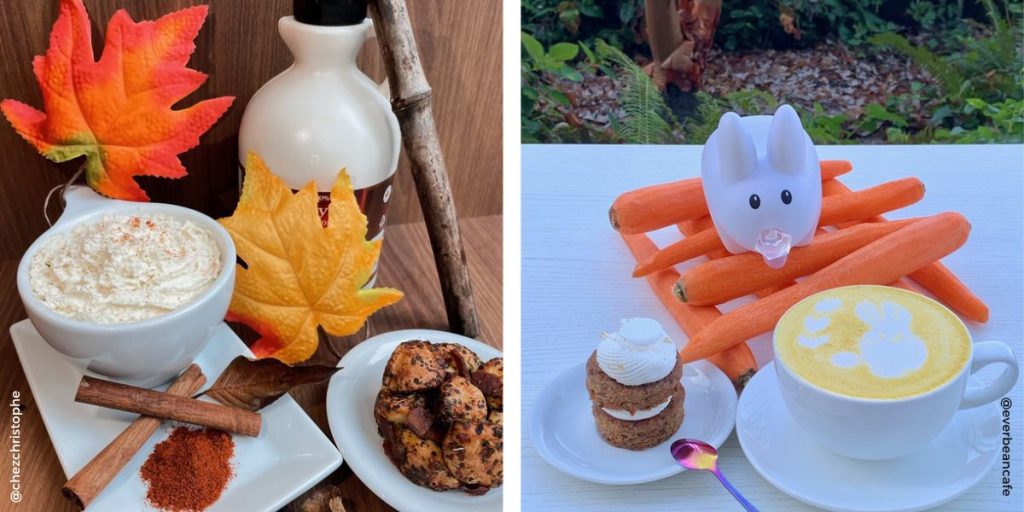 Chez Christophe
1558 Johnston Road
White Rock's Chez Christophe, home to all things chocolate and pastry, is participating in Hot Chocolate Vancouver and has 2 decadent hot chocolates on offer, in addition to their always amazing house hot chocolate!
Canadian Winter with a Kick – A smooth and creamy 41% Swiss milk chocolate enhanced with cayenne pepper and chili powder combined with cinnamon and maple syrup.  Paired with a small, spicy bacon pull-apart.  Available January 14 – 27, 2023
The Sorting Hat – A butter-beer 34% cocoa white chocolate infused with butterscotch and butter-flavoured popcorn milk.  On the side – a mystery house-made lollipop filled with 4 different fillings indicating the assigned wizard house. Available January 28 – February 11, 2023
Everbean Cafe
#106-15331 16th Avenue
And just up the road, South Surrey's Everbean Cafe, known for its unique flavours and homemade coffee syrups, is also participating in the hot chocolate festival. They are offering 2 decadent hot chocolates during the festival:
13 Carat (Carrot) – In celebration of the 13th Anniversary of the Hot Chocolate Fest, and the Lunar New Year of the Rabbit with Zimt vegan white chocolate emulsified with a puree of slow-roasted carrot, a hint of orange, a blend of warming spices, and creamy oat milk. On the side, is Surrey's Just Cakes Bakeshop's chocolate "diamond" set on a vegan carrot cake cushion all wrapped up in a clear jewel box. Available: January 16 – 31, 2023
What the Puck? – Inspired by the barista's daily work pulling shots of espresso, this thick and creamy vegan hot dark chocolate is infused with cascara (the fruit shells of coffee cherries) to bring forth a honey-floral-fruity note. It is served in an edible cup to resemble a double shot of espresso. Nestled on the side is an edible caffeine-free "espresso puck" created by Just Cakes Bakeshop. Available: February 1 – 14, 2023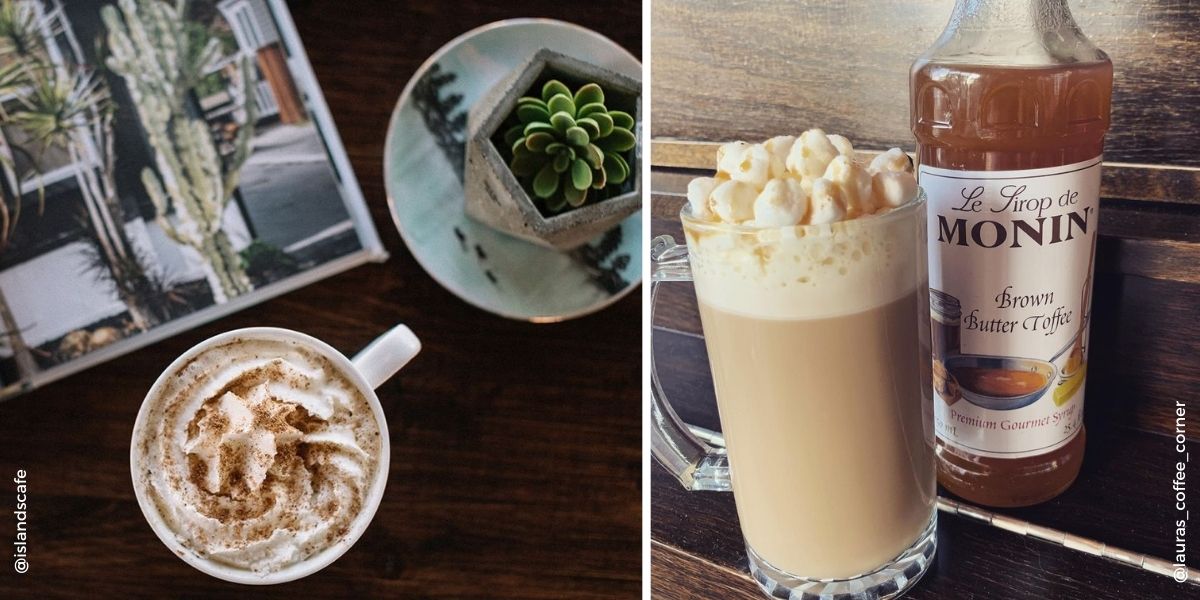 Islands Cafe
1237 Johnston Road
An explosion of flavour, the hot chocolate at Islands Cafe is called "Chocolate Lava" – a treat of smooth chocolate, steamed milk, all the whip cream and chocolate drizzle.
Lauras Coffee Corner
15259 Pacific Avenue
You can add any flavour you like to the hot chocolate at Laura's Coffee Corner, but the Brown Butter Toffee syrup will turn a great hot chocolate into an amazing hot chocolate!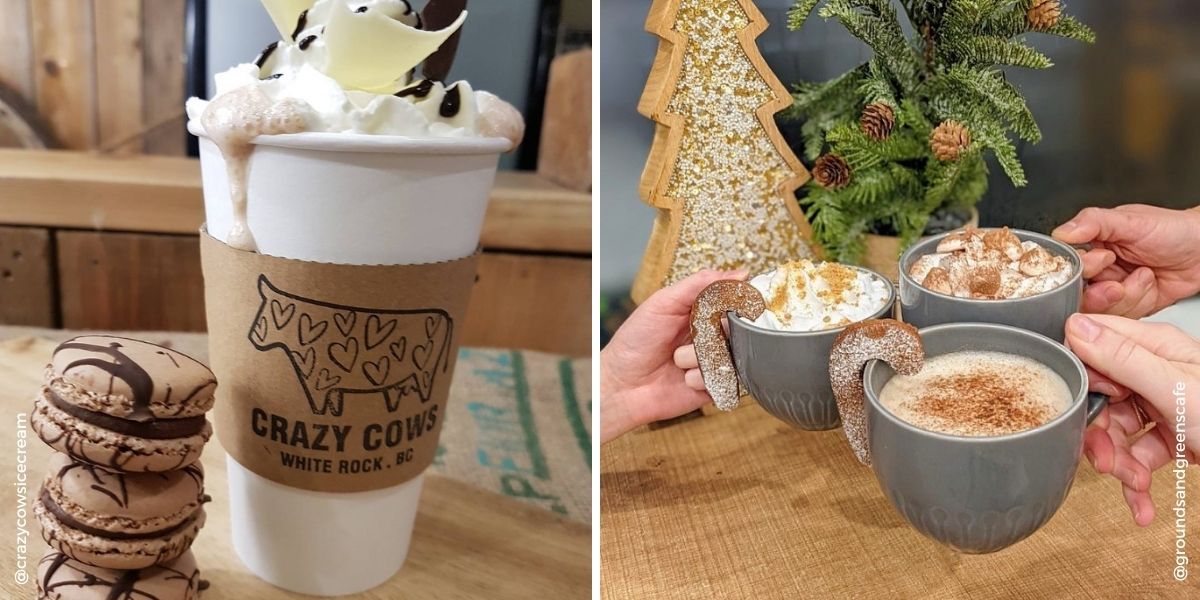 Crazy Cows
14971 Marine Drive
The Chocolate Lovers Latte at Crazy Cows takes hot chocolate to the next level. White and dark chocolate chips are melted into espresso with steamed milk and a hint of molasses, then topped with vanilla-infused whipped cream and white and dark chocolate flakes.
Grounds and Greens
1369 Johnston Road
You can still enjoy hot chocolate while living a plant-based life, and the folks at Grounds and Greens can hook you up. Enjoy their ridiculously rich hot chocolate made with Zimt Chocolates certified organic drinking chocolate and oat milk. And if you love it, and we know you will, you can take home packages of the drinking chocolate to make at home.
Ricardos
14963 Marine Drive
White Rock's newest stop on Marine Drive is Ricardo's and while ice cream, coffee and bubble tea are the stars of the menu, their dreamy, creamy hot chocolate is not to be dismissed! Topped with mini marshmallows and a dusting of cocoa, it's guaranteed to warm hearts and souls.