The Hot Chocolate Vancouver Festival is coming in hot for 2022 with 44 cafes and 106 flavours, including 2 flavours each from White Rock and South Surrey's Chez Christophe and Everbean Cafe. But, if sticking close to home is on your agenda for the next month or so and you don't think you're going to get to the other 42 cafes, why not do your own hot chocolate "festival" and taste test the chocolatey goodness on offer from a few of White Rock's coffee shops.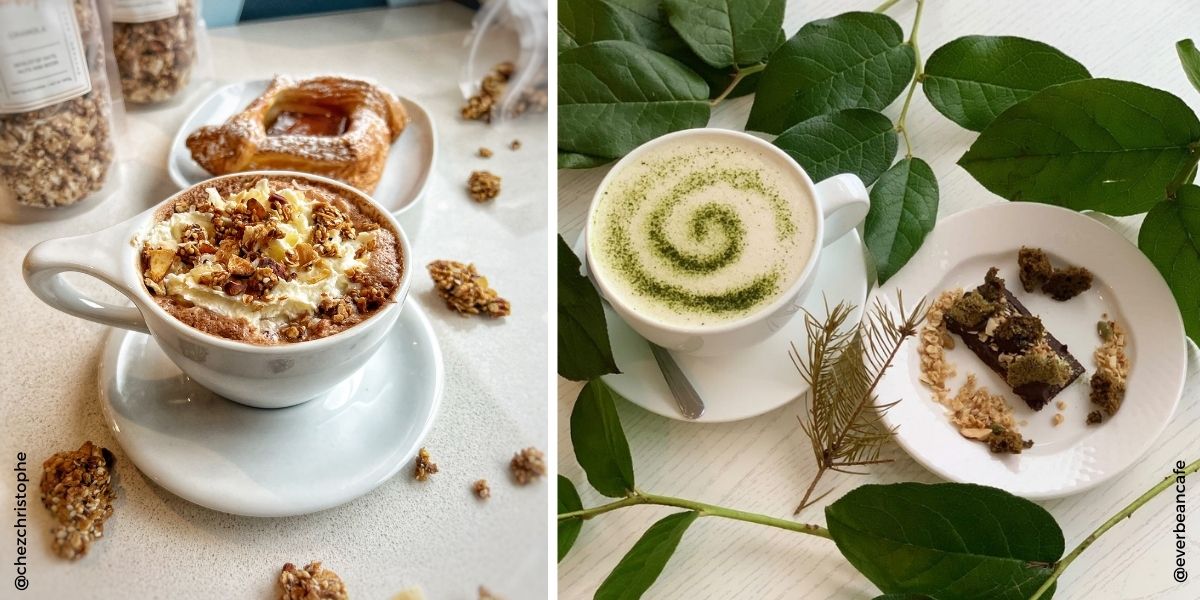 Chez Christophe
1558 Johnston Road
White Rock's Chez Christophe, home to all things chocolate and pastry, is participating in Hot Chocolate Vancouver and have 2 decadent hot chocolates on offer, in addition to their always amazing house hot chocolate!
Breakfast Date – A 35% Zephyr Caramel chocolate combined with Greek vanilla yogurt, date puree and whole milk, then topped with whipped cream and Chez Christophe's house-made granola.   Paired with a spiced, Chai Date creme brûlée Danish.Available January 15 – 28, 2022
Chocomon Milk Chocolate – Smooth and creamy, this 38% milk chocolate is merged with 41% Alunga milk chocolate enhanced with a hint of Fleur de Sel French sea salt, then topped with cocoa powder.  Paired with a dome-shaped, 29% Blanc Satin hollow chocolate filled with colourful house-made mini marshmallows. Available January 29 – February 11, 2022
Everbean Cafe
#106-15331 16th Avenue
And just up the road, South Surrey's Everbean Cafe, known for its amazing flavours and homemade coffee syrups, is also participating in the hot chocolate festival. They are offering 2 decadent hot chocolates during the festival:
Into the Woods – Made with Valrhona Chocolate's plant-based Yuzu Inspiration, Ranger Teacrafter's respectfully gathered Douglas Fir tips and a dash of matcha, this fragrant hot chocolate brings forth an umami mouthfeel and lively citrus notes of yuzu and evergreen fir sap.  Served with a re-imagined granola bar that brings to mind Hansel and Gretel's venture into the woods while leaving a trail of "bread crumbs".Available: January 15 – 31, 2022
Eye of the Tiger – Celebrate the Lunar New Year – the year of the tiger – with our turmeric butterscotch hot chocolate. House-made vegan turmeric butterscotch sauce crafted using Blume Turmeric Blend, combined with vegan dark chocolate sauce and steamed milk.  The drink is topped off with an extra drizzle of gold (turmeric butterscotch) and black (dark chocolate) sauces to bring to mind tiger stripes. Served with a vegan stuffed cookie made with Bonus Bakery cookie dough and filled with our turmeric butterscotch sauce, then topped with dark chocolate chunk. Garnished with edible gold luster dust and Maldon salt. Available: February 1 – 14, 2022.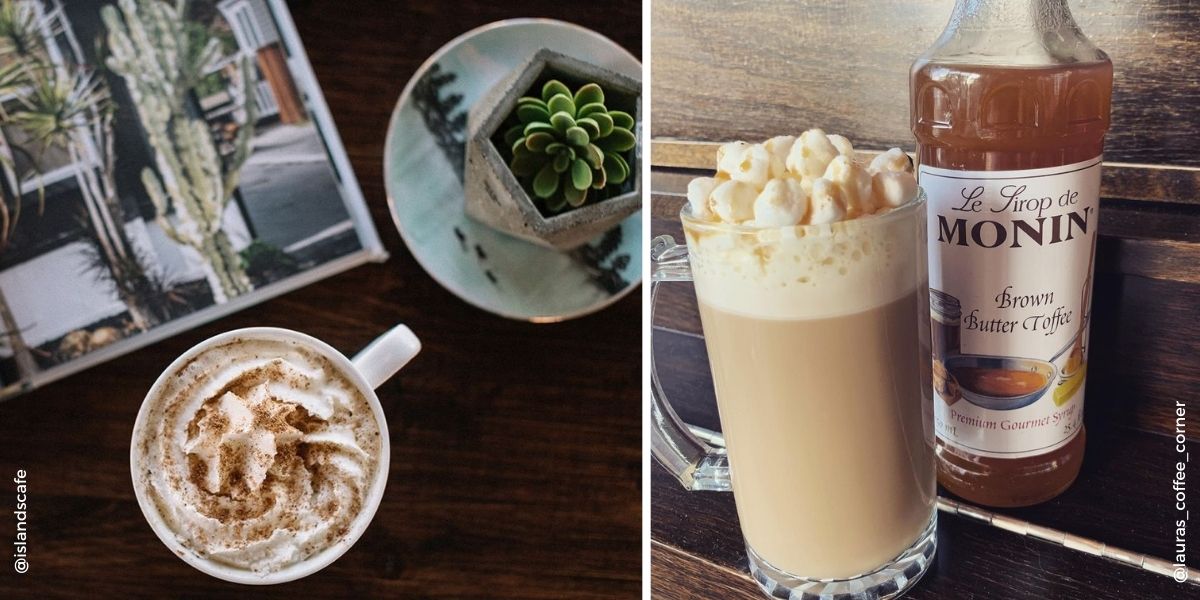 Islands Cafe
1237 Johnston Road
An explosion of flavour, the hot chocolate at Islands Cafe is called "Chocolate Lava" – a treat of smooth chocolate, steamed milk, all the whip cream and chocolate drizzle.
Lauras Coffee Corner
15259 Pacific Avenue
You can add any flavour you like to the hot chocolate at Laura's Coffee Corner, but we think that this Toffee Nut syrup will turn a great hot chocolate into an amazing hot chocolate!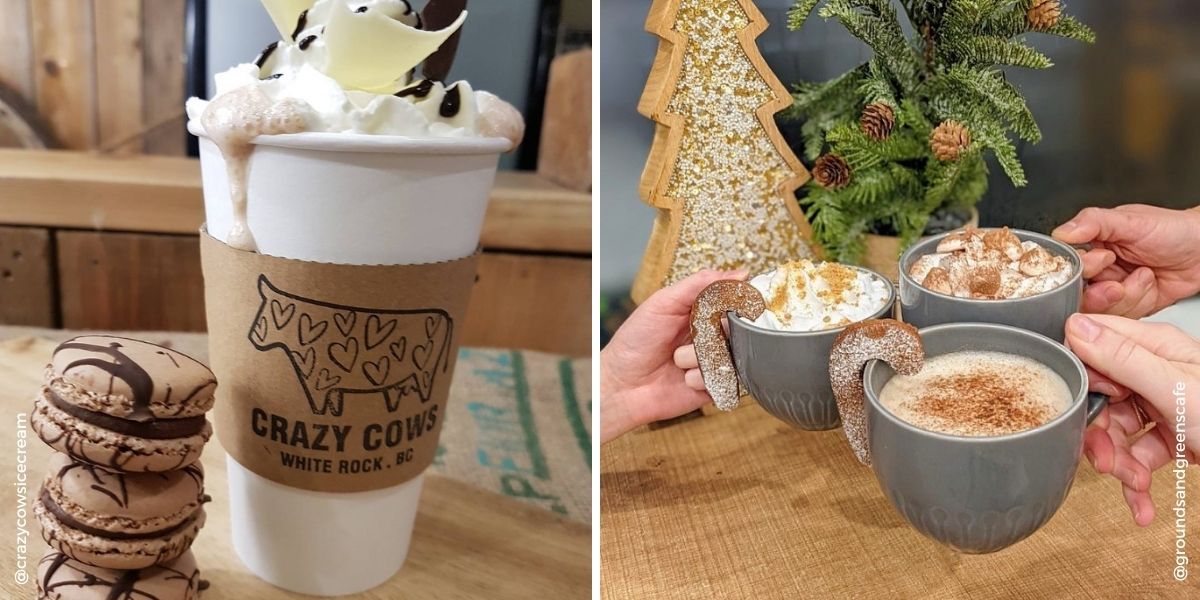 Crazy Cows
14971 Marine Drive
The Chocolate Lovers Latte at Crazy Cows takes hot chocolate to the next level. White and dark chocolate chips are melted into espresso with steamed milk and a hint of molasses, then topped with vanilla-infused whipped cream and white and dark chocolate flakes.
Grounds and Greens
1369 Johnston Road
You can still enjoy hot chocolate while living a plant-based life, and the folks at Grounds and Greens can hook you up. Enjoy their ridiculously rich hot chocolate made with Zimt Chocolates certified organic drinking chocolate and oat milk. And if you love it, and we know you will, you can take home packages of the drinking chocolate to make at home.