Whether you're shopping for the perfect gift for someone special or just something special for yourself, White Rock is home to a number of wonderfully talented local makers crafting one-of-a-kind goods. White Rock's local artisans make everything from hand-poured soy candles to stunning pottery to White Rock prints. Take a look at just a few of the unique items being made in White Rock.
Beautigurlz Designs is the online home of watercolour artist, Scarlett Ballantyne. Based in White Rock, she specializes in a loose style of watercolour painting, ranging from bold florals and fashion illustrations to beautiful local scenes. Pick out a charming holiday card featuring the White Rock Pier, floral art prints, or choose a scrunchie or tumbler adorned with Beautigurlz distinctive artwork. Beautigurlz merchandise can be purchased online or at The Handpicked Home in White Rock.
Rise Candle Collective was created when the owner, and creative mind, Jordyn, started to wonder about the ingredients in the candles she was burning in her home in White Rock. With an unusual amount of time on her hands due to the pandemic, she learned to make clean-burning candles to give as gifts to friends and family. The candles were a hit, and Rise Candle Collective was born. Shop from the "Nostalgia Collection" for one of a kind hand-poured scented soy candles in beautiful upcycled containers.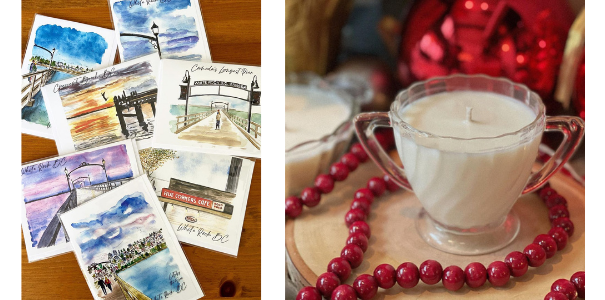 (photo credits: @beautigurlzdesigns and @risecandlecollective)
White Rock Handmade, founder Melanie Gervais, provides made hand knitted items from her home base in White Rock. Having perfected her patterns over many years, and choosing the highest quality materials, White Rock Handmade's items are beautifully crafted and in high demand from locals and at local markets. This season's offerings include adorable deer and baby bear beanies for the littles (or not so little, they come in adult sizes as well), and cosy headbands in a multitude of colours.
Self-professed jitterbug – inspired in many directions and rarely sitting still – Jeanne of White Rock's Jitterbug Studio finds inspiration for her artwork in vintage items and her beachfront surroundings. In the online shop, and at local markets and retailers (The Handpicked Home and the White Rock Museum Gift Shop), you'll find a unique mix of vintage home decor as well as locally-made gift products, like the popular street names series of modern prints, and retro-style cityscape canvas prints. Look for the White Rock street print or canvas print for an ever-present reminder of White Rock!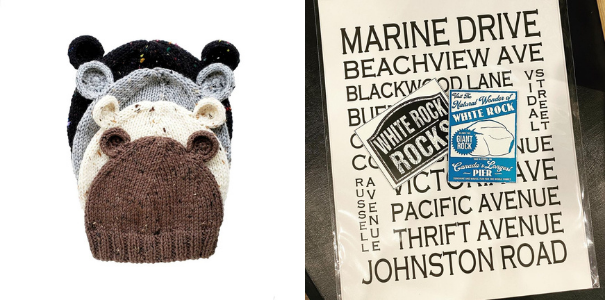 (photo credits: @whiterockhandmade and @jitterbugstudio)
Created using pebbles, driftwood and sea glass beachcombed from local beaches, the portraits and landscapes from Down by the Sea Designs are truly one of a kind. Each piece is custom designed and the information provided by a customer about what they love, allows artist Rebecca, to incorporate meaningful details into each piece. From sweet portraits of couples for a wedding gift, extended families for grandparents or an homage to a favourite place, Rebecca hand-selects the perfect pieces of glass, pebbles and driftwood to make these special gifts.
Gabriella Valeria Kardosi, or GVK Pottery, is a ceramic artist with a studio based out of Cottage Living by the Sea along White Rock's waterfront. Specializing in porcelain and stoneware vessels, Gabriella's creations are delicate, functional and oh so beautiful! Some of our favourite pieces include adorable luminous penguin cups, translucent stars perfect to hang on the tree and porcelain kirigami vessels. Kirigami is an extension of the Japanese art of origami – which is the art of sculpting from a single square of paper using only folds. The joins and folds become an element of the design, and the results are stunning. And not only are the vessels beautiful, but they are also functional.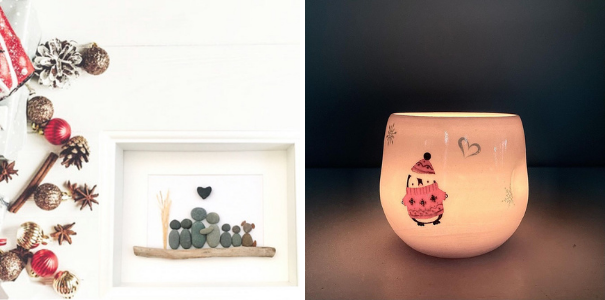 (photo credits: @downbytheseadesigns and @gvkpottery)
Sherry McMillan, the author of the adorable children's book, "What the Seal Saw",  is a resident of beautiful White Rock where she can often be found paddling her kayak out into Semiahmoo Bay. It was on these kayaking adventures that she found herself talking to the seals when they pop up out of the water to visit. And the question she asks of the seals? "What do you see?". It's from these conversations with the seals that this quintessentially White Rock book was written. Beautifully illustrated by South Surrey artist, Carla Maskall, the pages of the book depict Semiahmoo Bay and White Rock's coastline.  Find "What the Seal Saw" at the White Rock Museum Gift Shop and online retailers.
While living in Hawaii Robb Harding learned the craft of roasting coffee using a makeshift cast iron drum roaster. Now the owner of Islands Cafe, Robb and his wife Jalene, begin importing green beans from the Islands and became coffee roasters. Roasting their own coffee allows for better control of the coffee taste profiles and provides customers with the freshest coffee bean possible. All of their coffee is roasted the week it is offered for sale and since opening their Island-themed cafe, they've established themselves as a premium boutique roaster. Take home a bag of Lazy Afternoon Medium Roast, Ukelele Dark Roast or a Surf Seasonal blend, beans from other amazing coffee regions all who coincidentally have amazing surf!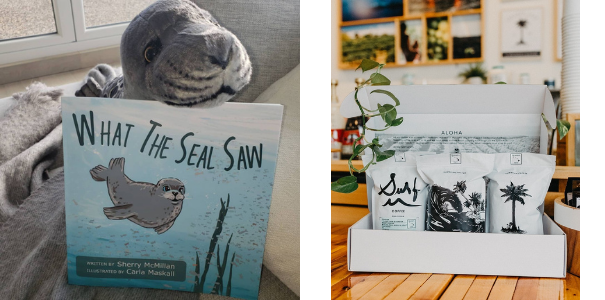 (photo credits: @sherrimcmillanwrites and @islandscafe)
As White Rock's oldest business, Hillcrest Bakery and Deli is White Rock and South Surrey's destination for high-quality bakery and deli goods. All of their baking is done in-house from scratch using real ingredients you can pronounce with no preservatives. And with the holidays almost upon us, the crew at Hillcrest are in full holiday baking mode! From gingerbread cookie (and house) decorating kits, to authentic stollen and mince-meat pies, Hillcrest Bakery is a must-visit this Christmas.
Life is too short to drink beer that's not brewed locally! White Rock's 3 craft breweries are serving up the finest locally brewed beers. With seasonal releases and tried and true favourites, there's a beer for everyone. And this winter, there are some fabulous seasonal beers on tap like Galaxie Craft Brewhouse's, Cosmos Gingerbread Ale and their new Blackhole Chocolate Stout, 3 Dog Brewing's Feliz-Navidog, an espresso Kahlua Porter and their K-Nein Mandarin Christmas Kolsch and White Rock Beach Beer Company's Border Stout.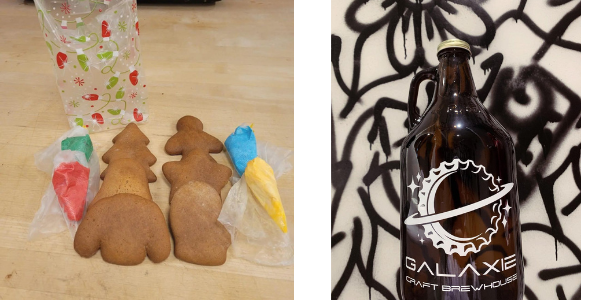 (photo credits: @hillcrestbakeryanddeli and @galaxiecraftbeer)