On August 10, White Rock's beauty is once again being celebrated by local artists, except this year, instead of "painting the town" they will be "painting the bay"!  This year the Semiahmoo Arts Society is taking their beloved plein air competition to the beach.  Artists of all skill levels and ages will be setting up their easels in beachfront Memorial Park on Saturday, August 10th from 9 am – 1 pm and everyone is welcome to enjoy watching the artists as they celebrate the beauty of Semiahmoo Bay, 'en plein air".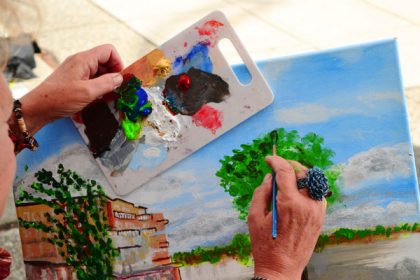 Photo Credit: MonaLucas Photography
Everyone is welcome to admire the artists at work and enjoy the spectacle! Watching as each artist interprets the same view in a unique and different way is truly a pleasure. And, with cash prizes awaiting, you can be sure that the artists will be bringing their "A" game. Artists will be vying for the first prize of $500, second prize of $250 and third prize of $100. Additionally, a $100 prize will be awarded to a young artist. The winners will be announced at the White Rock Community Centre on August 15 at 7 pm where all the artwork will be on display and for sale.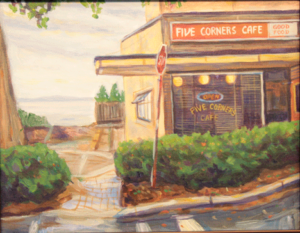 Five Corners Cafe, by Carla Maskall
We're looking forward to seeing the natural beauty of White Rock's Semiahmoo Bay through the eyes of each artist. See you all soon painting the town!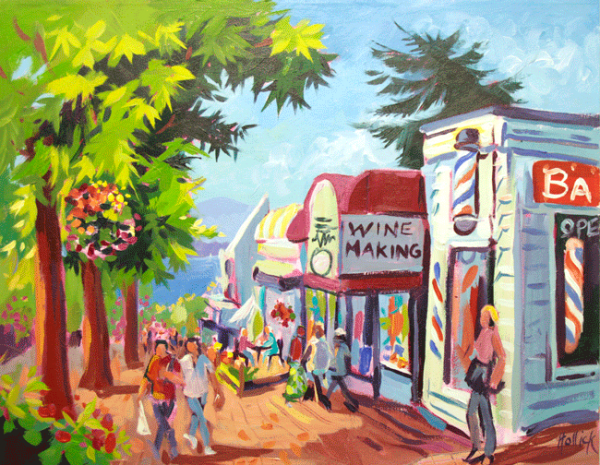 Uptown, by Elizabeth Hollick
More information can be found on the Semiahmoo Arts Society website.
All photos are of artworks from previous years Plein Air competitions.