[Cancelled … due to unforeseen technical issues. The City of White Rock is working to reschedule.]
The Canadian Forces (CF) Snowbirds will pay White Rock a visit on the afternoon of Tuesday, August 8, 2023 at 2:00pm. This visit is in celebration of White Rock's longstanding relationship with the Snowbirds who have performed above the pier many times over the years.
As a part of this visit, the City will be unveiling a commemorative Snowbirds sign on the White Rock Promenade in recognition of this longstanding relationship.
The community is invited to watch the Snowbirds demonstration, which is expected to last approximately 5-10 minutes and attend the sign unveiling. Mayor Megan Knight and two Snowbird pilots will be in attendance and will provide remarks.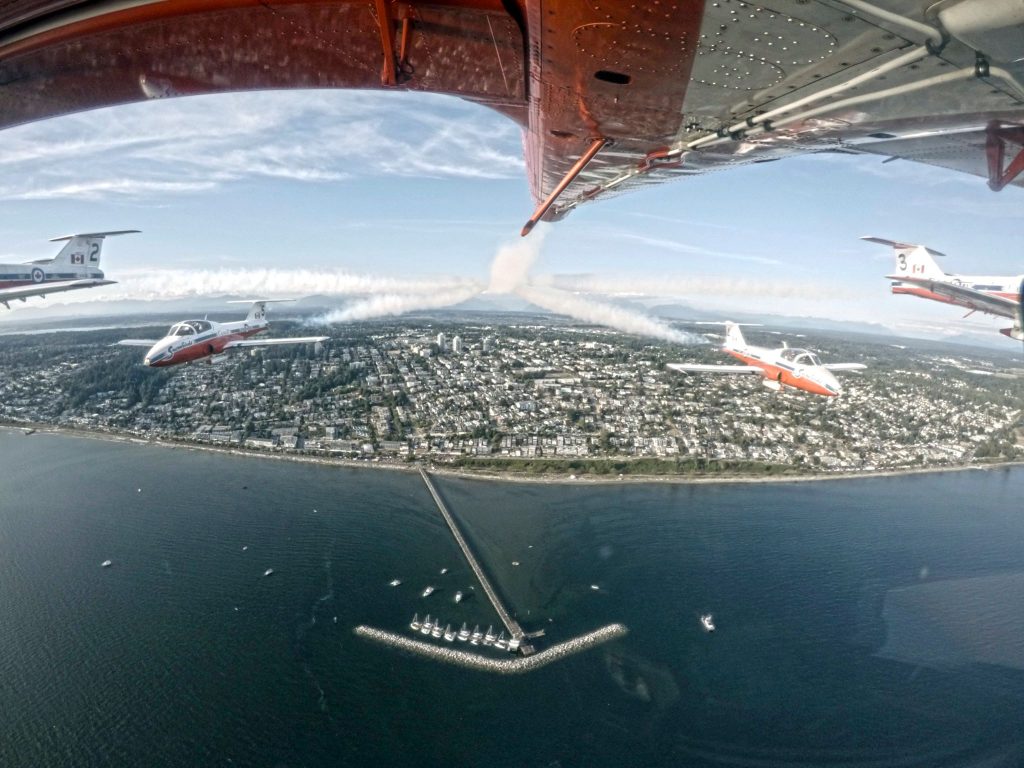 Credit: Canadian Forces Snowbirds / Facebook
It's going to be a lot of fun and probably a little crazy in the 'hood that afternoon so here are a few tips to help you plan the optimum viewing experience!
Plan your trip to White Rock, keep in mind there will be lots of traffic and limited parking so come down early to stake out your spot!
Make sure you are dressed for the weather, so sunscreen, hats and sunglasses for a sunny day (fingers crossed)!
Bring your own chair or picnic blanket to have comfortable seating and be in a great spot for watching!
Make sure your phones and camera are all charged up for the day to capture the show!
The Snowbirds can get loud so be prepared, if necessary, to protect your more sensitive viewers' ears with headphones.
We anticipate that White Rock will be extremely busy that afternoon, so pack your patience when arriving and leaving.
Visit the City of White Rock website for more information.