White Rock has some top-notch sushi joints that we can't get enough of. Enjoy the restaurant ambiance or, depending on the weather, take it out for a picnic on the beach or to your favourite park. Here are our top four choices on where to get your sushi fix in White Rock:
Kappa Sushi
White Rock's oldest sushi establishment, Kappa Sushi has been serving authentic, and delicious, sushi to diners for over 30 years. A local favourite, this tiny restaurant is famed for their attention to food combinations and flavours, and as such, diners come from all over to eat at Kappa. Try the "Beach" special roll – tempura prawns & veggies inside, bbq anago on top and topped with an anago sauce.
Location: 1450 George Street, White Rock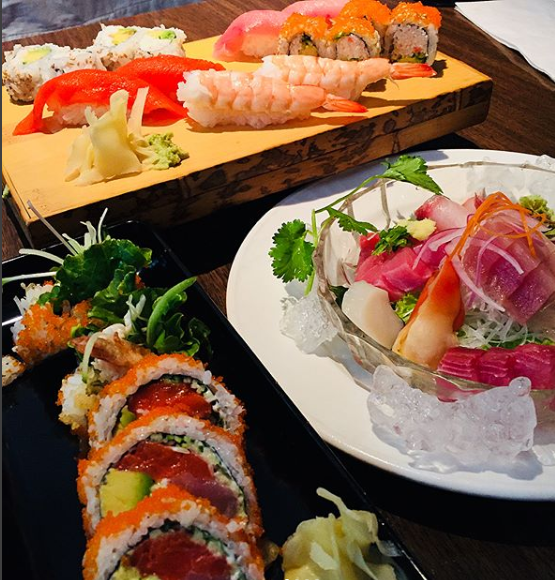 Most authentic sushi in town! Photo credit: @judyhsiu via Instagram.
Two Guys Sushi
One of White Rock's newest sushi additions, they celebrate their one year anniversary in November, 2 Guys Sushi specializes in gourmet sushi and seafood with a fusion twist. They are fast developing a reputation for having excellent service, beautiful presentation and mouthwatering dishes. Try the "Donation" Roll – prawn, avocado and cucumber topped with spicy tuna and crispy powder. $1 from each roll sold is donated to Peace Arch Hospital.
Location: 15169 Roper Avenue, White Rock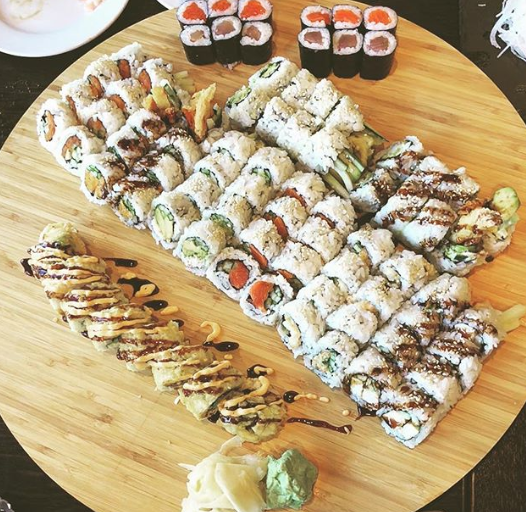 Great presentation and great food! Photo credit: @sthaboutyin via Instagram.
Taka's Sushi
This tiny restaurant serves up some of the most upscale and inventive sushi in White Rock. Known for their aburi sushi (lightly seared, extremely fresh, sushi and perfectly seasoned rice), Taka's prides themselves on offering high-end ingredients in an approachable dining atmosphere, and they have an extensive selection of party trays, that you can customize and take to go. Try the flounder fringe or sea scallop aburi … they are drool-worthy.
Location: 15208 Pacific Avenue, White Rock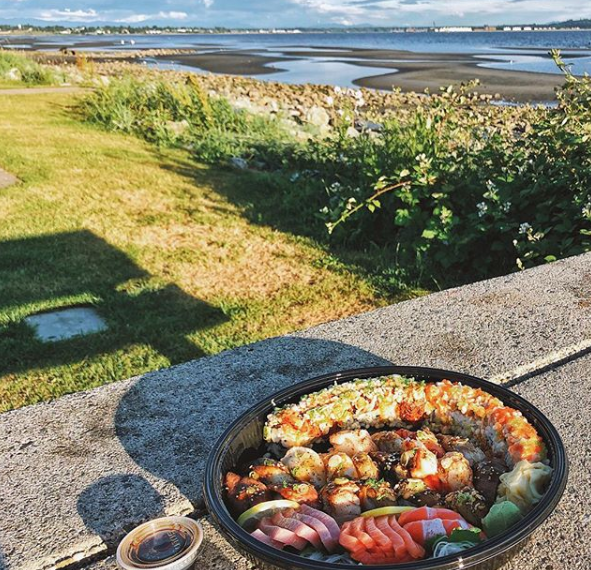 Party tray by the water! Photo credit: @ab.tsui via Instagram.
Kyou Sushi
Whether you choose to dine in the privacy of a traditional Tatami room, or on a beachfront patio with a fantastic ocean view, rest assured knowing that you'll be enjoying delicious well-crafted items. Kyou serves traditional Japanese dishes and a variety of their own "fancy" creations. Their menu changes seasonally to ensure that diners enjoy the freshest ingredients. Try the "Tuna Oshi Sushi" – soy shiitake mushrooms, cucumber and avocado between 2 layers of rice and topped with tuna, peppers and house-made oshi sauce.
Location: 15019 Marine Drive, White Rock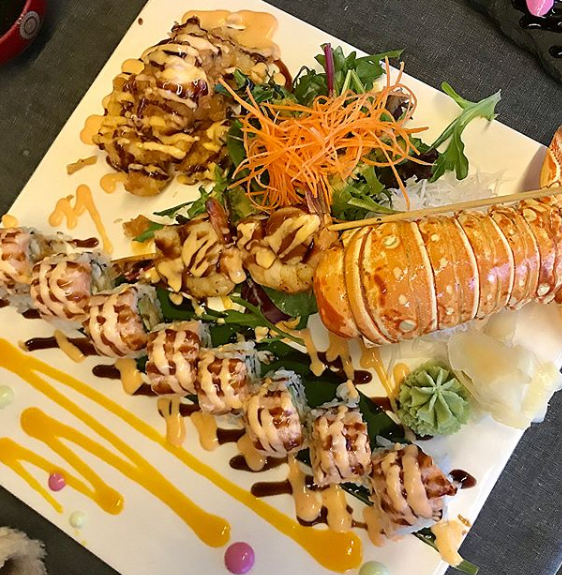 Great selection of food! Photo credit: @etgoodfood via Instagram.
Try them all and let us know your favourite!