Photo: Scott Robarts
Now in its 40th year, the Tour de White Rock is better than ever!
Presented by Landmark Properties and taking place on July 13 and 14, this historic race is one of the largest cycling races in the lower mainland and one of nine races that take place during BC Superweek, one of the most prestigious pro-cycling events in North America.
Criterium – July 13
A criterium, or crit, is a bike race consisting of several laps around a closed circuit, the length of each lap or circuit ranging from about 800 m to 10,000. Criterium's are fast and fun! 
On Saturday, July 13 is the first criterium race with racers following a 1-km circuit that goes from Johnston Road, around Five Corners District, past City Hall and back to White Rock Elementary. Following the race stick around for the street party, beer garden and get ready to dance as Kalimba: The Spirit of Earth, Wind & Fire take to the stage for the second night of the TD Concerts for the Pier summer concert series.  New this year is The Market during the Criterium at White Rock Elementary All Weather Field. There will be dancing, live music, shopping, a classic car show, buskers and a glam jam!
Saturday Schedule
2:30 – 6:30 pm – Home Life Family Fun Zone
3:00 pm – Kids Bike Parade
3:30 pm – Kids Bike Race
4:00 pm – U-15 Criterium
4:30 pm – Men's Cat 3/4
5:30 pm – Women's Criterium
6:30 pm – Men's Criterium
8:00 pm – TD Concert Series at Five Corners
Westminster Savings Road Race – July 14
On Sunday, July 14th it's the main event! The riders depart from the pier at 10:00am (men) and 10:05am (women) to tackle the gruelling course, around the winding hills of our beautiful city by the sea. The men's course is 130 km consisting of 11 long laps and 5 short laps and the women's course is 80 km comprised of 8 long laps. The women's race takes about 2.5 hours to complete and the men's race takes about 3.5 hours. With the start and finish line at the pier, spectators along Marine Drive have the best "seats" in the house and can take in all the excitement of the race. Presentations take place immediately following the race and then hit the beach party in Memorial Park for music all afternoon.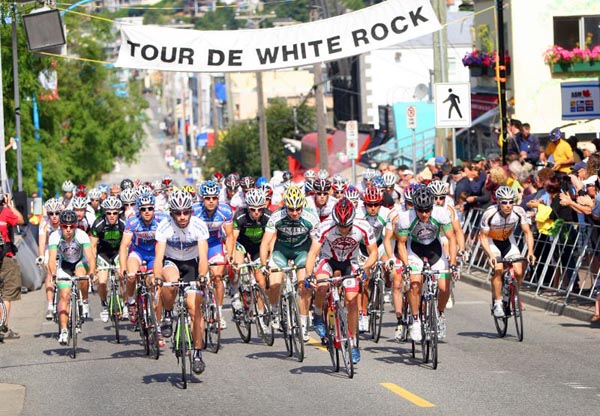 Photo: BC Superweek
Sunday Schedule
10:00 am – Men's Race
10:05 am – Women's Race
1:00 pm – Beach Party