Walking down Johnston Road and Russell Avenue, you may have noticed a rather large family portrait of a mother whale, her calf, and their escort whale. The White Rock Whaling Wall, completed in 1984, is titled "The Grey Whale Family".  It is the fourth of one hundred Whaling Walls, stands 70ft long by 30ft high (20m by 9m) and makes a great backdrop for those Instagram photos!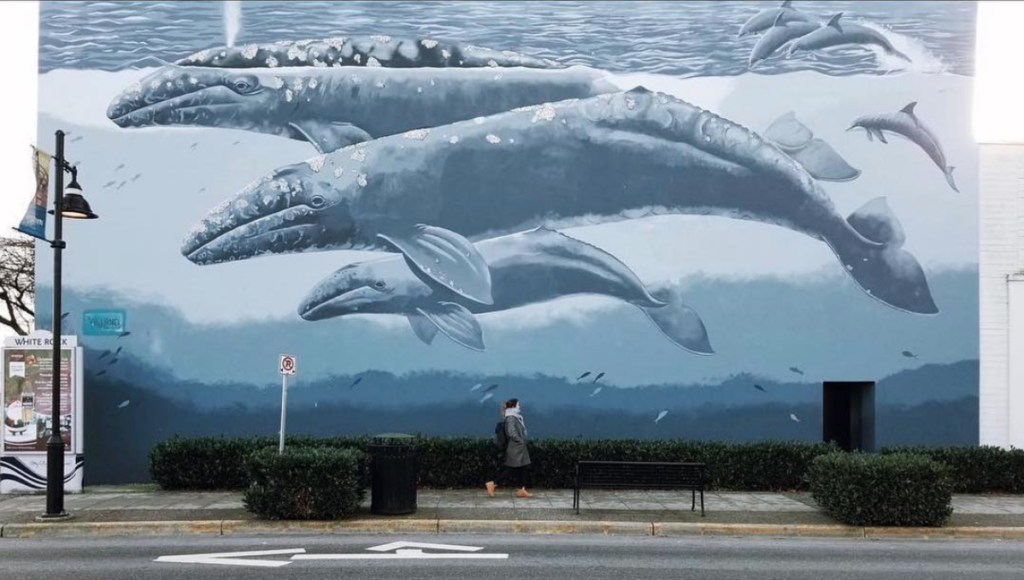 Photo Credit: @@iamkristinakim
The White Rock Whaling Wall is just one piece of a 100 piece puzzle. In 2008 Robert Wyland and the Wyland Foundation completed the monumental goal of painting 100 life-size public marine murals.
"We know now that water connects all the countries of the world," Wyland says. "Our goal with these projects over the last three decades has been to convey the urgency of conservation issues to the public.The health of our ocean and waterways are in jeopardy, not to mention the thousands of marine animals and plants that face extinction if we do nothing."
The completed "Wyland Walls" campaign is one of the largest art-in-public-places projects in history, spanning five continents, 13 countries, and 79 cities around the globe.
Needless to say, these walls convey a message as spectacular as the artwork itself, and White Rock is proud to have one stand in our city by the sea.