Mark your calendars, because the dates & performers for the 2019 TD Concerts FOR the Pier have been released!
Organized in partnership by the White Rock Business Improvement Association and the City of White Rock, this live music event is one of the highlights of the summer in White Rock and is one that you do not want to miss!  And the event is sporting a new name for 2019 – the TD Concerts FOR the Pier – to raise funds to help rebuild White Rock's historic pier that was seriously damaged in a wind storm in December 2018.  The concerts, as always are free, and there will be a chance for concert goers to donate to support pier restoration efforts.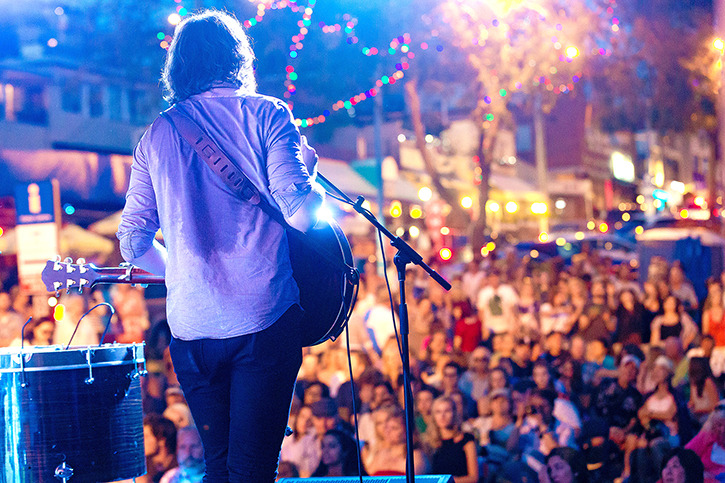 With THREE locations this year, each venue will give the concerts and concert-goers a different vibe. Concerts will be staged at the newly completed Memorial Park at West Beach, Totem Park at East Beach and at Five Corners.
Prism with Stonebolt Revisited, July 4 at Memorial Park (West Beach) at 7 pm, presented by Edward Jones Investment Advisors of White Rock-South Surrey. Prism is a Canadian rock band from the early 80s and Stonebolt Revisited is a tribute band to a Vancouver band from '60s and '70s called Stonebolt.
Kalimba, July 13 at 5 Corners at 8 pm, presented by Oceana PARC. Kalimba -The Spirit of Earth Wind and Fire is an R&B/Soul group from Seattle, and that country's top tribute band to Earth Wind and Fire.
Eagle Eyes with The Fab Fourever, July 18 at Totem Park (East Beach) at 7 pm, presented by Re/Max Colonial Pacific Realty. Eagle Eyes are an Eagles tribute band from Vancouver Island and The Fab Fourever are Canada's premiere tribute to the Beatles.
Jim Byrnes with Babe Gurr, July 25 at Memorial Park (West Beach) at 7 pm. Jim Byrnes is a Juno-award winning Blues musician. 
Dr. Strangelove with Duelling Pianos, August 8 at 5 Corners at 7 pm. Dr. Strangelove is a high-energy and very entertaining Vancouver-based dance band. 
The Crash Test Dummies with Fionn, August 15 at Totem Park (East Beach) at 7 pm, presented by Foster Martin-Landmark. The Crash Test Dummies are a Canadian folk rock/alternative rock band from Winnipeg, who rose to international fame in the 1990's with hits like Mmm Mmm Mmm and Superman's Song. 
"The series is organized in partnership by the White Rock Business Improvement Association and the City of White Rock, and generously supported by Title Sponsor TD; Series Sponsor 107.7 Pulse FM; Presenting Night Sponsors Edward Jones Investment Advisors of White Rock-South Surrey, Landmark Premiere Properties, PARC Retirement Living, and RE/MAX Colonial Pacific Realty; and Media Sponsor the Peace Arch News."