Did you know that White Rock has two beaches? It's true … sort of! The beach at White Rock is so long (8 kilometres or 4.9 miles), that it is divided into "East Beach" and "West Beach". A rise in the shoreline, which the locals call "The Hump", is the transition point from one beach to the other and provides an awesome view of just how long the beach is.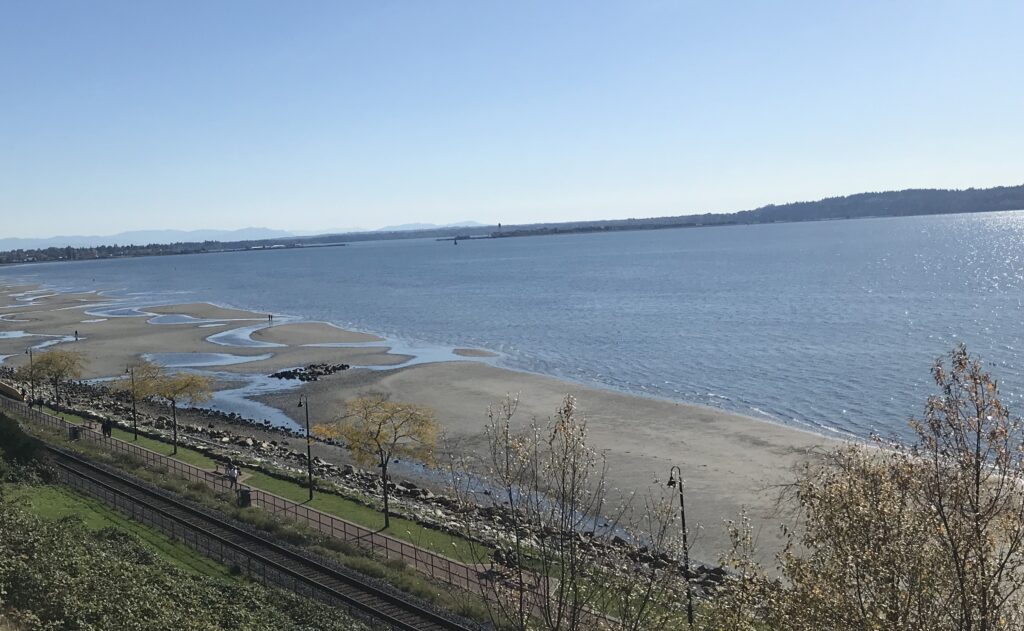 West Beach is home to White Rock's famous pier and as a result, tends to be the beach that people think about when they think of White Rock. There are lots of amazing restaurants, ice cream stores and shops at West Beach, but East Beach has a lure all its own, and many locals will tell you that it's their preferred beach.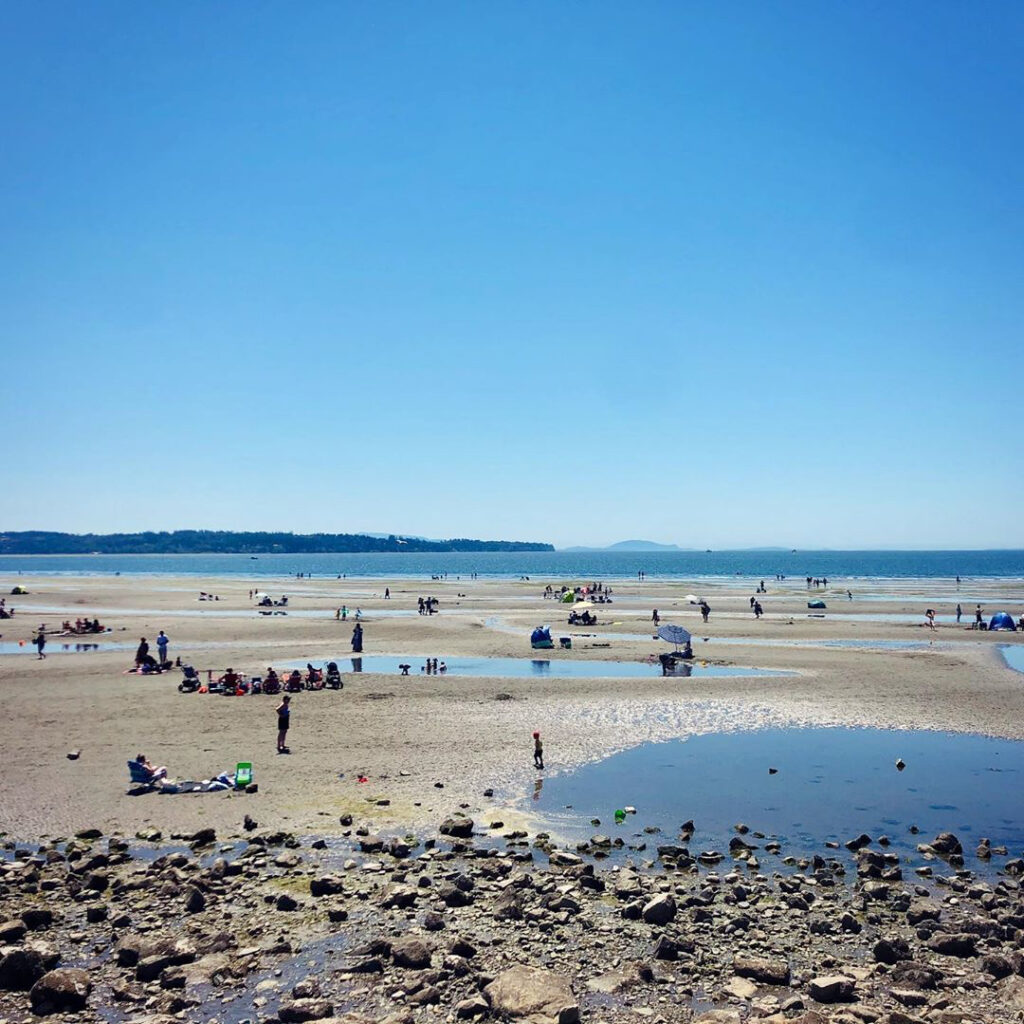 Photo credit: mykasview via Instagram
The vibe at East Beach tends to be a little more chill and appeals to those looking to spend a relaxing day at the beach building sandcastles, paddling in tidepools and working on their suntan. White Rock's beaches are tidal and when the tide is out at East Beach it looks like one could almost walk across Semiahmoo Bay to Washington State. At low tide, beachgoers enjoy wide expanses of the ultimate sandcastle sand and tide pools perfect for skimboarding. While high tide is a paddler's paradise, as kayakers and paddleboarders explore the bay and the usually calm waters. But when it's windy kite surfers descend and put on an exhilarating show of speed and finesse as they take advantage of rolling swells and what can be 20 – 30 mph winds.
Take a stroll along the promenade (you can walk all the way to West Beach), and stop at Grand Chief Bernard Memorial Plaza to take in the view and visit the two impressive totem poles that tower above the beach. Named the "The Gift", the poles signify a partnership between the Royal Canadian Mounted Police, the First Nations people and the City of White Rock. Read more about the significance of the totem poles here.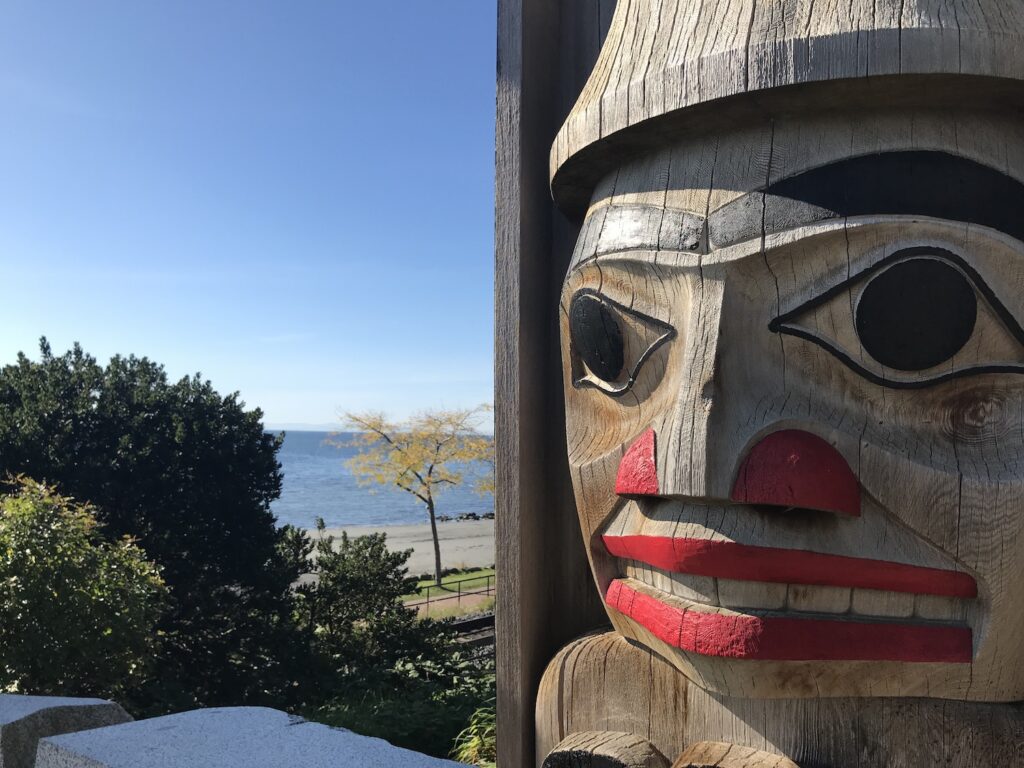 And when hunger strikes or it's time for a break from the beach, it's a short walk to Marine Drive and a wide variety of restaurants offering dine in and take out services and eclectic shops perfect for browsing.
Here's a quick rundown of where you can grab a bite to eat, whether it be a quick takeout meal for the family, or a more leisurely dine-in or patio experience;
Fish & Chips – For fish and chips, arguably the ultimate beach meal, check out Moby Dick Restaurant, Coney Island Seafood, Fishboat Restaurant, The Whale's Tail or Montgomery's Cottage Lunch. Order traditional cod & chips or shake things up Westcoast style with salmon & chips.
Mexican – Does being at the beach put you in the mood for Mexican food?  Zapoteca Mexican Grill can help with that, and every day is a good day for margaritas and tacos!
Comfort Food – If brunch is your preferred meal of the day, you're in luck. Grab a coffee and a hearty breakfast (or lunch) from Holly's Poultry in Motion, Watt's East Beach Café or Verandah Café by the Beach.
Ice Cream – A day at the beach isn't complete until you've gone for ice cream. Visit Sandcastle Sea Shoppe, Heavens Angels or Famous ROME Ice Cream for the ultimate scoop or stop by the Aloha Beach Picnic for creamy soft-serve and Hawaiian-style shave ice.
And wrap up your day with dinner and a spectacular view of Semiahmoo Bay at a long-time favourite of locals, the Washington Avenue Grill. Voted as one of the top scenic restaurants to dine at in Canada, The WAG, as it's affectionately known, serves Pacific Northwest cuisine with a focus on local and seasonal ingredients. And they have a killer cocktail list!