In spite of it's small size, White Rock is full of beautiful art, sculptures and murals. Spend a day exploring the city and take in as many public art pieces as you can find! Here's a quick guide to some of our favourites.
Spirit Bears: White Rock has 2 Spirit Bears that stand at 7 feet tall and were purchased in support of BC Lions Easter Seal Operation and Canucks for Kids Fund.
1. By artist Elizabeth Hollick. Location: 14600 North Bluff Road.
2. By artist Deborah Putman. Location: 15342 Buena Vista Avenue.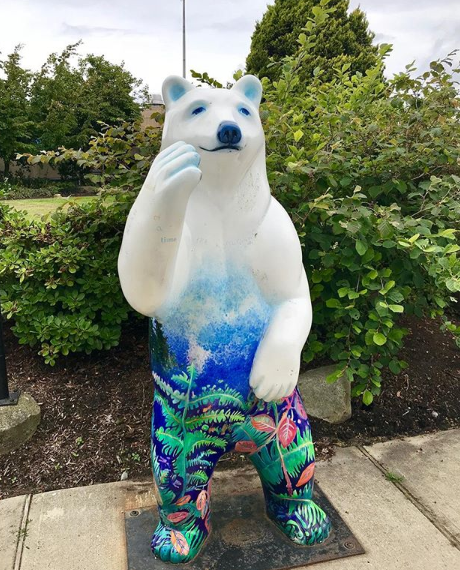 Holes in the Sky: As a representation of the marine environment in White Rock, this piece embodies the rolling waves if the ocean and crashing surf. By artist Douglas Senft, 2007. Location: Oxford Street and North Bluff Road.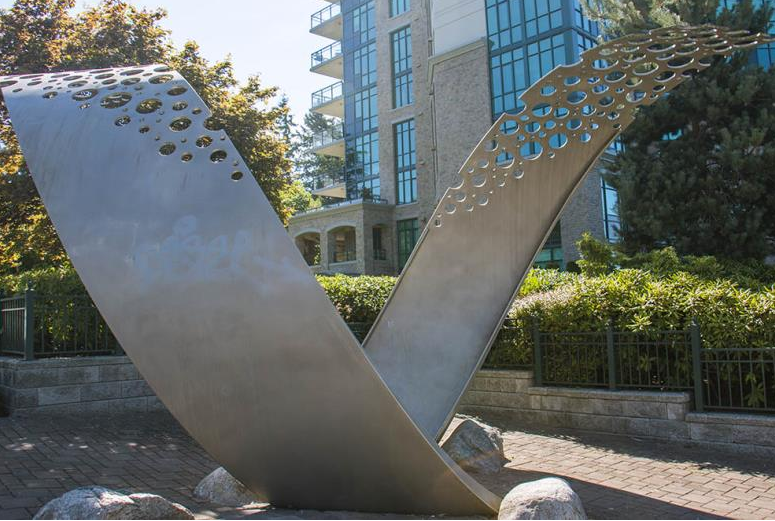 The Grey Whale Family (Whaling Wall): This mural of a grey whale family with Pacific bottlenose dolphins is part of the 79 city Wyland Walls campaign to increase appreciation for aquatic habitats. By artist Robert Wyland, 1984. Location: Corner of Russell Avenue and Johnston Road.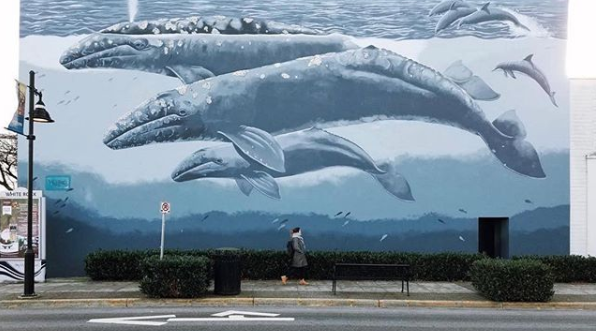 Walking on Sunshine: The mosaic steps offer a spot to relax while wandering East Beach. Each step has been decorated using pieces of colourful tile and placed in the pattern of sunshine. By artist Matt Todd, 2004. Location: Terry Parr Plaza, Marine Drive at Ash Street.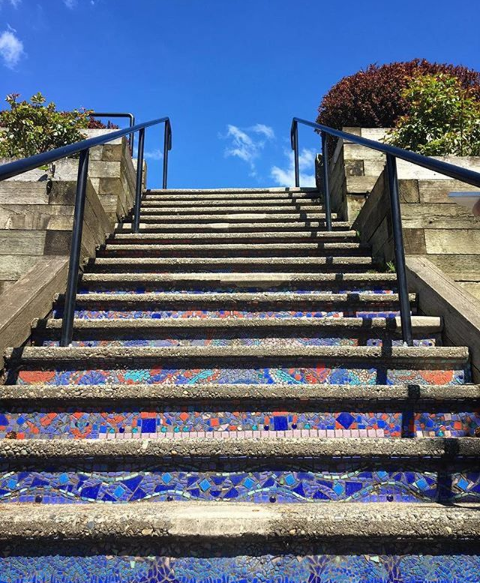 Photo credit: @autovancouver via Instagram.
Totem Poles: Created to commemorate the 125th anniversary of the RCMP, the totem poles celebrate and honour Semiahmoo First Nation and the RCMP. By artist Robert Davidson, 1999. Location: 15400 Block Marine Drive.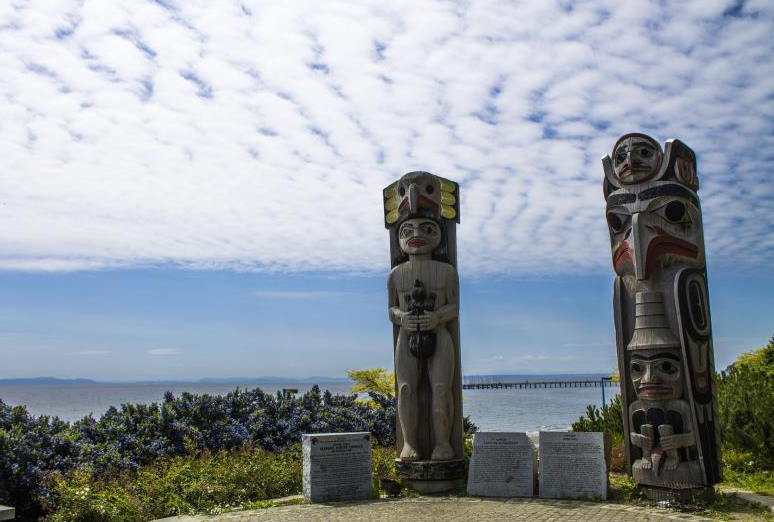 Grizlee: This monolithic granite bear stands at the end of East beach promenade and was placed as a memorial in 1999. The name Grizlee refers to Frank's son, Lee. By artist Frank Slavin, 1999. Location: East Beach, at the start of the promenade.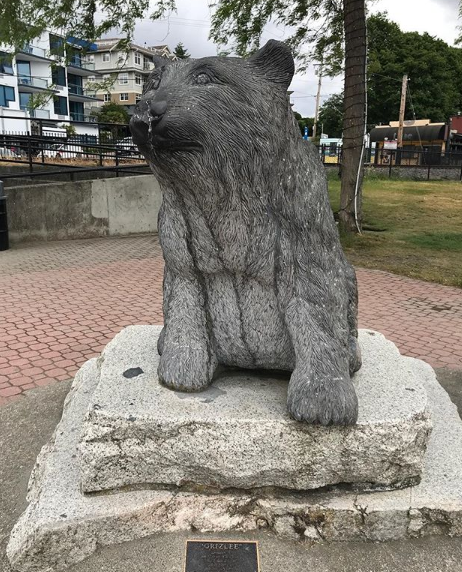 Passenger: Passenger celebrates the history of rail service and the significance of visitors who awaited their journey at the White Rock Train Station. By artist Denis Kleine, 2014. Location: 14970 Marine Drive.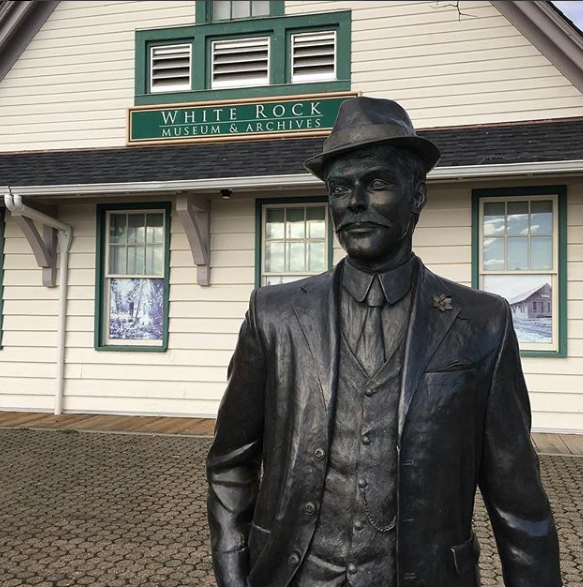 Photo credit: @beachjglass via Instagram.
Binding Spirit: This sculpture is symbol of contemplated hope for a more closely knit human community and depicts the spirit that binds us all together. By artist Calvin F. Turner, 1989. Location: West Beach along promenade.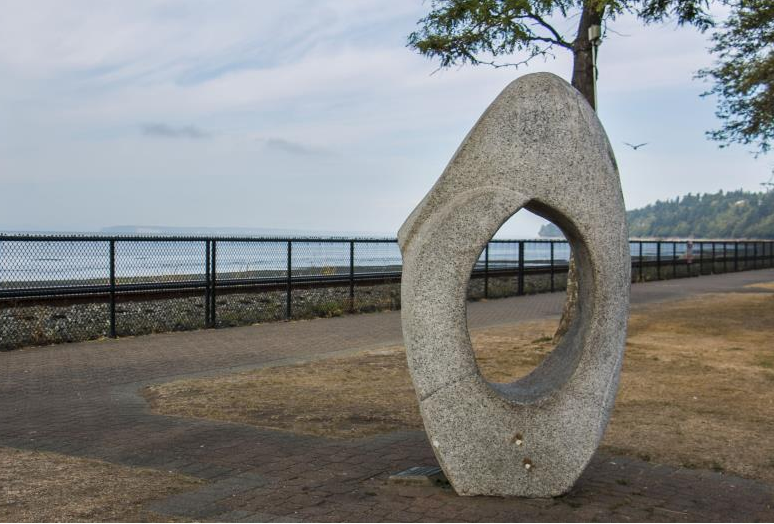 Rostrum: The amphitheater-like structure blurs the line between art sculpture and landscape. The fifty LED lights embedded into the curved pipes create an evening glow. By artist Gordon Huether, 2013. Location: 15154 Russell Avenue.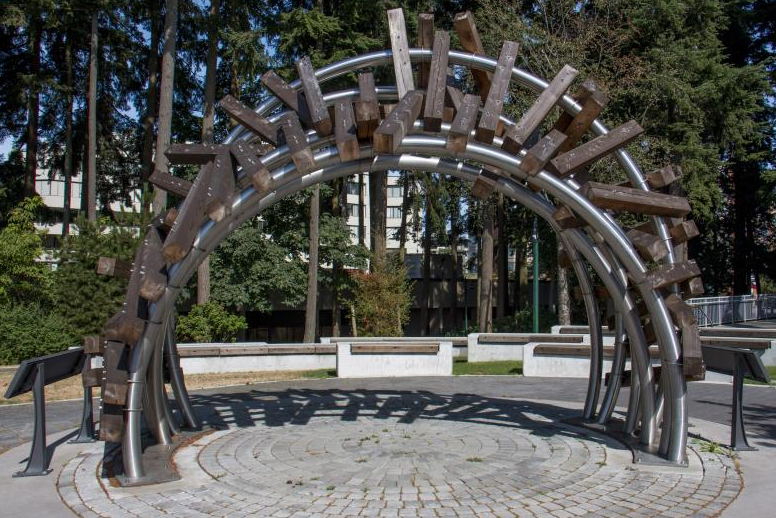 Artists Walk: Fine art displays next to the White Rock Museum Plaza and alongside the west promenade. Meet the artist and view their work.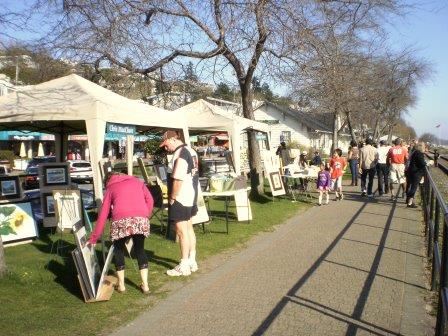 Photo credit: City of White Rock.
Infinity Cycle: A public art installation by artist Hooman Mehdizadehjafari, commissioned by the City of White Rock in 2017 to commemorate the 37th anniversary of the Tour De White Rock cycling race. Location: Corner of Oxford Street and Marine Drive.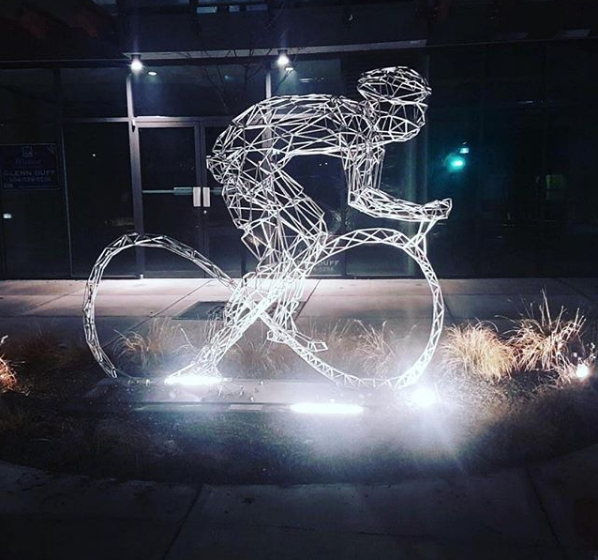 Photo credit: @psuedo1112 via Instagram.
White Rock's many murals:
Coastal Landscape
Location: Uli's Restaurant, 15023 Marine Drive.
This coastal landscape mural by Vancouver based graffiti-artist 'Craver' adorns the side of Ulis Restaurant and depicts rugged old-growth trees and as an ode to the West Coast forests of British Columbia.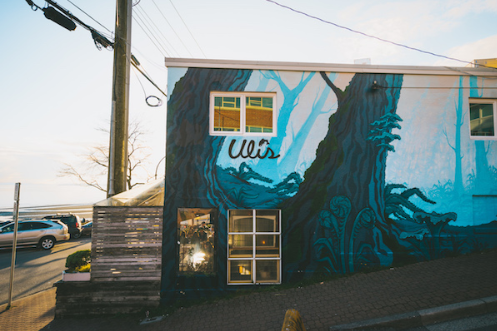 Blue Frog
Location: Blue Frog Studios, 1328 Johnston Road.
Created by artist, Elizabeth Hollick, Blue Frog's mural represents the activities and events that occur in the studio and the seaside lifestyle of White Rock.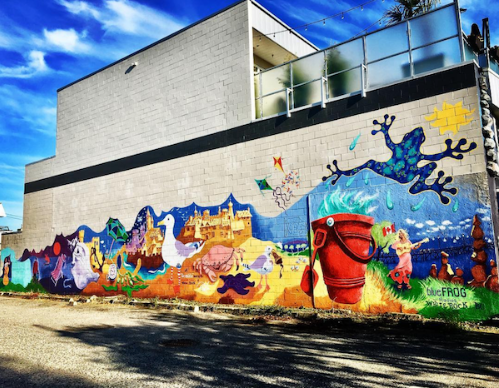 Photo credit: @maekoliu via Instagram.
The Wonderful Year We Fell in Love
Location: Coast Capital Playhouse, 1532 Johnston Road.
The Wonderful Year We Fell in Love, was painted by artist Elizabeth Hollick in 2014 on the outside wall of the Coast Capital Playhouse. It pays homage to, and depicts, the unforgettable characters from the annual pantomime of the White Rock Players' Club.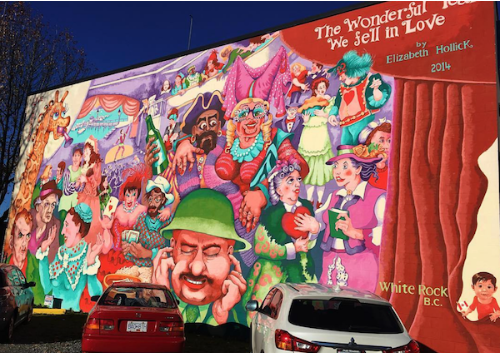 Photo credit: @soniclark via Instagram.
West Beach
Location: Corner of Marine Drive & High Street.
Another wonderful piece of work by artist Elizabeth Hollick, this colourful mural is located across the façade of a retaining wall on West Beach and was designed to welcome the Olympic flame to White Rock in 2010 during the Olympic Torch relay. The famous White Rock and other signature White Rock icons are pictured.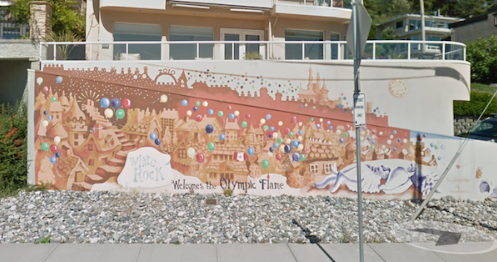 Photo via Google Maps.
White Rock Travel Mural
Location: 1472 Johnston Road (alley).
This mural by artist, Elizabeth Hollick, is a whimsical look at different cultures and wonderful places to travel, adorns the side alley of White Rock Travel.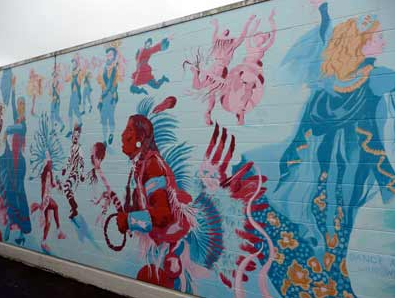 In the same alley is the mural of Sugar and Spice.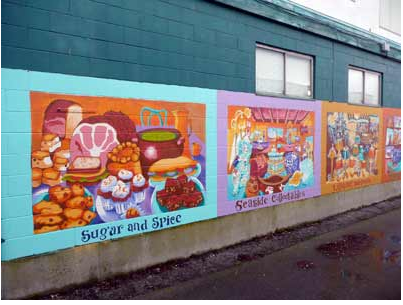 Boat Yard Mural
Location: Corner of Vidal Street & Victoria Avenue.
Tucked away in a small parking lot just one block from the beach is a beautiful mural by late artist Judy Jordinson. The mural, now a little faded, which adds to the nautical subject matter, depicts a quaint shipyard.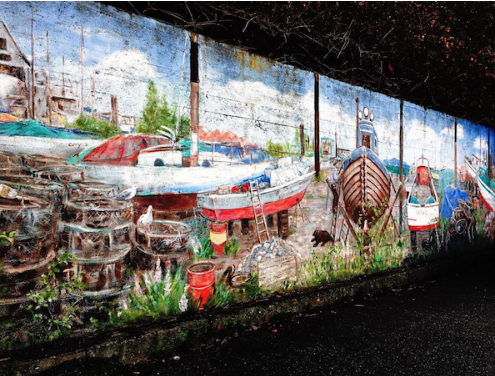 Photo credit: @soniclark via Instagram.
White Rock's Bench Murals: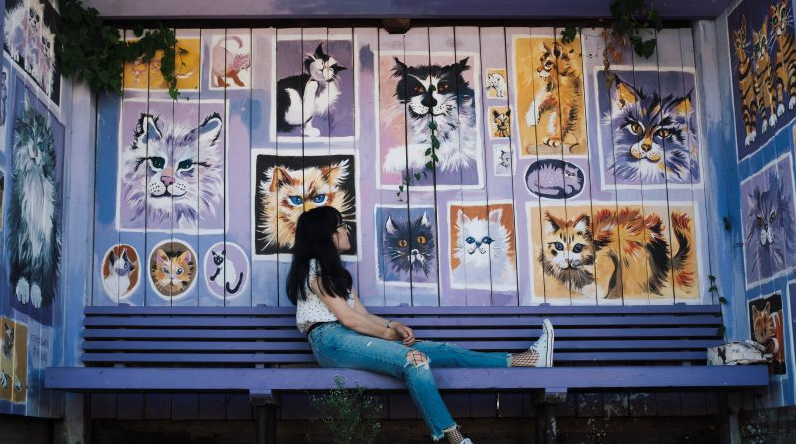 This purple cat bench mural is on Columbia Street and between Finlay Street and Maple Street. Photo credit: Angella Li via 56PaperClips.com.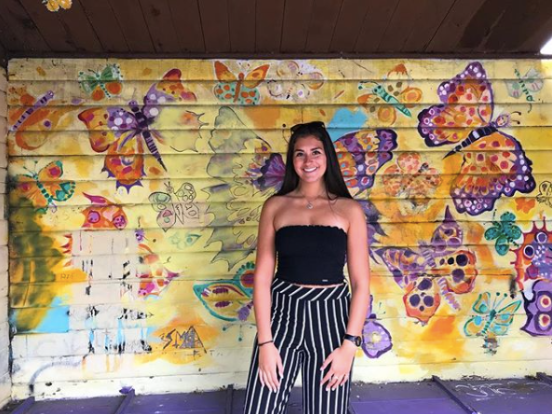 Donated by the White Rock Elks, this vibrant mural is hidden undercover in Five Corners.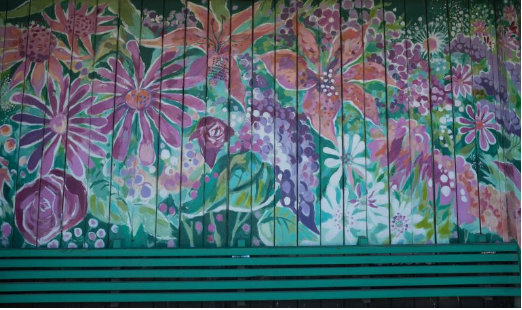 This green floral bench is on Oxford Street and between Russell Avenue and Vine Avenue. Photo credit: Angella Li via 56PaperClips.com.
Next time you're in town, take a walk to see all of the art White Rock has to offer!