In spite of its small size, White Rock is full of beautiful art, sculptures and murals. Spend a day exploring the city and take in as many public art pieces as you can find! Here's a quick guide to some of our favourites, and you can download a copy of the City of White Rock's Public Art Walking Map here.
Holes in the Sky: As a representation of the marine environment in White Rock, this piece embodies the rolling waves if the ocean and crashing surf. By artist Douglas Senft, 2007. Location: Oxford Street and North Bluff Road.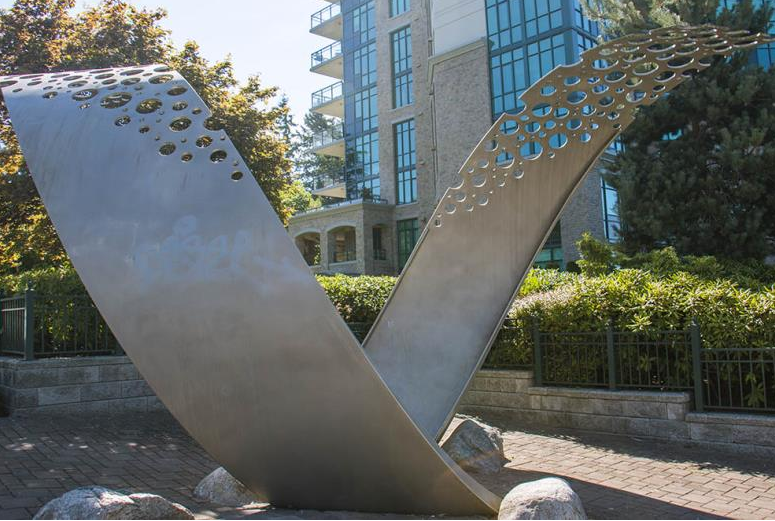 Photo credit: City of White Rock.
The Grey Whale Family (Whaling Wall): This much-loved mural of a grey whale family with Pacific bottlenose dolphins is part of the 79 city Wyland Walls campaign to increase appreciation for aquatic habitats. By artist Robert Wyland, 1984. Location: Corner of Russell Avenue and Johnston Road.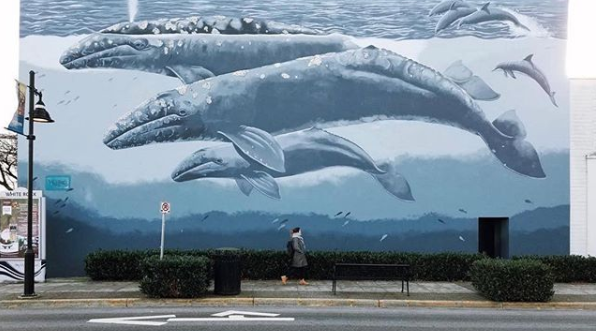 Photo credit: @iamkristinakim via Instagram.
Walking on Sunshine: These cheerful mosaic steps offer a spot to relax while wandering East Beach. Each step has been decorated using pieces of colourful tile and placed in the pattern of sunshine. By artist Matt Todd, 2004. Location: Terry Parr Plaza, Marine Drive at Ash Street.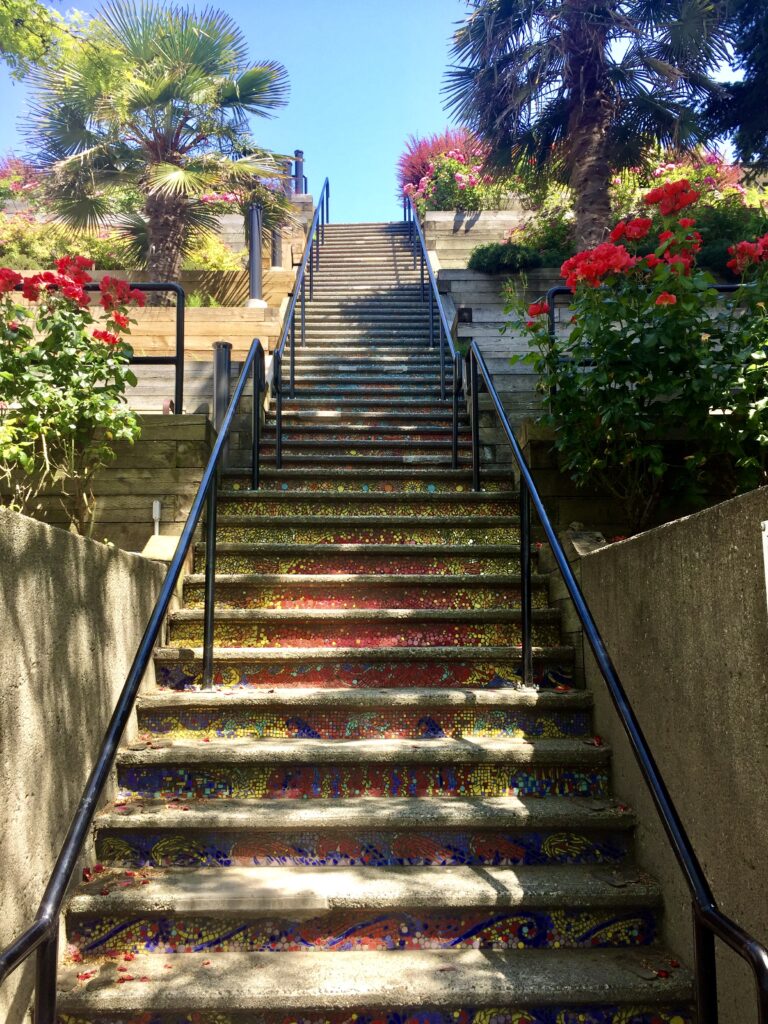 Totem Poles: Created to commemorate the 125th anniversary of the RCMP, the totem poles, named "The Gift", signify a partnership between the RCMP, the Semiahmoo First Nations people and the City of White Rock. By artist Robert Davidson, 1999. Location: 15400 Block Marine Drive. Read more about these beautiful poles here.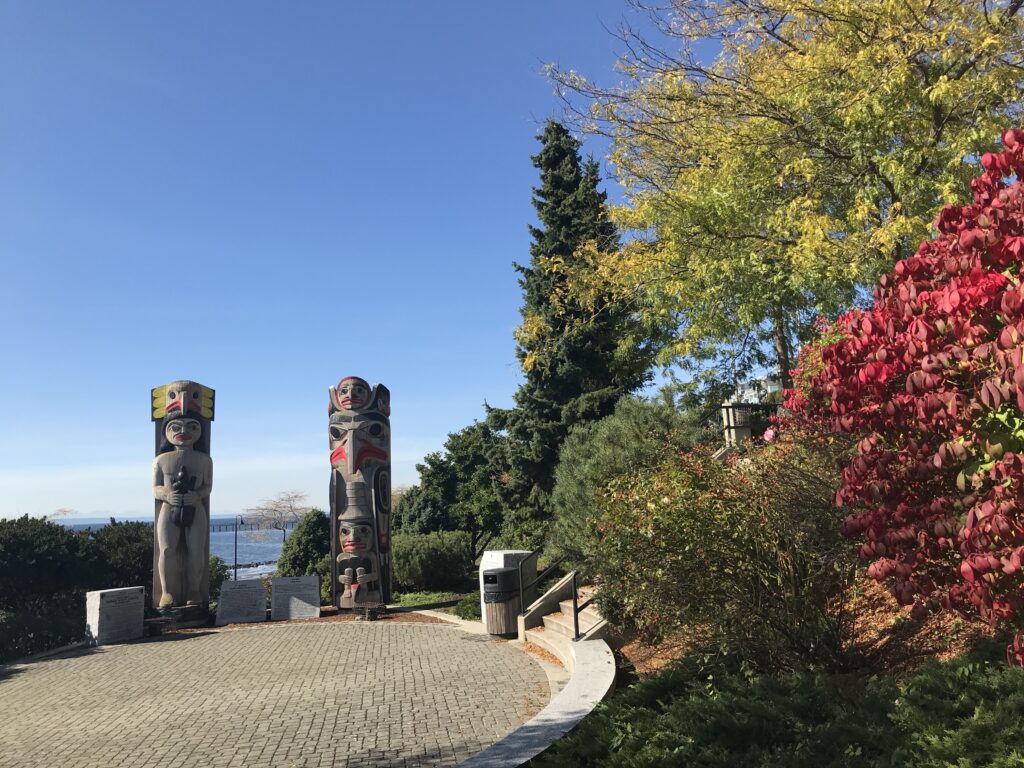 Grizlee: This monolithic granite bear stands at the end of East beach promenade and gazes across Semiahmoo Bay to Point Roberts in Washington state. He was placed as a memorial to the artist's son, Lee, in 1999, hence the name Grizlee.  By artist Frank Slavin, 1999. Location: East Beach, at the start of the promenade.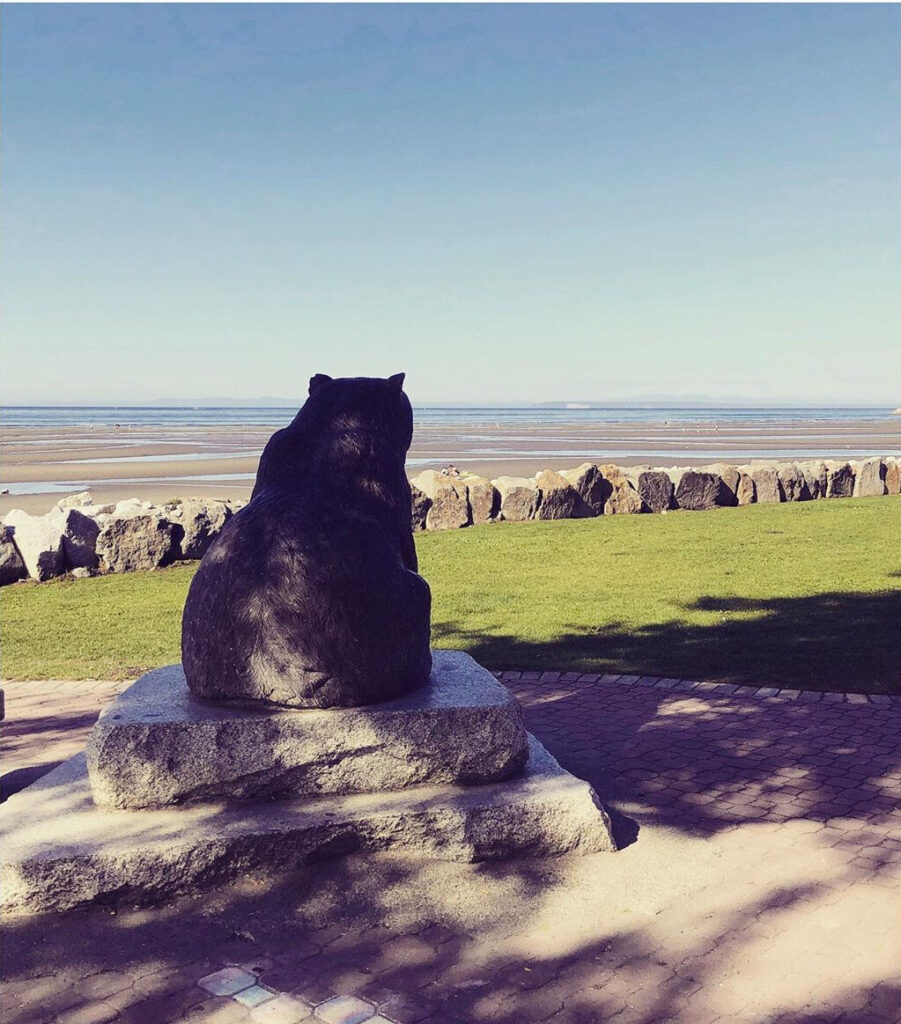 Photo credit: seagirl03 via Instagram
Passenger: Passenger celebrates the history of rail service and the significance of visitors who awaited their journey at the White Rock Train Station. By artist Denis Kleine, 2014. Location: 14970 Marine Drive in front of the White Rock Museum.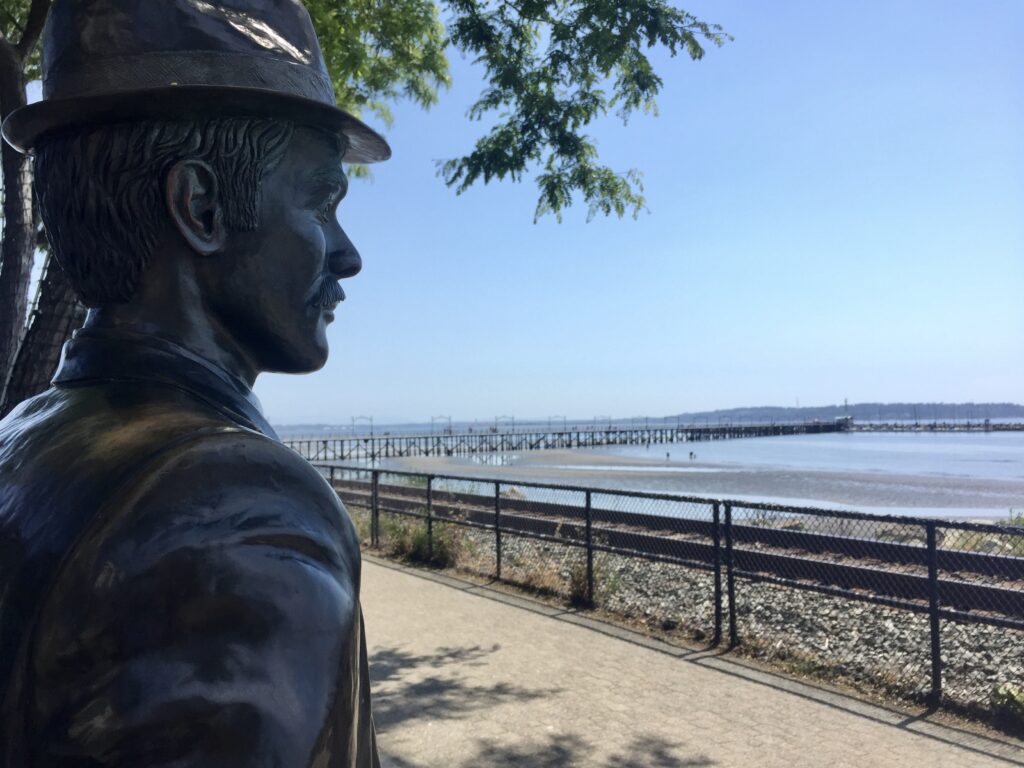 Coastal Cradle: This 17′ tall installation was inspired by a simple blade of grass with a droplet of morning dew and is designed to evoke the precious and fragile stir of early morning. The organic movement of the blades references the beach, waves and tidal pools of White Rock. By artist Andy Davies, 2019. Located at Memorial Park on West Beach.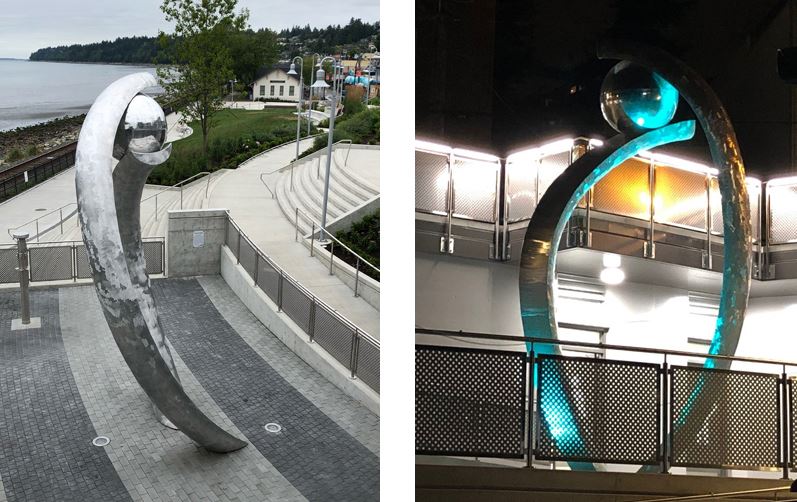 Photo credit: City of White Rock.
Stande: The City of White Rock commissioned this public art installation in honour of the 70th anniversary of the Peace Arch Hospital Auxiliary. Its form is intended to evoke pre-contact rainforest that once stood on the site. By Illarion Gallant, 2019. Located at Peace Arch Hospital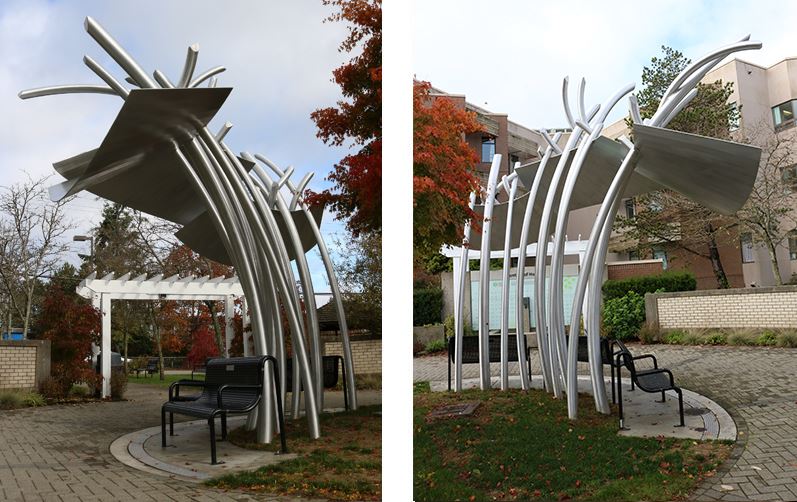 Artists Walk: Fine art displays next to the White Rock Museum Plaza and alongside the west promenade. Meet the artists and view their work.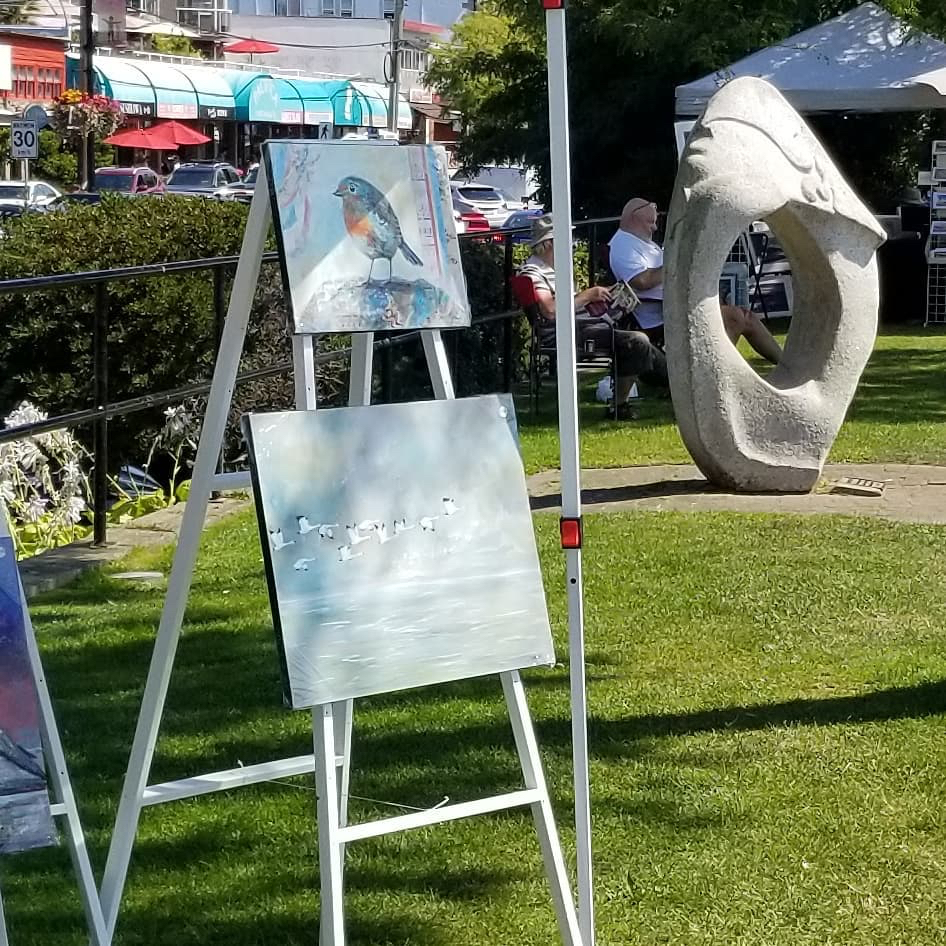 Photo credit: veronica.newell.art via Instagram
Infinity Cycle: A public art installation by artist Hooman Mehdizadehjafari, commissioned by the City of White Rock in 2017 to commemorate the 37th anniversary of the Tour De White Rock cycling race. Location: Corner of Oxford Street and Marine Drive.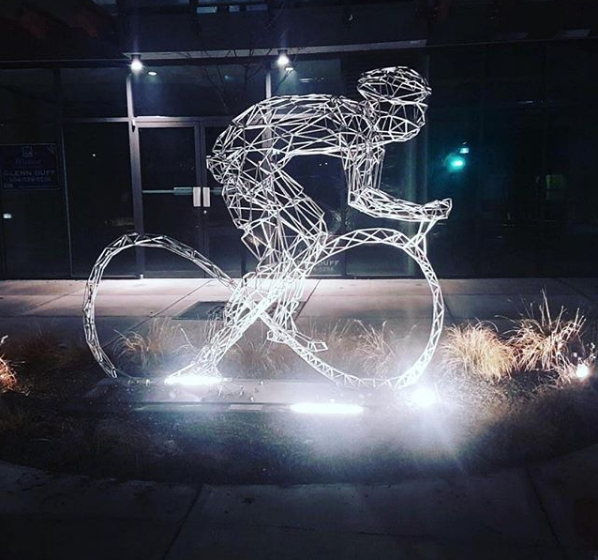 Photo credit: @psuedo1112 via Instagram.
White Rock's many murals:
Be Kind, Be Calm, Be Safe
Location: West Beach Parkade, 14935 Victoria Avenue
This beautiful new mural, by artist Jim Davidson, was painted in 2020 as a response to the global Covid-19 pandemic and honours our first responders. Be kind, be calm, be safe.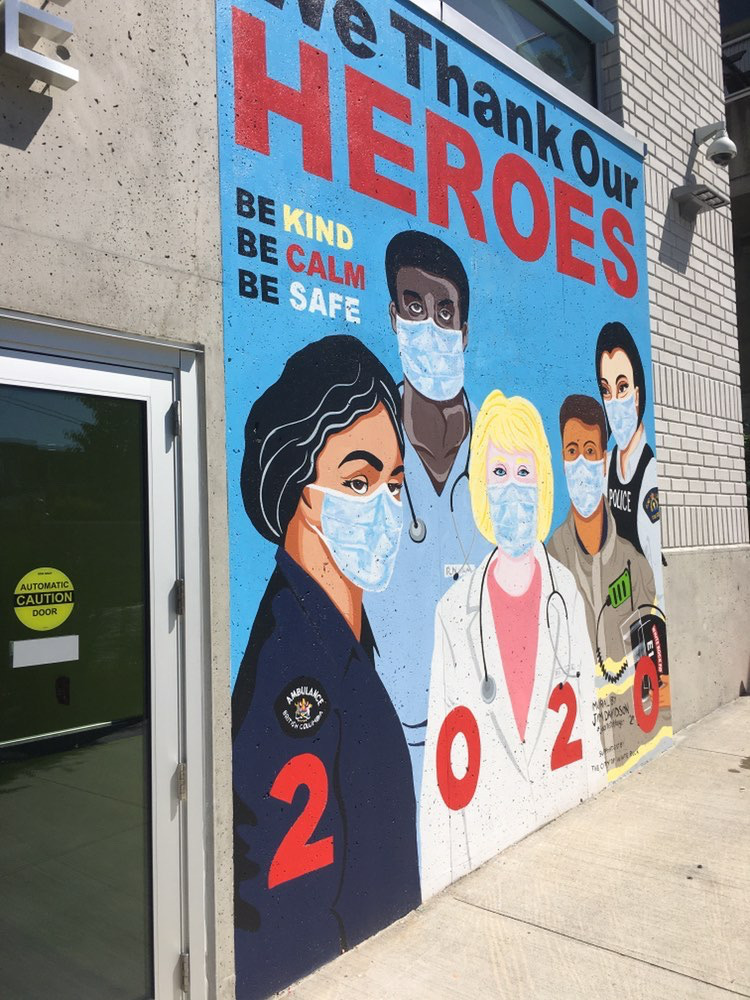 Photo Credit: Grey Canvas Murals
Lifting Hands
Location: North Bluff Road & Hospital Street opposite Peace Arch Hospital
This colourful new addition to White Rock's murals is located opposite Peace Arch Hospital's emergency entrance and celebrates local healthcare and essential workers. It was created by Say Thanks Surrey, a student-led campaign launched to raise funds for front-line workers.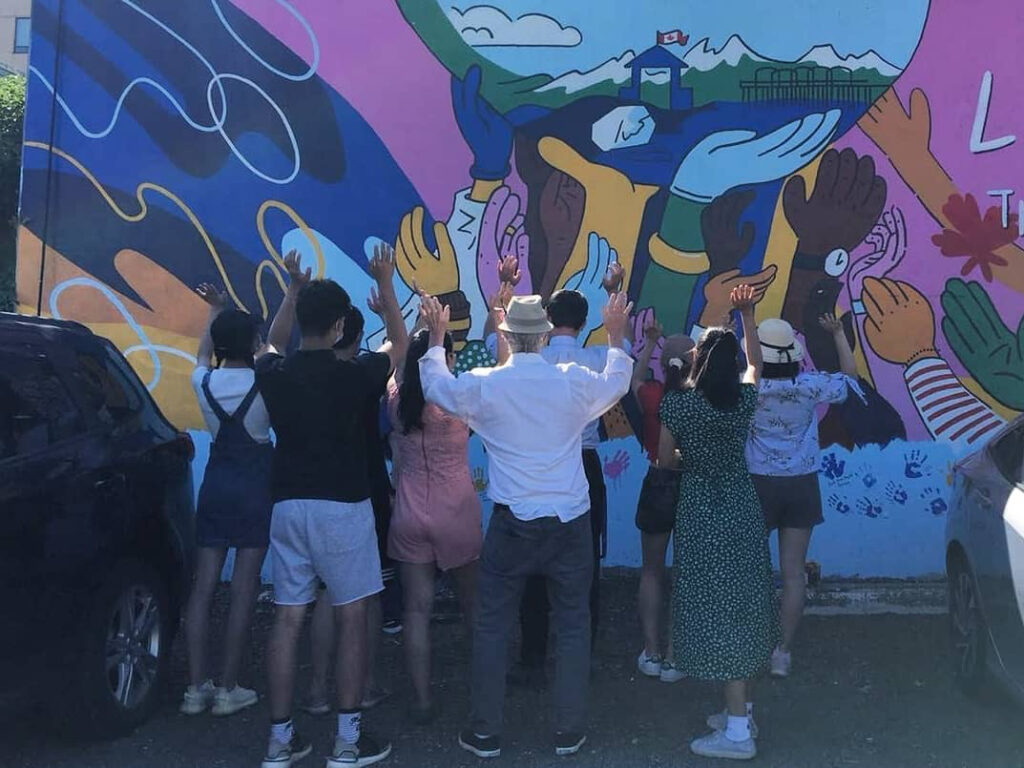 Photo credit: Say Thanks Surrey via Instagram
Coastal Landscape
Location: Uli's Restaurant, 15023 Marine Drive.
This coastal landscape mural by Vancouver based graffiti-artist 'Craver' adorns the side of Ulis Restaurant and depicts rugged old-growth trees and as an ode to the West Coast forests of British Columbia.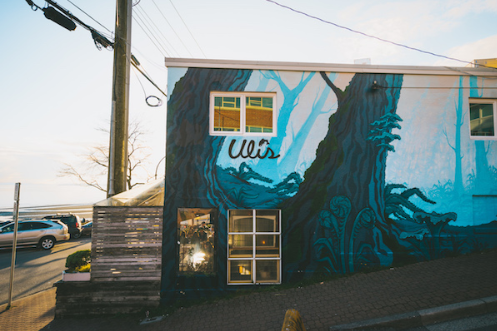 Photo credit: Michael Vanarey.
The Wonderful Year We Fell in Love
Location: Coast Capital Playhouse, 1532 Johnston Road.
The Wonderful Year We Fell in Love, was painted by artist Elizabeth Hollick in 2014 on the outside wall of the Coast Capital Playhouse. It pays homage to and depicts, the unforgettable characters from the annual pantomime of the White Rock Players' Club.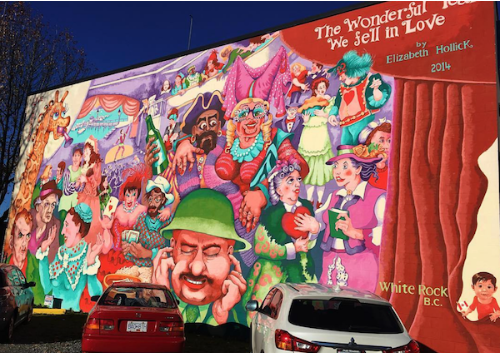 Photo credit: @soniclark via Instagram.
West Beach
Location: Corner of Marine Drive & High Street.
Another wonderful piece of work by artist Elizabeth Hollick, this colourful mural is located across the façade of a retaining wall on West Beach and was designed to welcome the Olympic flame to White Rock in 2010 during the Olympic Torch relay. The famous White Rock and other signature White Rock icons are pictured.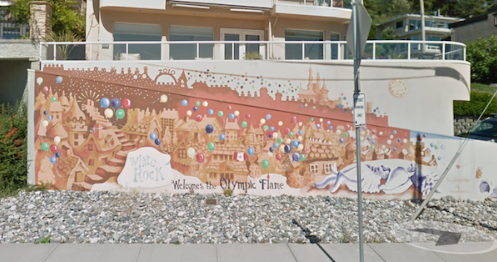 Photo via Google Maps.
White Rock's Bench Murals: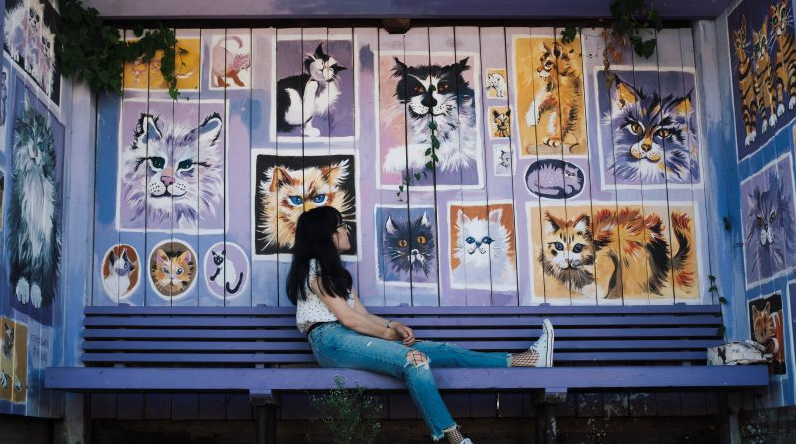 This purple cat bench mural is on Columbia Street and between Finlay Street and Maple Street. Photo credit: Angella Li via 56PaperClips.com.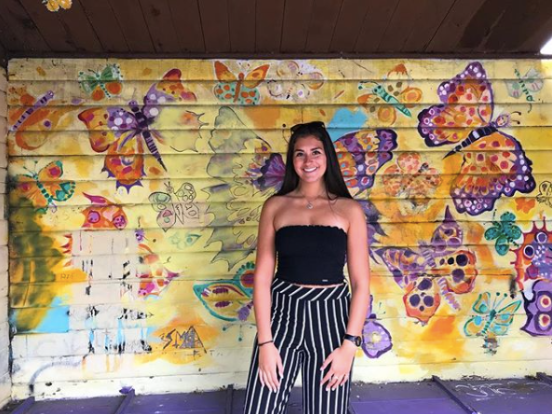 Donated by the White Rock Elks, this vibrant mural is hidden undercover in Five Corners.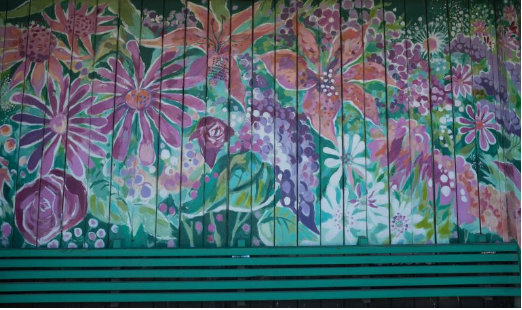 This green floral bench is on Oxford Street and between Russell Avenue and Vine Avenue. Photo credit: Angella Li via 56PaperClips.com.
Next time you're in town, take a walk to see all of the art White Rock has to offer!