Many steps go into creating the perfect picnic; location, drinks, activities and who to share your picnic with (your household bubble of course), are all very important decisions. But obviously, the most important decision to be made is what to eat!  And with so many White Rock restaurants offering take out options, any food can be picnic food!  Here are some of our favourite ways (and places) to eat al-fresco in White Rock!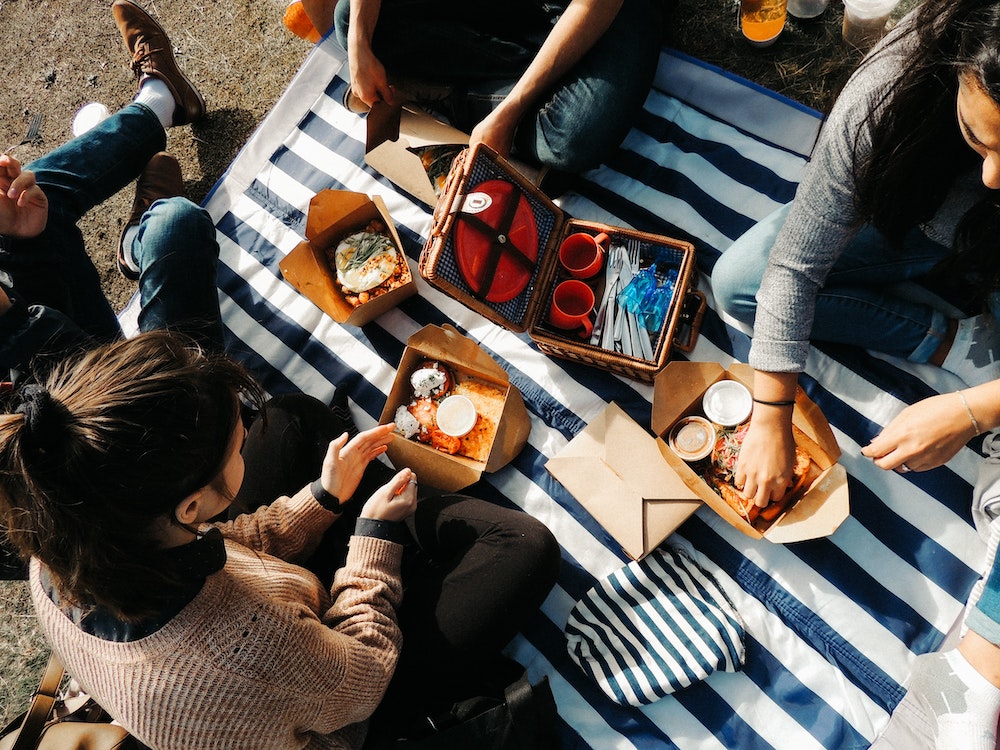 Hillcrest Bakery & Deli has everything you need to fill your picnic basket. Classic deli sandwiches, sausage rolls and meat pies are just a few of the savoury items available. And be sure to pick up a selection of sweet treats.
Looking for a little spice for your picnic? Pick up flaky Jamaican patties or savoury Johnny cakes from PG's Jamaican Restaurant. Or grab some delicious Indian snacks from Cilantro Indian Cuisine. Samosas and pakoras (vegetable and chickpea fritters) are perfect finger foods.
One of the more important aspects of picnicking is that the food is portable and easy to eat, and what's more portable than pizza? And whether you're into the classics like Margherita and pepperoni or looking to shake things up with fanciful ingredients, White Rock has a pizza joint for everyone. A perfect picnic lunch that is both kid and parent-approved.
Put together a plant-based picnic lunch with a stop at Grounds and Greens Cafe. Order a la carte, or pick up a meal kit that includes a choice of salads, bowls (like the super-yummy "basic b***" bowl), treats plus their delicious spinach & artichoke dip.
If your picnic falls on a Sunday, stop by White Rock's Farmers' Market for fresh produce, pastries and other unique food items such as fresh-pressed juices and kombucha. There's always something new to try, all while supporting local vendors and farmers!
And don't forget the quintessential White Rock picnic experience … fish and chips! There are countless places in White Rock to pick up awesome fish and chips, and everyone has their favourite! Choose cod or halibut, or even salmon, add the chips and coleslaw, and maybe even some mushy peas, and make your way to a picnic table on the beach for a classic White Rock meal.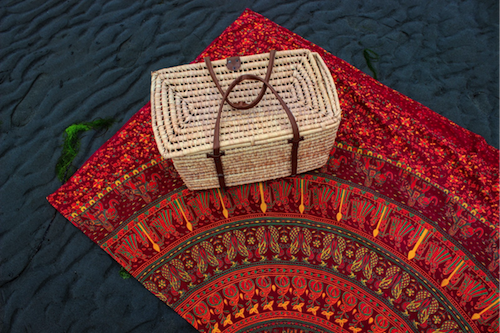 Picnic Spots
East Beach
Low tide is the best time for a beach picnic. The sand extends far out into Semiahmoo Bay, creating perfect sandy spots and lots of space to set up your lawn chairs and spend the afternoon.
Bayview Park: Gorgeous views of the Pacific without the hassle of getting sand in your food, makes Bayview Park the ultimate picnic park. Come early to claim a picnic table and settle in for a meal with an epic sunset.
Dr. R. J. Allan Hogg Rotary Park: Over two acres of beautifully landscaped grass and gardens, this park is a nice retreat from the hustle and bustle of the beach. With picnic tables and lots of space to throw down a blanket under the shade of the trees, consider this park as a good option when you need a break from the sun.
Centennial Park: With a playground, swings, washrooms, and covered picnic tables, this place is perfect for families. There's plenty of green grass to lay down a blanket, and after your meal explore the shaded forest trails of Ruth Johnson Park.