When it comes to patio dining, Uptown White Rock has some great options, and with the current dining restrictions limiting restaurant dining to patio only, take out or delivery, it is more important than ever to support our local White Rock restaurants.  Many local restaurants have enhanced their patio dining experiences by installing heaters, temporary "walls" and providing cosy blankets (feel free to bring your own blankets as well), so no matter the weather you can enjoy a delicious meal al fresco with your household bubble.
3 Dogs Brewing – 3 Dogs has expanded their patio to accommodate more people and have added tents and stand up heaters. Blankets are also available.
Barrique Kitchen + Bar – The team at Barrique has recently upgraded their patio and are taking reservations for Brunch on the Patio and Burgers & Bubbles for the next 2 weekends.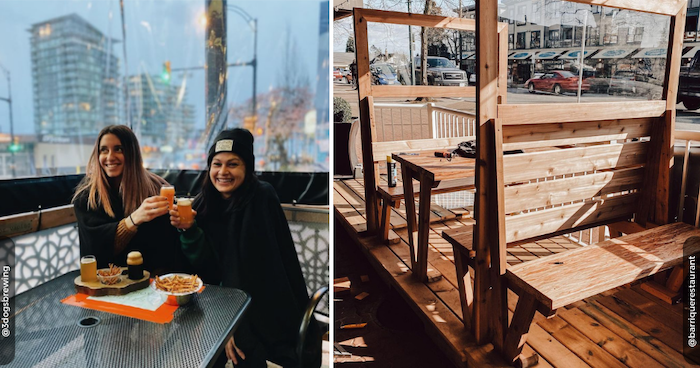 Bean Around the World – BATW has lots of outdoor seating surrounding the coffee house and on sunny days they enjoy sunshine all day long. And there are some partially covered spots for those "liquid sunshine" days.
Bin 101 Wine & Tapas Bar – Go for a casual night out with delicious tapas and ever-changing wine flights on the outdoor patio at Bin 101. Reservations are recommended.
Chez Christophe – Indulge in decadent pastries on Chez Christophe's covered breezeway.
Fishin' Chips – Enjoy authentic English-style fish and chips on the spacious patio at Fishin' Chips.
Grounds & Greens Cafe – Snag a seat on Grounds & Greens cosy sidewalk patio and tuck into a super yummy, and healthy, plant-based meal.
Hillcrest Bakery & Deli – Stop by Hillcrest for lunch and take a seat at one of their outdoor tables. And be sure to pick up some baked treats to go!
Islands Cafe – Soak up the sun while you enjoy locally-roasted Hawaiian beans or signature smoothies, acai & poke bowls at one of Islands Cafe's outdoor tables.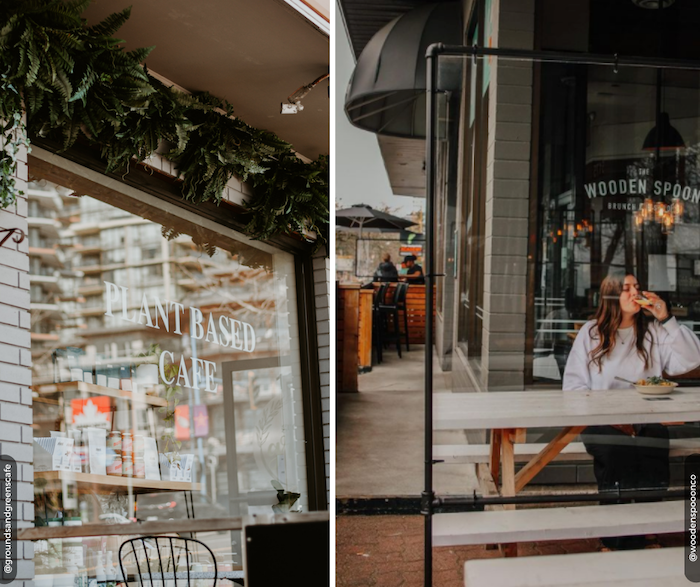 Laura's Coffee Corner – The covered patio at Laura's is open! And on sunny days, there are plenty of tables on the wide sidewalk in front of the shop.
White Rock Beach Beer Company – The patio is open, partitioned and spaced! And all the neighbourly feel-good feelings are in play here as WRBBC got a little help from their friends at The Wooden Spoon Co with the loan of barriers and some outdoor tables and chairs. And we are more than a little excited to report that while enjoying a beer on the patio at WRBBC you can place an order from the menu at the Spoon and they will deliver directly to your table!
Wooden Spoon Brunch & Bistro Co & White Rock Burger Co – The patio at The Wooden Spoon Co at White Rock Burger Co has been fully upgraded and is now enclosed to protect from the elements, plexiglass is in place and there's lots of seating for brunch, lunch and dinner.
Yucca Tree Cafe – Pick up delicious comfort food for breakfast and lunch and take advantage of the new outdoor tables in front of the cafe.
_____
For patio dining options on White Rock's waterfront, click here and here. 
*Please note that outdoor patio dining is the only 'dine-in' option available due to the current public health order. Due to popular demand, seating will likely be limited. Please be patient. Other ways to support our local restaurants include ordering take-out and delivery where available and purchasing gift cards for future use. People dining on patios should only be with their immediate household or core bubble and groups can be no larger than 6 people. You must wear a mask when you are not seated and cannot mingle with other tables.