Staying in town this weekend but want those long weekend vibes? White Rock has got you covered! Here are our top picks of what to do to feel like you've gone on vacation when you can't go that far!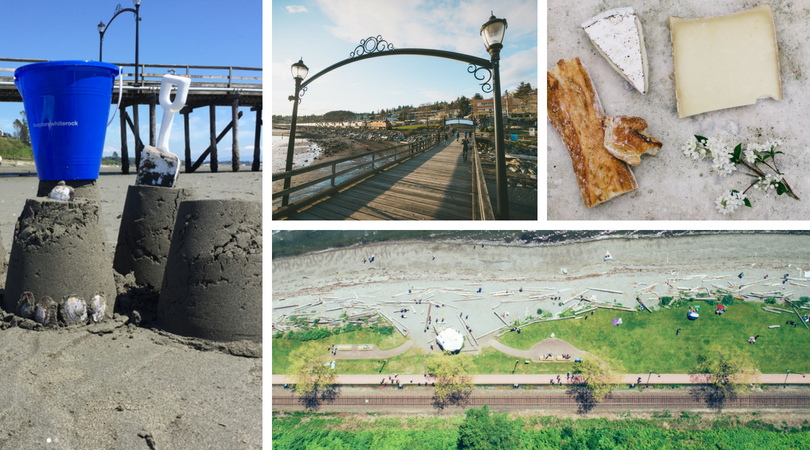 Stroll the Promenade
At almost 3 kilometres (1.3 miles), White Rock's promenade runs almost the entire length of the beach, and provides lots of ways to get to the beach and attractions. Take your time and stroll from one end to the other, making sure to stop and check out the Grand Chief Bernard Charles Memorial Plaza that speaks to the communities strong ties to the Semiahmoo First Nation.
Walk the Pier
White Rock's historic pier is 104 years old and stretches about 470m (1542 ft) into Semiahmoo Bay. Walk to the end to see local fishermen's daily catches and bask in the impressive views of the coastal mountains and the San Juan Islands. Take an after dinner stroll to see breathtaking sunsets and feel the ocean's warm breeze.
Build a sandcastle
Grab your kids, a sand bucket and pail and head to the beach! When the tide goes out, White Rock's beaches (East and West) transform into a magical place to explore tide pools and build an epic sand kingdom!
Pack a picnic of local food
On Sunday, go to the White Rock Farmers Market and pack a picnic lunch of yummy, local foods, like breads, honey, spreads, cheese, fruit & chocolate. Take your basket of goodies down to the beach, or to the park and enjoy the sunshine.
Go on a mural scavenger hunt
You can find artwork, waiting to be discovered, around almost every corner of White Rock! Check out our blog post about White Rock's murals and see how many of them you can find.
Taste a flight of craft beer
With 2 craft breweries now open within a 5-minute walk of each other, there has never been a better time to be a beer drinker in White Rock! After a day exploring the beach and the shops, head in to White Rock Beach Beer Company and 3 Dogs Brewing for an evening of great conversation, laughs and, of course, awesome beer.
Watch the sunset
There is definitely something special about watching the sunset in White Rock. The sun sets to meet the horizon, the sky blazes with spectacular colours and lucky White Rock residents (and visitors) sit back and marvel at the spectacle! Best spots? The promenade, the pier, with a glass of wine on a patio, or on a sunset cruise.
Paddle Semiahmoo Bay
There's something special about the view of White Rock from the water! Rent a kayak or paddleboard (or bring your own) and head out on the calm, clear waters of Semiahmoo Bay.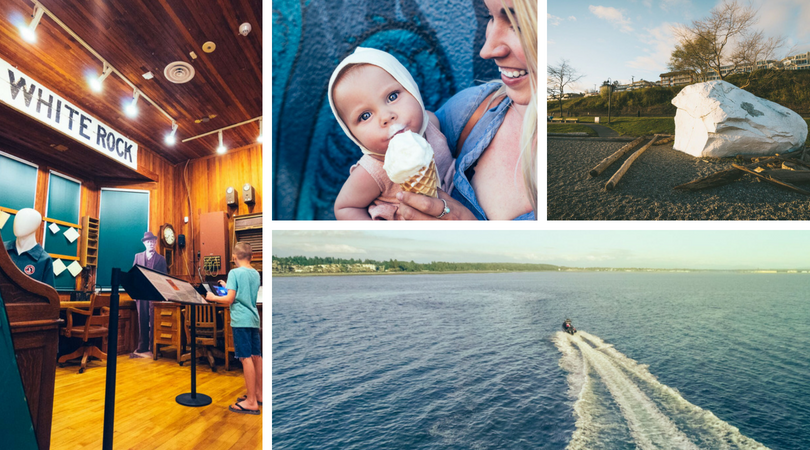 Take a whale watching tour
Hop onboard one of White Rock Sea Tours vessels and let yourself be whisked across the ocean to the Gulf and San Juan Islands where the whales, and other wildlife, thrive in their natural habitat. Your experienced captain will explore the Canadian Gulf Islands and the US San Islands in search of southern resident and transient Orcas, and Humpback Whales. We recommend booking a spot in advance to make sure that you snag a seat … because you're not going to want to miss this adventure!
Eat gelato!
Is there anything better than ice cream at the beach? We don't think so, and luckily White Rock has a pretty great selection of ice cream & gelato shops to choose from. And the decisions don't stop there. Which of the dozens of flavours will you choose? Cup or cone (or double cone)? Ice cream or gelato?
And there's so much more! Pick up a souvenir at one of the charming, local shops. Learn about the history of White Rock at our awesome museum. Enjoy dinner and live music. Go crabbing. Dance to a busker. Climb the White Rock.
Share your May Long Weekend adventures with us on Facebook, Instagram and Twitter by tagging your pictures #ExploreWhiteRock.