Looking for a great Vegetarian or Vegan meal? White Rock has you covered!
Does the dawn of a new year have you considering adopting a more plant-based diet? Whether your motivation is personal health or concern for the environment, choosing to add more fruits and veggies to your diet is always a good idea. The following White Rock restaurants give vegetarians options for delicious, and loads of fun, meat-free alternatives.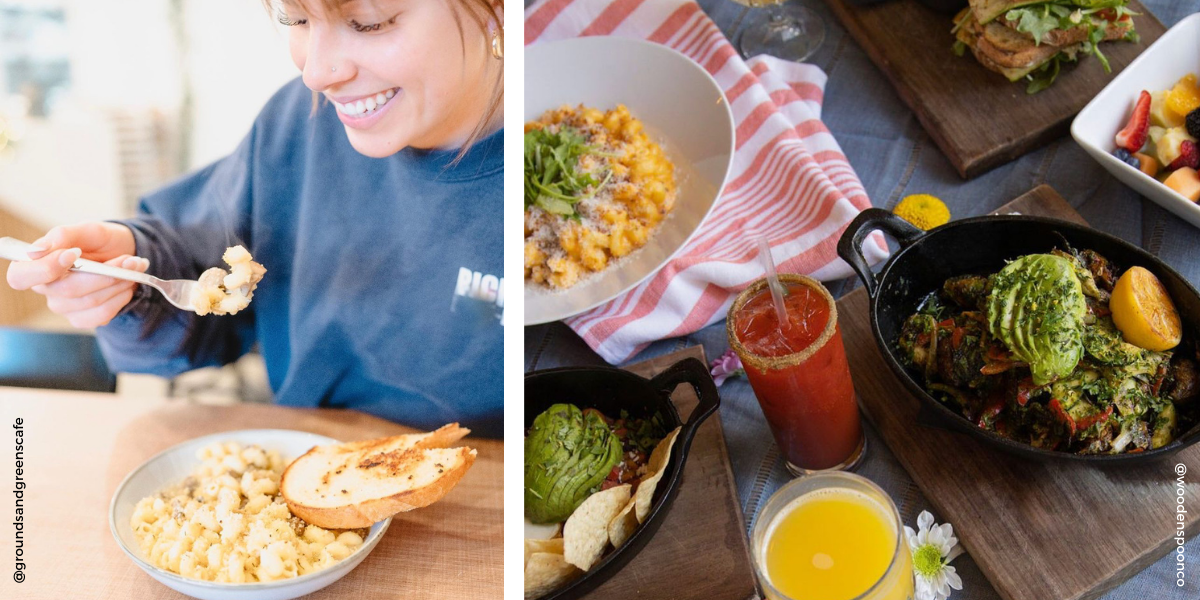 Grounds and Greens: White Rock's first, and so far only, exclusively plant-based restaurant has been wowing guests with its elevated, plant-based dishes ever since it opened! Menu items are creative and focus on bowls, breads and bites, each packed with nourishing, and delicious, ingredients. Try the "Glow Up", a gluten-free medley of roasted baby carrots, arugula & spinach salad with tahini dressing, quinoa, pumpkin seeds, sweet potato, roasted red onion, hummus, tomatoes, confit garlic, walnut dressing, balsamic mushrooms, & tofu feta or a "Brekkie Wrap" of tofu & spinach scramble, chickpea hummus, roasted sweet potato and a spicy tahini sauce. This January, Grounds and Greens is celebrating "VEGANUARY" with yummy specials every week. (1369 Johnston Road)
The Wooden Spoon: A favourite among brunchers, the Wooden Spoon offers multiple vegetarian and vegan options, such as their Vegetarian Hash, a delicious creation of fried brussels sprouts, roasted artichokes, peppers, zucchini, potatoes and a sunny-side egg, the mouthwatering Kahuna French Toast, with pineapple rum compote and coconut lime haupia (a type of coconut pudding) and the Gardener Jenny, a chickpea fritter, with wild mushroom duxelles, pesto, avocado, herb and garlic potatoes and a green salad. And they are more than willing to accommodate specific dietary needs. Reservations are recommended. (15171 Russell Avenue)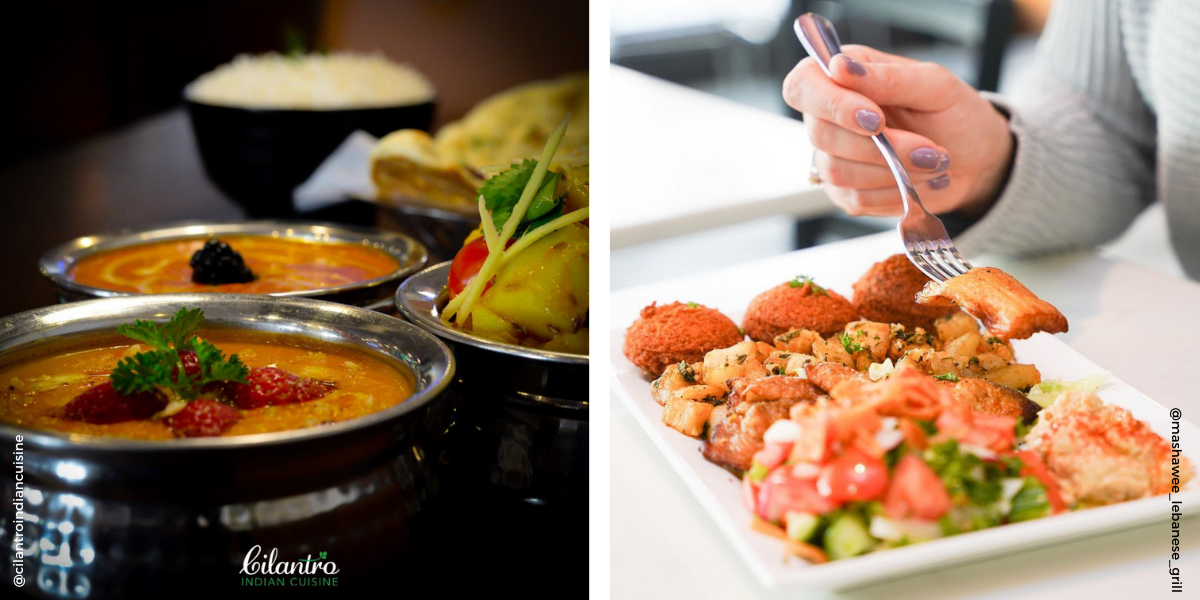 Cilantro Indian Cuisine: Indian cuisine is very vegetarian (and vegan) friendly and incredibly delicious. The spices and cooking techniques can turn ordinary vegetables into mouthwatering dishes, and Cilantro Indian Cuisine has an entire section of the menu dedicated to meat-free options. Try the Aloo Gobi, a popular dish of cauliflower and potatoes cooked in garlic, ginger and tomatoes,  the Chana Masala, chickpeas cooked in a flavourful sauce of onion, garlic, ginger and tomato sauce, or the Paneer Makhani, which is Indian cheese simmered in a rich tomato cream sauce.  Mix and match your favourite flavours by sharing multiple dishes with family and friends, your meat-eating friends won't even notice it's missing! (15081 Marine Drive)
Mashawee Lebanese Grill: Many of the Middle Eastern plates at Mashawee are more than suitable for vegetarians. Start off with hummus, baba ganoush or tzatziki served with hot, fluffy pita bread. Then kick things up with a Veggie Deluxe Plate – 3 pieces of falafel, a seasoned mixture of ground fava beans and chickpeas fried into patties, fried eggplant and seasoned potatoes with a side of tahini and garlic sauce, or tuck it all into a pita with lettuce, tomatoes and hummus. Want it spicy? Sprinkle a little Lebanese hot sauce on top. (1558 Johnston Road)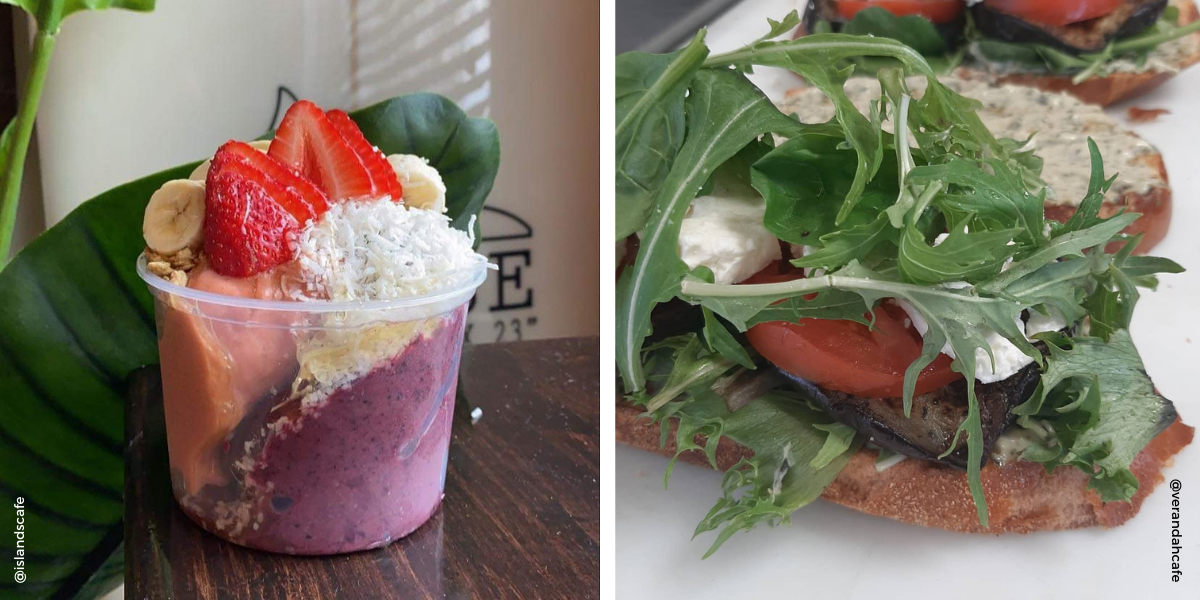 Islands Café: This cosy corner is a favourite among White Rock locals. Islands Cafe is famous for its fair-trade Hawaiian coffee, delicious Açai bowls, smoothies, flatbreads and other tasty treats. The Açai bowls alone are worth the journey to White Rock. A tropical mixture of frozen acai berries, strawberries, blueberries, and bananas blended into a sorbet texture, the bowls are traditionally topped with granola, bananas, seasonal berries, coconut and drizzled honey. If you're looking for a vegan and veggie-friendly lunch or breakfast spot, this place has got you covered! (1237 Johnston Road)
Verandah Cafe by the Beach: Inspired by the rich and flavourful culinary heritage of the Indian subcontinent, the meals at Verandah Cafe are creative and delicious, and vegetarian dishes are always on the menu. Try the Veggie Masala Sandwich, a wholesome and delicious grilled open-faced sandwich with fusion Indian flavours, the Samosa Salad, a delicious mix of samosa, tamarind chutney, chickpeas, cucumber and spinach with roasted cumin, or a Spinach and Chickpea "Naanza", their version of pizza using naan bread as the base. (15782 Marine Drive)
Yucca Tree Café: For one of the best vegan and vegetarian-friendly breakfasts and brunch in town, be sure to check out the Yucca Tree Cafe. Their menu is impressive and they have lots of delicious vegetarian options. Locals love the Vegetarian Chili … have it on its own for a vegan meal, it's packed with beans and vegetables, or try it in an omelette. (1347 Johnston Road)
PG's Jamaican Takeout: Bringing the taste of Jamaica's beaches to the shores of White Rock, PG's Jamaican Takeout is a solid choice for a vegetarian meal. The veggie patties are freshly baked and the savoury filling is encased in a perfectly flaky pastry. And be sure to try the Coconut Curry Roti, a delicious balance of curried lentils, potatoes and bell peppers with steamed veggies and spices.  (1387 Johnston Road)
For more vegan and vegetarian choices in White Rock check out this article from West Coast Food.