White Rock is known for its historic pier and expansive beaches! And there's no doubt about it – White Rock exudes a carefree whimsy that only comes with seaside communities.  And summer in White Rock is the stuff that memories are made of … and it's not over yet! Here are 10 things to do in White Rock before the season of sunshine ends … though we're planning on making summer last as long as possible.
1. Have a picnic
Whether you pack your own picnic or pick up dinner to go, there are lots of options for a perfect picnic in White Rock. Feel like fish & chips? No problem! How about a burger or pizza? Or perhaps you want to elevate things a bit with a charcuterie box or a flavourful poke bowl? You can get it all! And there are lots of spots in White Rock to enjoy a picnic, like the picnic tables dotting Memorial Park overlooking the pier and Semiahmoo Bay, or head to the beach or a park and spread your blanket out.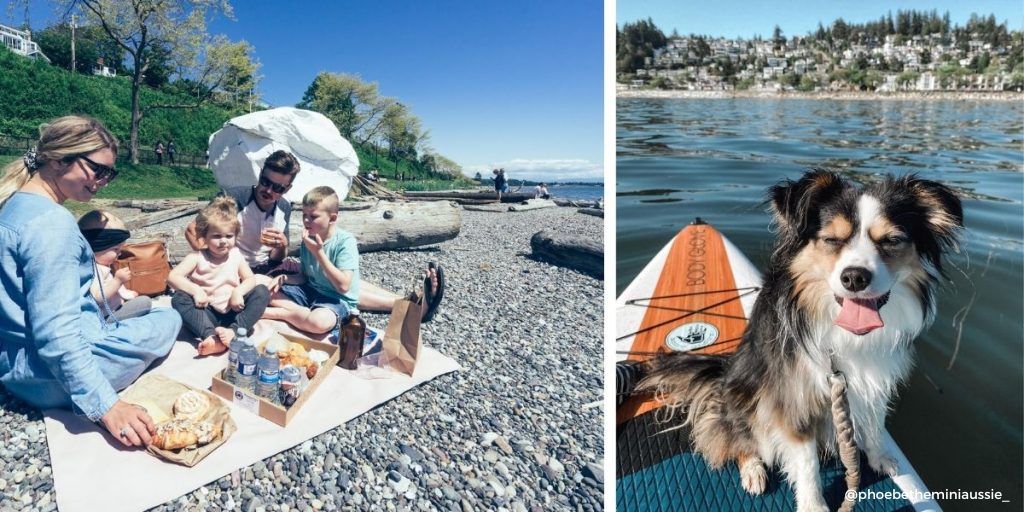 2. Paddleboard or Kayak Semiahmoo Bay
There's something special about the view of White Rock from the water. Hop in your kayak or paddleboard and head out on the calm, clear waters of Semiahmoo Bay. Keep your eyes peeled for friendly seals!
3. Build a Sandcastle
Grab the kids (or kids at heart), a sand bucket and pail and head to the beach! When the tide goes out, White Rock's beaches (East and West) transform into a magical place to explore tide pools and build an epic sand kingdom!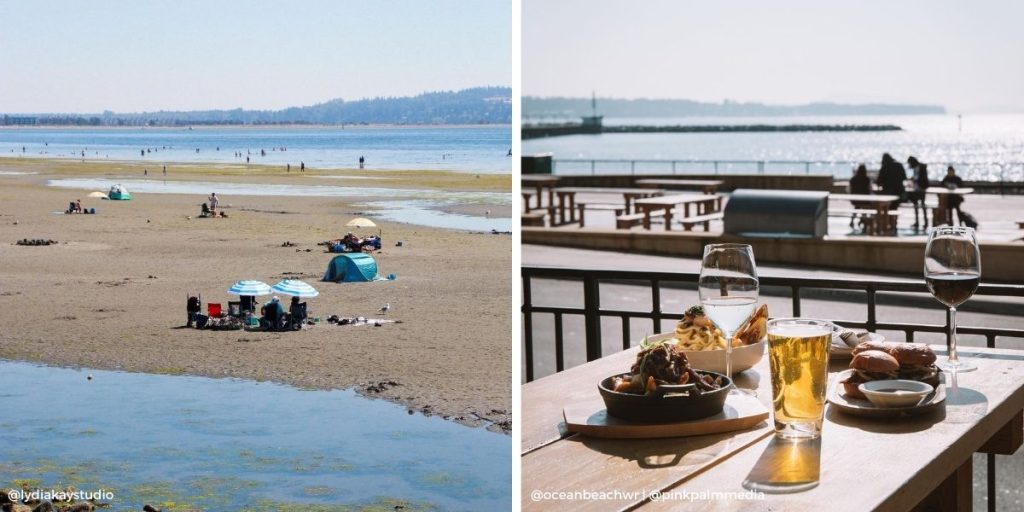 4. Dinner with a view of the Pier
When the sun is out there is nothing better than a seat on a patio, enjoying a delicious meal and sipping an expertly crafted cocktail, or ice-cold local beer, with an epic view of the historic White Rock Pier and Semiahmoo Bay. And as the days are getting shorter, it means that sunset is getting earlier, which leaves time post-dinner for a stroll on the pier as well!
5. Explore Public Art
In spite of its small size, White Rock is full of beautiful art, sculptures and murals. Spend a day exploring the city and take in as many public art pieces as you can find! If you're lucky you may even spot an artist creating incredible images in the sand.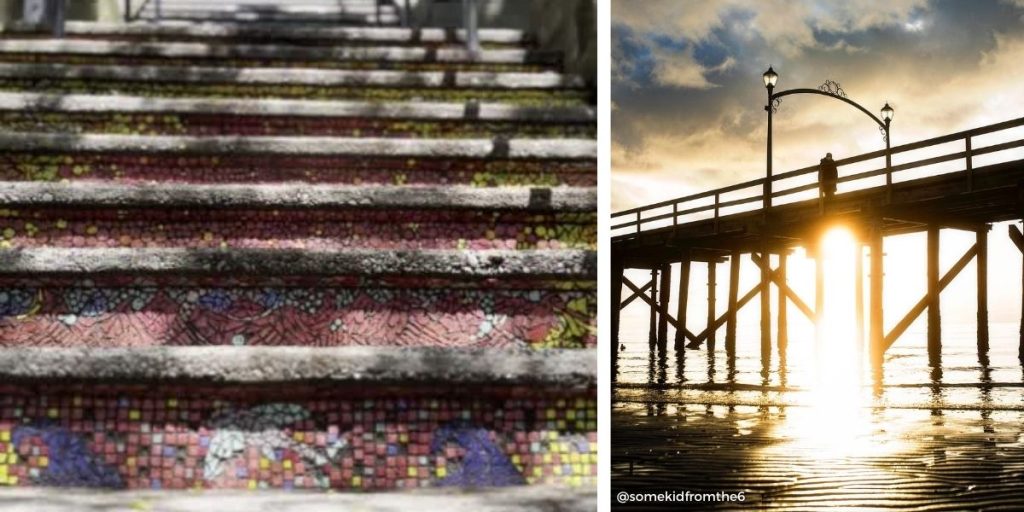 6. Walk to the End of the Pier
Stretching out 470m/1542 ft into the ocean, White Rock's landmark pier is a destination unto itself, and the longest ocean pier in Canada. Walk to the end to bask in the impressive views of the coastal mountains and the San Juan Islands.
7. Visit the White Rock Farmer's Market
Who doesn't love to support local farmers and makers? Taking a stroll through the White Rock Farmer's Market is a fabulous way to spend an afternoon and it's always fun to try that unique vegetable you've never heard of. You never know, you might discover your new favourite food. Each week, the list of vendors changes, but you can always count on an awesome mix of makers, bakers and growers at this award-winning market. The market is on Sundays from 10 am – 2 pm from May to October.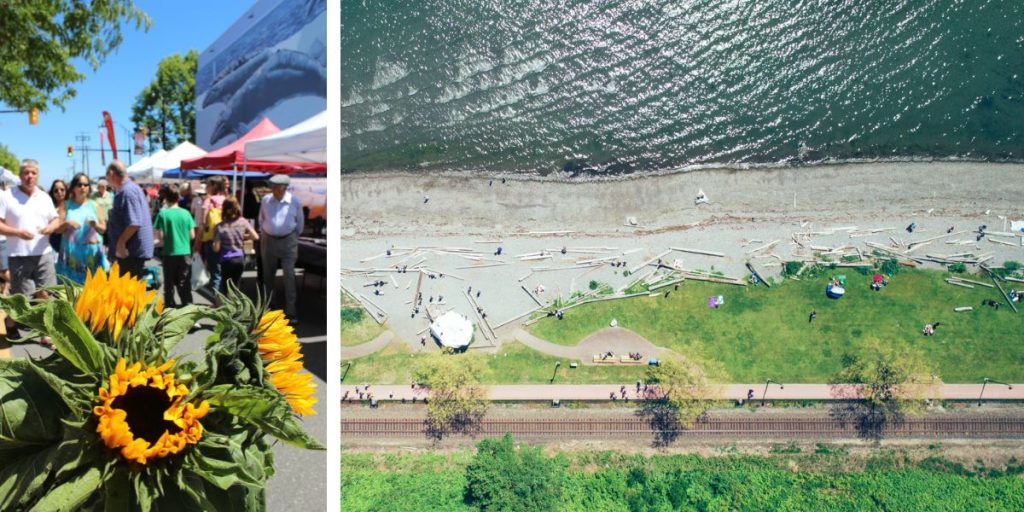 8. Walk the Promenade end to end
At 2,194 metres (7,200 feet), White Rock's promenade runs almost the entire length of the beach. Take your time and stroll from one end to the other, making sure to stop along the way to take in the view and check out the Grand Chief Bernard Charles Memorial Plaza which speaks to the community's strong ties to the Semiahmoo First Nation.
9. Catch a sunset … or a sunrise
Situated with sweeping views to both the east and the west, White Rock is perfectly positioned to enjoy both spectacular sunsets and stunning sunrises. Head to the beach, the pier or the promenade for the best views.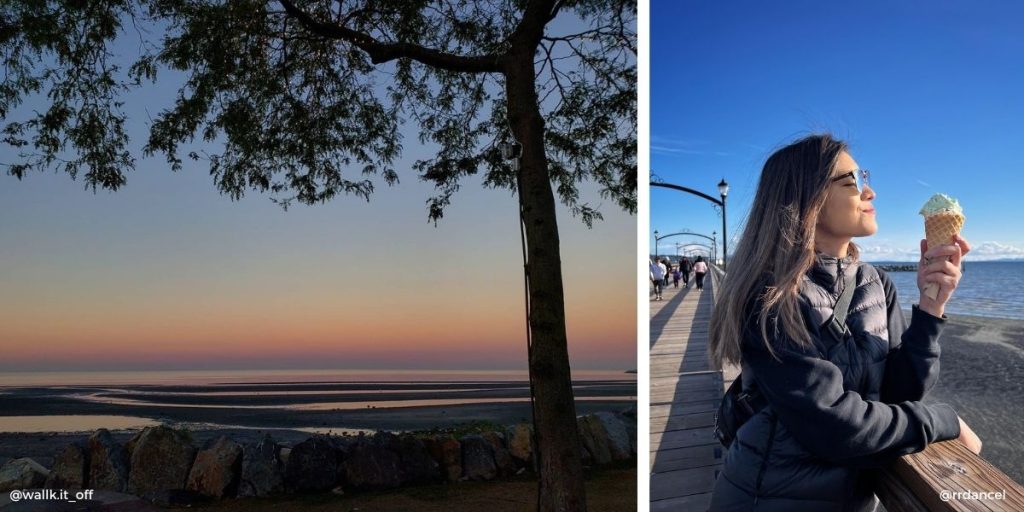 10. Eat ice cream
No trip to the beach is complete without a sweet, creamy, cold treat! And is it even really summer if you haven't enjoyed an ice cream cone yet? Many gelato and ice cream shops dot the White Rock strip, and everyone has their own favourite!  From gelato made in-house with local ingredients, freezers full of seemingly unlimited ice cream flavours and artfully rolled gelato treats, you're sure to find your favourite.